This viral video shows why make-up wipes aren't enough to clean your skin
A doctor has taken to Instagram to illustrate that make-up wipes alone won't cleanse your skin properly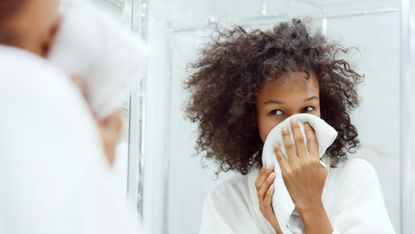 (Image credit: puhhha via Getty Images )
If there's one hill I will die on, it's that wipes are not an effective way to remove your make-up or cleanse the skin. Sure, I sound like a broken record, but nothing can replace using a proper cleanser and I will fight anyone who tries to argue differently. To quote the great Caroline Hirons, wipes are for bums.
But sometimes people need to see things with their own eyes in order to believe them, so I'm delighted that a new clip, showing what happens to your skin when you use a make-up wipe, is going viral on social media.
In a recent Instagram Reels video, British cosmetic doctor Dr Tijon Esho has a pretty unique way of illustrating that make-up wipes are not an good way to cleanse the skin – by using an orange, no less.
In the clip Dr Esho applies a layer of foundation to the skin of said orange, which is similar to the texture of our faces. He then wipes it off using a make-up wipe, which leaves a lot behind in the indents of the orange peel. Very gross.
"[This is] why I keep preaching to you all about make up wipes," he writes, followed by a series of unhappy emojis.
The peel does a good job of mirroring our skin and the way that foundation stays in your pores when skimming over the surface with a make-up wipe – showing just how much is left behind without properly cleansing. If that doesn't make you want to wash your face, nothing will.
"Note as a doctor I know your faces aren't all tangerines, oranges or even clementines," Dr Esho adds. "But what many watching don't realise is that the surface of the skin actually has several grooves and pits that we can't see with the naked eye - it also has many oils and lipids that can act like the waxy surface of the orange - the video represents what can happen at a microscopic level and should be food for thought."
Instead, the doctor recommends double cleansing – which is especially important if you're removing make-up. "Alternatively double cleanse using a cleanser or micellar water with for 60 seconds and try follow up makeup removal with moisture," he adds.
Lesson learned!
Lucy is a beauty journalist who has written for titles including Marie Claire, Cosmopolitan, OK!, woman&home and Women's Health, as well as regularly contributing to My Imperfect Life. Her work covers everything from skin and haircare tips to trying and testing the latest beauty launches, and interviewing celebrities and experts. A certified dog person, her other interests include mental wellbeing, books, piña coladas and not getting caught in the rain.