These are the best skincare products for acne-prone skin according to experts
From the best cleansers and serums to retinol treatments, these are the best skincare products for acne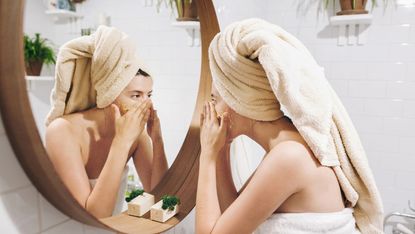 (Image credit: Getty Images)
Trying to make sense of the constant onslaught of skincare products and build an effective routine that'll have a positive impact is no mean feat at the best of times. Throw acne into the mix and things are even harder: what are the best skincare products for acne are? Will the lotions and potions you've invested in make things worse? How often should certain ingredients be used? What's best used during the day and what should be saved for nighttime?
The questions are understandably—and seemingly—endless: but it doesn't have to be this way, and it certainly doesn't have to be that hard. We've done the hard work for you and pulled together the perfect routine for acne-prone skin, to help treat blemishes and breakouts. Once you've got this bit nailed, you can then go on and find the best foundation for acne-prone skin. Everybody's a winner.
Of course, it goes without saying that if you're in any doubt about your skin then it's always best to speak to a trained professional, whether that's your doctor or a dermatologist, and you should always stop using a product if it causes any sort of reaction. The other thing to note is that skin likes nothing more than consistency, so while it may take a few weeks or longer to notice any results or change, stick with it because the products you use will have a positive impact.
We asked the experts what the best skincare products for acne are: here's what they say
1. Use a good cleanser properly (morning and evening)
Cleansing twice a day is one of the most important steps. Don't worry, though, because your morning cleanse can just be with micellar water. In the evening double cleansing is recommended. The first gets rid of all the make-up, city grime and pollution, dirt, and anything else that your face has been exposed to throughout the day, while the second one helps cleanse your skin, prepping it for the skincare you're about to apply. Oily and acne-prone skin types should use gel-based cleansers to melt away make-up and then that can either be followed up with the same product, or if you want to use something with a different texture, try a foaming cleanser – other skin types might find them quite drying, but they're great for helping to reduce any excess oil or sebum on the skin.
2. Follow with an antioxidant (morning only)
Antioxidants are a vital part of any routine, but especially for acne-prone skin. Paula's Choice Resist Ultra-light Super Antioxidant Concentrate Serum is a great choice because it mixes antioxidants with ingredients like niacinamide, which will work to reduce pore size, and with hyaluronic acid which will help hydrate skin. Plus, it's super lightweight in texture so you don't need to worry about layering on too many products or using something that will make skin more oily.
3. Don't forget to use SPF (morning only)
SPF is vital: not only does it protect skin from the sun's harmful rays, but it's also necessary to stop any sensitivity occurring as a result of the active ingredients you're using (more on those later). Sunscreen has a bad rep for being heavy, thick, and pore-clogging, but there are plenty of formulas nowadays that are the complete opposite. Opting for something oil-free and is labeled as 'non-comedogenic' meaning it won't clog pores is best, as it ensures it offers both UVA and UVB protection. Murad's Anti-Ageing Moisturiser SPF30 is a lightweight lotion that's formulated for blemish-prone skin so it won't sit heavy but still offers all the benefits a good SPF should have.
4. Try a BHA toner (evening only)
One of two key active ingredients that should be incorporated into any acne skin routine is a BHA, which stands for beta hydroxy acid, otherwise known as salicylic acid. BHAs are a type of exfoliating acid that work at surface level to slough away dead skin to banish dullness, while also getting deep into pores and flushing them out while also helping to reduce sebum levels and kill acne-causing bacteria. A BHA toner should be used two or three times a week and on alternate nights to retinol.
5. A good retinol is the key to great skin (evening only)
On nights you're not using a BHA, use a vitamin A—also known as retinol—serum or cream. It's hailed as the gold standard in the skincare world thanks to its ability to stimulate collagen and stimulate skin cell turnover. That means it can help improve skin texture and correct any pigmentation that has been left behind by acne. It's always best to start with a lower strength and gradually build up, just so your skin can adapt to using it. Check out our top tried and tested retinol serums to get you started.
6. Moisturiser (evening only)
Always wait around 20 minutes after applying either retinol or a BHA before applying moisturizer. Opting for a basic lightweight, fragrance, and oil-free formula is best as you want to avoid layering up heavy, oil-ladened products if you can. La Roche-Posay Toleraine Sensitive Creme is a good choice here.
Lucy Partington has been a beauty journalist for eight years, writing for titles including Stylist and Cosmopolitan. She's a true skincare nerd who's on a lifelong quest for a glowing complexion and loves nothing more than learning about new ingredients and products. She's obsessed with having perfect eyebrows and collecting eyeshadow palettes she'll probably never use.