The hilarious way Meghan Markle and Prince Harry stayed incognito on their first dates
Baseball caps, texting, and supermarkets!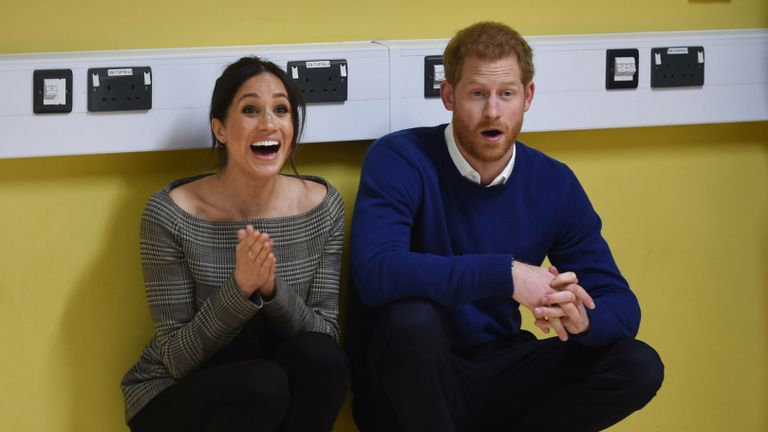 (Image credit: Photo by Geoff Pugh - WPA Pool/Getty Images)
Life in the public eye isn't easy but turns out Prince Harry and Meghan Markle still managed to find a way to stay incognito when they started dating—and it's actually hilarious.
Speaking to Dax Shephard on his Armchair Expert podcast, Harry revealed how he and Meghan tried to stay under the radar for their first meetings. 
In true rom-com style, Harry said their first date was in a supermarket. Harry said to Dax: "The first time Meghan and I met up for her to come and stay with me, we met up in a supermarket in London, pretending we didn't know each other, texting each other from the other side of the aisles."
He said: "I texted her saying 'is this the right one', and she said 'no you want parchment paper', and 'I'm like where's the parchment paper?'"
Harry also said he would wear the classic disguise of a baseball cap and would stare at the floor to avoid being recognized.
He joked about the number of times he's been walking down the street staring at the floor and nearly bumped into signposts—not to mention the amount of chewing gum he's seen stuck to the floor while trying to stay incognito.
Harry also revealed to Dax that he's never felt so free since moving to LA with Meghan and their son Archie, revealing that he can now do things outside he couldn't do before (who can forget the cute video of him at the beach with Archie?).
"Living here now I can actually lift my head and actually I feel different, my shoulders have dropped, so has hers, you can walk around feeling a little bit more free", Harry said.
"I can take Archie on the back of my bicycle. I never had the chance to do that." 
The couple, who had a controversial interview with Oprah earlier this year, managed to keep their relationship a secret for a good few months, so cearly supermarket dates are the key to lowkey dating.
Naomi is trainee news writer who writes for My Imperfect life, Woman & Home and Goodto. Naomi writes articles from fashion trends and skincare to entertainment news.