How Obama and other celebrities have reacted to the violent pro-Trump riots at Capitol
The former president has released a statement about the violent riots by Trump supporters at US Capitol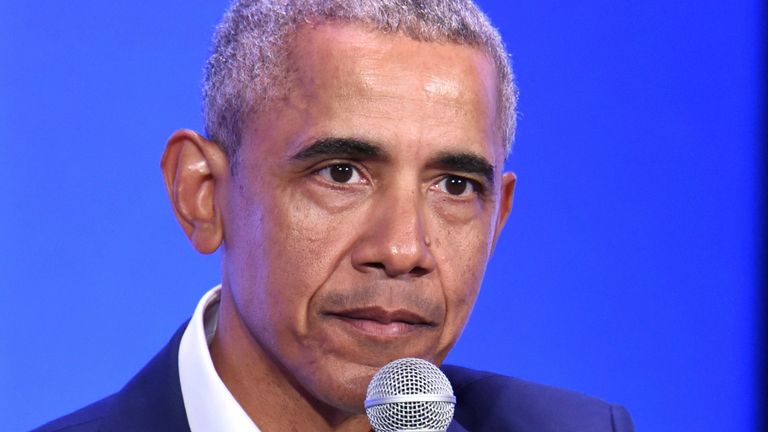 (Image credit: Getty Images)
Former US President Barack Obama released a statement on Wednesday night, following the violent riots by Trump supporters that took place at US capitol in Washington. 
Obama, who left office in 2016, condemned Donald Trump for inciting the horrifying events, which saw a mob of  white supremacists and Trump supporters forcefully invade the US Capitol Building, with four people dead including a one woman who was shot inside the building. 
Sharing his statement on Twitter, Obama wrote: "History will rightly remember today's violence at the Capitol, incited by a sitting president who has continued to baselessly lie about the outcome of a lawful election, as a moment of great dishonor and shame for our nation. But we'd be kidding ourselves if we treated it as a total surprise.
"For two months now, a political party and its accompanying media ecosystem has too often been unwilling to tell their followers the truth — that this was not a particularly close election and that President-Elect Biden will be inaugurated on January 20," he added, referring to the conservative media outlets who have supported Trump's narrative about the 2020 US election results to which he lost the presidency to Joe Biden.
"Their fantasy narrative has spiraled further and further from reality, and it builds upon years of sown resentments," Obama continued. "Now we're seeing the consequences, whipped up into a violent crescendo."
Why was there a riot at the Capitol?
Obama's statement came just as Congress ratified the outcome of the Electoral College vote, confirming Biden's 306-232 victory over Trump in November's presidential election.
The vote was scheduled to take place earlier in the day on Wednesday but was delayed after furious Trump supporters attacked the Capitol, storming passed police and security - who allegedly refrained from taking any action, according to several pieces of footage released on social media during the riots - after attending a rally held by Trump in which he refused to concede the election.
Following the riots and Biden's certification, Trump released a statement insisting that he still did not "agree" with the results of the election but would give an "orderly transition on January 20th" when Biden is inaugurated. 
Trump's belated response comes after months of riling up his supporters by refusing to admit defeat and encouraging his following that the election was "rigged"  and planting unsubstantiated conspiracy theories about manipulated voting machines, whilst filing over 60 legal challenges, all of which were thrown out of court due to lack of proof. 
The riots at Capitol ignited a huge backlash on social media, with millions around the world condemning US law enforcement for their response to rioters - a response that  significantly differed from the way Black Lives Matter protesters were treated during the Civil Rights movement that took place last summer.  
Celebrities react to Capitol Hill riots
"Black Americans are murdered for jogging in white neighborhoods—meanwhile white Trump supporters have just raided THE WHITE HOUSE and everyone is still standing. THIS IS AMERICA," tweeted American journalist and author Elaine Welteroth.
American poet and artist Noah Caine also highlighted the way in which the riots were yet another demonstration of racism and anti-Blackness within the US justice system by simply tweeting an image of white rioters insider the Capitol building with the caption: "to make it here without dying is the epitome of white privilege."
Meanwhile several other activists used social media to express their hurt and anger at the lack of consequences, while reminding the world that police brutality and racism is still alive and well in America.