Pinterest just made it easier to find inspiration that suits your complexion
The platform has launched an inclusive new search tool that helps match your skin tone to results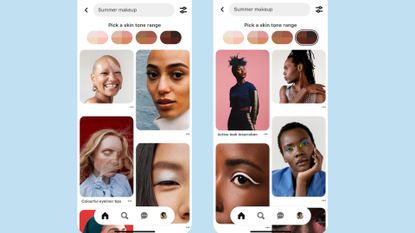 (Image credit: Pinterest)
It's no secret that shopping for beauty products can be exhausting for women of color at times due to a lack of representation - especially when it comes to things like BB creams and non-comedogenic foundations. And while we have seen major leaps towards change in recent years, it can often still be a factor when looking for inspiration on social media platforms.
That's why everyone's favourite mood board platform Pinterest has introduced a new tool, allowing users to search for inspiration relevant to their own skin tone.
The feature, which has been available in the US but has now also been rolled out on the UK version of the platform, makes it so much easier to find content that is actually useful for you.
To state the obvious, we're all different which means there isn't a universal look or shade that fits all. This inclusive approach will save us all from hours of scrolling through content that doesn't tend to our specific needs by letting us be more specific in our searches.
In fact, the improved technology means it's now three times as likely to detect multiple skin-tone ranges in top search results, compared to previous technology, according to Pinterest.
The platform also explained that the update means the app's virtual lipstick Try On experience is now available with more than 10,000 shoppable, in-stock shades that users can discover across 48 million beauty Pins. These include products by brands that are known for their inclusive range of shades, such as NARS, Cle de Peau, and Thrive Causemetics.
"Pinterest is the home of inspiration, but it's hard to be inspired if you don't feel represented," the brand's product manager, Annie Ta, said in a statement. "We're making each person's Pinterest experience more relevant to them through new technology and ways to control the beauty results they see. With these updates, Pinterest is becoming a more inclusive place to discover and shop for beauty ideas. No one should have to work extra hard to uncover personalised ideas, and all should feel welcome. A more diverse Pinterest is a more useful, positive and powerful one."
This has definitely changed things for the better!
Sagal is a journalist, specialising in lifestyle, pop culture, fashion and beauty. She has written for a number of publications including Vogue, Glamour, Stylist, Evening Standard, Bustle, You Magazine, Dazed and Wonderland to name a few.