Revealed: Priyanka Chopra's makeup products for looking good on Zoom calls
Even celebs need a little help on Zoom.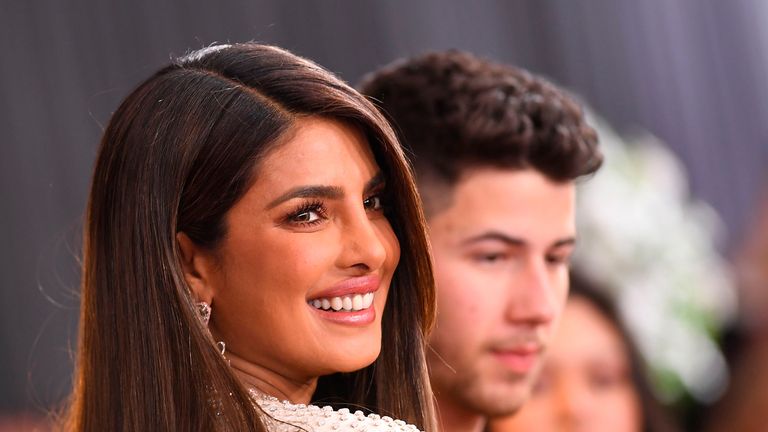 (Image credit: VALERIE MACON/Getty Images)
Reached peak Zoom? Priyanka Chopra's makeup tutorial is guaranteed to breathe fresh life into your on-call look.
We know, we know. Zoom somehow manages to drain the lifeblood out of every complexion. But isn't it just a teeny bit reassuring that it's not just us mere mortals  that need a little help in the makeup department? 
It's as if the perennially gorgeous Priyanka heard our cries of despair and posted an IGTV makeup tutorial packed with quick fixes and simple makeup hacks that she's learnt to perfect in just 5 minutes.
"I usually don't have time to do make-up," she explains in the video while prepping her clean skin. "Then I take MAC Studio Fix [Powder Plus Foundation] – because I don't know how to do anything else – put it on my nose a bit, my forehead, under eyes. Perfect!"  Like all the best non comedogenic foundations, Studio Fix won't clog pores or cause breakouts. 
To add a subtle flush of colour to her cheeks, Priyanka swishes a little Chanel compact blush (the latest version for Spring is the Fleurs De Printemps Blush and Highlighter Duo) over her cheekbones and up to her temples. "I like going a little bit on the sides of my face," she says. "[It] gives [my face] a little shape." 
Next, Priyanka skips an additional eyeshadow step. Instead, she simply swishes the same blush brush over her eyelids in a move that makeup artists would applaud for creating on point monochrome makeup. 
"Eyes are important on Zoom!", says Priyanka as she curls her lashes and adds a coat of mascara to both top and bottom lashlines. To keep her brows looking groomed she takes a brush then fills in any gaps with a soft pencil.  
Finally: lipstick. Despite being at home or covering up with a face mask, Priyanka still enjoys making a feature of her lips. "I usually like to have a lighter lip or a fun colour, maybe," she says. "This is my favourite go-to. It's Clinique [Chubby Stick] and it's kind of natural." 
Chubby Sticks are like the lovechild of a balm and lip pencil. Delivering more of a tint than a full-pigment finish makes them a clever, low-maintenance option when wearing a face covering as any transfer isn't as noticeable.
And just like that, you're ready for your Zoom meeting.