Rihanna claps back at fans after they asked about her next album
Fans get shut down by Rihanna for requesting an album in 2021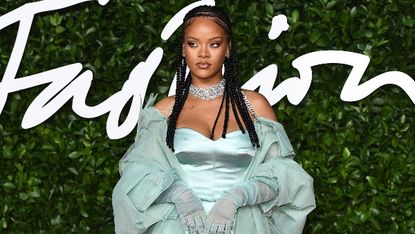 (Image credit: Getty / Jeff Spicer/BFC )
Rihanna is definitely not ready for fans to start demanding an album in 2021. The clapback queen, known for her sharp tongue and savage attitude, had a few unsettling words for a fan filling up her Instagram comments.
Nominated for six Grammy awards including best performance for the huge hit "Work" featuring Drake, it's nearly five years since we've had any music from RiRi so it's no surprise fans are begging for some new sounds.
After posting photos to her Instagram account showing off her latest vacation in the Caribbean, teamed with the suggestive with the caption "new year's resolution: apply the pressure", one fan decided to question her: "Resolution should be releasing the album."
To that, Rihanna harshly replied: "this comment is sooo 2019. grow up," and then added "2021 energy."
Wading into the Instagram spat, deputy creative director of Fenty, Jahleel Weaver also jumped into the conversation. "Speaking of pressure, it's the album for me," he commented, to which Rihanna replied a simple, "phuck you."
It's no surprise fans are still begging for an album after what feels like years with no music from the Bajan queen. After making a name for herself in the fashion and beauty industry over the last few years, it's the music fans are missing.
During an exclusive interview with Entertainment Tonight back in 2019, the queen of pop remained tight-lipped about when fans could expect a new album. However, she did have this to say: "Well, obviously, I'm a confident woman, so whatever I do, it's gon' be confident — whether it's the album, perfume, lingerie, makeup or fashion. Y'all gon' have to wait, Navy. I'm so sorry."
Rihanna's last album was ANTI, released in 2016 and was celebrated for its chart-topping pop records. Set on disappointments and mellow vibes, the album featured hits Work, Kiss It Better and Love On The Brain. Before that Loud was released in 2010 and Good Girl, Gone Bad came out in 2007, showing that time is a good thing when it comes to waiting for her new release from Rihanna.
Let's see what 2021 brings!
Since December 2020, Kudzai has worked as a trainee journalist at FUTURE, writing about fashion, entertainment and beauty content for My Imperfect Life.

Kudzai previously worked as a freelance fashion wardrobe stylist, directing magazine photoshoots and coordinating the fashion direction of recording artists.

A fully qualified Journalism and Media graduate from De Mont Fort University, Kudzai graduated in the summer of 2020.