Beyoncé joins calls to end SARS in Nigeria amid ongoing protests
Beyoncé is the latest celebrity to pledge support for the end SARS movement in Nigeria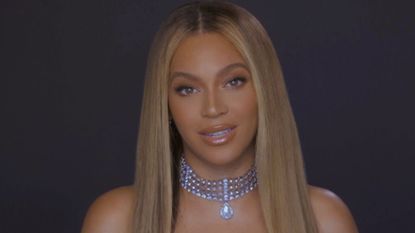 (Image credit: Getty Images: Photo by BET Awards 2020)
Beyoncé has pledged her support for calls to end SARS, the Special Anti-Robbery Squad in Nigeria amid the ongoing protests to end police brutality in the country.
The star used her Instagram account to speak out against the horrifying events that have taken place this week after the Nigerian government allegedly violently targeted peaceful protesters on Tuesday, with many injured and others losing their lives.
"I am heartbroken to see the senseless brutality taking place in Nigeria," she wrote in a post. "There has to be an end to SARS. We have been working on partnerships with youth organisations to support those protesting for change."
The mother-of-three continued: "We are collaborating with coalitions to provide emergency healthcare, food and shelter. To our Nigerian sisters and brothers, we stand by you."
Within the post, Beyoncé also directed fans to her website, where she's provided links to several organisations people can help to support the movement no matter where they are in the world. Her suggestions include Feminist Coalition, an organisation championing equality for women in Nigerian society, and Connected Development, whose work empower marginalised communities in Africa.
What is SARS?
Set up in 1984, SARS is a police unit that was originally created to tackle the growing number of people stealing from each other in Nigeria. However, a number of investigations over the years has linked the unit to unlawful arrests, numerous deaths, kidnappings, harassment and the extortion of people in the West African nation. Amnesty International has reported on a series of allegations involving SARS for the past 20 years, with one of their most recent reports from June documenting 82 cases of torture, ill treatment and extra-judicial execution, allegedly carried out by SARS, between January 2017 and May 2020.
While #EndSARS first surfaced in 2017, the hashtag has been used in recent weeks to raise awareness of the growing protests in the Nigerian capital, Lagos, as demonstrators took to the streets to call for the abolishment of SARS following the killing of a young Nigerian man.
The largely peaceful protests flooded the city from last Friday 16 October, leading Nigerian officials imposed a curfew across several states including the Lekki suburb. As reported in Evening Standard, Nigeria's President Muhammadu Buhari announced that SARS would be dissolved and replaced with a new unit, the Special Weapons and Tactics (SWAT) on Sunday. However, protests continued and earlier this week on Tuesday 20 October, 12 demonstrators were allegedly shot and killed by SARS, the BBC reports.
As well as Beyoncé many other celebrities and politicians including John Boyega, Trevor Noah, Rihanna, Joe Biden and Hillary Clinton have used their social media platforms to raise awareness of what is happening in Nigeria whilst sharing ways to help end SARS.
What can you do to help?
While the #EndSARS started in Nigeria, it has gained worldwide momentum and there are plenty of ways you can help without being on the ground.
First and foremost, you can educate yourself by reading about what is happening and supporting the movement by sharing the #EndSARS hashtag.
Beyond this, there are several organisations you can donate to including the aforementioned Feminist Coalition and Connected Development (CODE).
Amplifying the voices of protestors and reporters in Nigeria is another way to help. Yesmi Adegoke is a journalist for BBC Africa working in Lagos, Nigeria, who regularly tweets updates, as does Amnesty International Nigeria.
Sagal is a journalist, specialising in lifestyle, pop culture, fashion and beauty. She has written for a number of publications including Vogue, Glamour, Stylist, Evening Standard, Bustle, You Magazine, Dazed and Wonderland to name a few.