Skinimalism will be the biggest beauty trend of 2021 according to Pinterest
The social media app predicts that we'll all be slimming down our skincare routines next year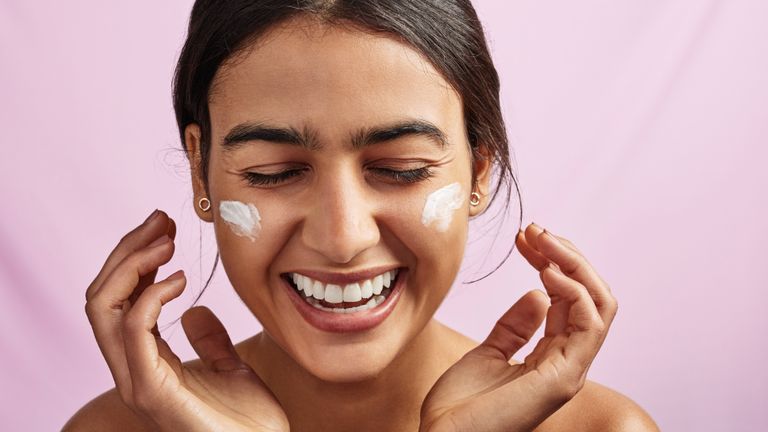 (Image credit: LumiNola via Getty Images)
Heard the word 'skinimalism' floating around on social media lately? That's probably because Pinterest predicts it'll be the biggest beauty trend in 2021. If you're confused about exactly what that involves, we're here to clear the fog.
First things first, don't panic – this doesn't mean giving up things like your retinol serums and cutting down to just one product. The trend is simply about streamlining your beauty routine in favor of something a bit lower maintenance.
According to the annual Pinterest Predicts Report, searches for "natural everyday make-up" are up by 180%, while searches for both "face yoga exercises" and "glowing skin how to get naturally" have quadrupled.
At-home skincare has also surged in popularity – which is not surprising, seeing as our time spent at home has also shot up this year – with searches for "homemade skincare" up by 110% and "aloe vera face mask" up by 115%. (Meanwhile at the other end of the scale, searches for this extreme brow trend are up 160%.)
What is skinimalism?
Skinimalism is all about slimming down your skincare and make-up for a more affordable and sustainable regime. It will be "the new glow up", according to the Pinterest Predicts Report.
"It's the end of the caked-on makeup look," the report says of the trend. "Pinners will embrace slow beauty and let their natural skin texture shine through. This new 'effortlessly chic' routine is simple and sustainable."
Considering that the pandemic has left many people even more concerned about their finances, and that we're more aware of how our beauty routines impact the planet, it makes a lot of sense that this will be a popular approach to beauty next year.
Will you be slimming things down in 2021 too?
Lucy is a beauty journalist who has written for titles including Marie Claire, Cosmopolitan, Women's Health, InStyle and Woman & Home, and regularly contributes to My Imperfect Life. Most recently she was Junior Beauty Editor at Marie Claire. Covering skincare, haircare, make-up and wellbeing, her job involves anything from picking the brains of the world's top dermatologists to swatching the latest and greatest foundations. When she's not got beauty on the brain, you're most likely to find her spending time with dogs (her sister owns one very sassy cockapoo), reading or sleeping. She's also a big fan of RuPaul's Drag Race, rosé and and house plants that stay alive.