Best retinol serums: 5 powerhouse formulas to reverse skin ageing
These are the best retinol serums on the market that promise firmer, smoother, brighter and clearer skin.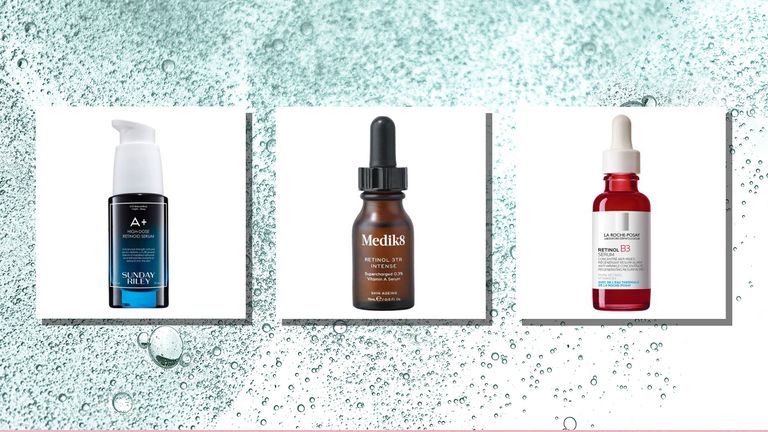 (Image credit: Getty Images / Sunday Riley / Medik8 / La Roche Posay)
If you're keen to discover one of the best retinol serums for your skin - look no further. From finding the best to showing you how to start using retinol - we've got you covered. Retinol has become a gold standard active ingredient, loved by beauty buffs, facialists, and aesthetic doctors alike but the skincare powerhouse has always been shrouded in a little mystery. 
Achieving its holy grail benefits of firmer, clearer, brighter skin is totally dependent on which formula you choose and how you introduce this skin perfecter into your routine. Found in Vitamin A, retinol is one of two derivatives available without a prescription. It's also the more potent out of the two and if you opt for an uber strong formula or use too much too soon the retinol uglies - dryness, irritation, acne and flaking - will no doubt ensue. 
We've rounded up and tested the best-selling retinol serums on the market and have been impressed by the skin sloughing, acne quelling, radiance imparting benefits of the Neostrata Retinol Repair Complex and the wrinkle busting prowess of potent Sunday Riley A+ High Dose Retinoid Serum. 
THE MY IMPERFECT LIFE EDIT
THE BEST RETINOL SERUM FOR MOST PEOPLE
Medik8 Retinol 3TR Intense
Best for first time retinol users
Specifications
Strength: 0.3%
Additional ingredients: Vitamin E for added antioxidant protection and enhanced stability of the formula Anti-fungal Climbazole boosts retinols effectiveness, mimicking the results of a higher percentage without the irritation. Natural emollient squalane helps strengthen and restore the skin's natural defence barrier while simultaneously hydrating the skin.
Reasons to buy
+It has time-release technology for maximum results without irritating the skin+Vegan, paraben, alcohol and cruelty free
Reasons to avoid
-It might be too moisturising for oily and combination skin types 
This fragrance-free serum sinks in quickly, leaving skin feeling soft and uber hydrated. Best used at night - four drops massaged into the face, neck and décolletage is all you need to reap the benefits. For those with very dry skin, you can apply a moisturizer or oil without weakening the effects of the 0.3% retinol. The formula contains vitamin E for enhanced stability and time-release technology to slowly deliver the retinol into the skin and minimize irritation. The lightweight serum is also supercharged with retinol-booster climbazole to further enhance results. Phased-in gradually - twice a week for the first two weeks, every other night for the next two weeks, then every night thereafter - you'll surely notice a reduction in lines, wrinkles, pigmentation and be left with brighter, smoother skin to boot. 
THE BEST PREMIUM RETINOL SERUM
Sunday Riley A+ Retinoid Serum
Best for those with pigmentation and deep wrinkles
Specifications
Strength: 1%
Additional ingredients: blue-green algae retinoid-like botanical extracts CoQ10 to help improve to even skin-tone, repair and hydrate Hawaiian white honey, and chamomile derivative bisabolol, soothe and calm the skin
Reasons to buy
+reduces acne scarring+It's an award-winning serum
Reasons to avoid
-Sensitive skins might find it too strong-It's fragrance free and the smell can change over time
Sunday Riley is known for their supercharged formulas that fuse high-tech science with ancient botanicals and this award-winning retinol serum is no different. The light runny serum glides over the skin with ease and offers serious results without the downtime. It helps to breaks down pigmentation, and scaring, and plumps fine lines and wrinkles, thanks to its powerful blend of retinoid-like botanicals and 1% of gold standard retinol. Side effects are minimal as it also contains hydrating CoQ10, and calming Hawaiian white honey, and chamomile derivative bisabolol. However, as this formula packs a mighty punch one to two pumps applied to dry skin before bed is all that's needed, and those with dry or sensitive skin types may well want to layer with a moisturizer.
THE BEST BUDGET RETINOL SERUM
The INKEY List Retinol Serum 30ml
Best for buyers on a budget
Specifications
Strength: 0.05 %
Additional ingredients: 0.5 per cent granactive retinoid, offers the same effect as retinol but with far less irritation Squalane for hydration and soothing
Reasons to buy
+It's bank balance-friendly+The slow release formula and low percentage of retinol makes it sensitive skin-friendly
Reasons to avoid
-The packaging is a little fiddly-Might not be strong enough for veteran retinol users
The consistency of this serum is almost water-like, so it blends into the skin with ease. It's a mix of retinol and vitamin A derivative, granactive retinoid - that helps amp-up the strength of the formula. This retinoid works in much the same way as retinol but causes very little irritation - which is good news all round.  The formula is also slow release and contains moisturizing squalene, which is great for sensitive skin meaning, flaking and redness is unlikely when using this serum. After using this serum, fine lines were reduced, skin texture saw major improvement and complexion was far brighter than before. 
THE BEST RETINOL FOR SENSITIVE SKIN
La Roche-Posay Retinol 0.3% + Vitamin B3 Serum
Specifically formulated for sensitive skin
Specifications
Strength: 0.3%
Additional ingredients: Vitamin B3 helps tighten pores, improve uneven skin tone, soften, smooth and strengthen the skin's barrier Hydrating glycerin
Reasons to buy
+ideal formula for sensitive skins+doubles down on pore size
Reasons to avoid
-It contains silicone-needs to be massaged in to avoid feeling tacky
Specifically formulated for those with sensitive skin who are also concerned with dehydration, pigmentation, enlarged pores, texture and wrinkles. The 0.3% retinol sounds low but a lower concentration means less irritation, but not a reduction in benefits. All that is needed is a little patience and to give it more time to see results. Plus, skincare MVP vitamin B3 aka niacinamide elevates the formula to epic proportions thanks to its ability to further tighten pores and reduce pigmentation alongside restoring the skin's barrier. You should find that over time the recommended nightly dose of three drops on clean skin will brighten, tighten and firm skin while plumping lines and wrinkles.
THE BEST RETINOL FOR ACNE PRONE SKIN
Neostrata Skin Active Derm Actif Firming - Retinol Repair Complex 30ml
Best for acne prone skin
Specifications
Strength: 0.5%
Additional ingredients: Neoglucosamine amplifies and intensifies the plumping and firming benefits and exfoliates to reduce acne and the appearance of pigmentation Gardenia cell culture preserves existing collagen structure and helps stimulate new collagen Amino acids and peptides help build new collagen
Reasons to buy
+It works over hours thanks to time release technology +It majorly exfoliates
Reasons to avoid
-More likely to cause irritation-Can be too strong on the neck and décolletage
When it comes to acne, exfoliation is key to stop pores clogging and spots erupting. Thankfully, this retinol serum has skin sloughing powers in spades. While 0.5% of pure, stabilized Retinol might not sound much since it's possible to get higher dosages without a prescription, this seems to go above and beyond, speeding up cell turnover, boosting collagen and elastin production like a dream. Neostrata says this is thanks to the clever combination of retinol, amino acids, peptides, plant stem cells and neoglucosamine aka NAG. NAG, a precursor of much-loved hyaluronic acid, has many of the same benefits as retinol - blocking the formation of pigmentation, boosting cell turnover, collagen and elastin, as well as tightening pores and stopping acne in its tracks. And that is exactly what it does as long as you ease into this serum. Housed in a UV protected tube to stop the retinol from being broken down by UV rays and with a nifty pump to make it easy to dispense the pea-size amount needed - start slow to reap the long-term benefits. 
How to choose the best retinol serum for you
Make sure you do the research and follow dermatologist-approved tips before using. While a potent formula might sound like you're getting your money's worth, retinol products can come in 0.3%, 0.5%, 1%, 1.5%, and 2% doses. If you're new to retinol, it's best to start low and work your way up - how low depends on your skin type. 
With that said the potency of most retinols on shelves ranges between 0.3 and 1 percent and these can work wonders to youth-boost your complexion. 
It's always recommended to check what additional ingredients your retinol serum may contain. While a moisturizing formula will be incredibly beneficial for dry skin, it could send acne-prone skin into overdrive.