Best retinol serums: the tried and tested powerhouse formulas to reverse skin ageing
The best retinol serums on the market that promise firmer, smoother, brighter and clearer skin—these are our favorites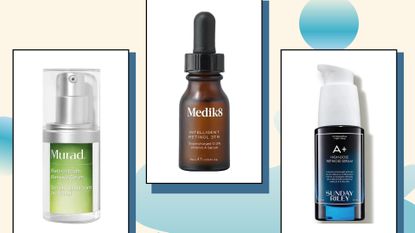 (Image credit: Future)
The best retinol serums promise a slew of skincare results that we all want—from smoothed-out wrinkles and fine lines to less oil production and brighter skin. So we've tested our way through a host of options on the market to find the very best ones. We've also created a how to start using retinol guide to answer any of your immediate questions.
A gold standard active ingredient that proves an essential part of a healthy skincare routine, retinol is loved by beauty buffs, facialists, and aesthetic doctors alike—but the skincare powerhouse has always been shrouded in a little mystery. Found in vitamin A, retinol is the one of its two derivatives that is available without a prescription. It's also the more potent out of the two. The holy grail of retinol benefits is firmer, clearer, and brighter skin. But, achieving this depends on which formula you choose and how you introduce this skin-perfecter into your routine.
We've rounded up and tested the bestselling retinol serums on the market to make your decision easier. The Medik8 Retinol 3TR Intense is a great option for everyone, as it works well with all skin types. The delicate level of retinol also makes it a top pick for beginners, as it's unlikely to cause any irritation or inflammation. For us, the Neostrata Retinol Repair Complex came out on top for those with problem skin, as it boasts impressive skin sloughing, acne quelling, and radiance imparting benefits—although it's worth noting that this is probably more suitable for the advanced user. We also loved the wrinkle-busting prowess of potent Sunday Riley A+ High Dose Retinoid Serum and found that the La Roche-Posay Retinol B3 Serum is a great option for those with sensitive skin. Bear in mind that should alternate using your retinol with your best vitamin c serum in your routine.
How to choose the best retinol serums for your skin
As we mentioned above, retinol is found in vitamin A and is one of two derivatives available without a prescription. It's also the more potent out of the two and if you opt for an uber strong formula or use too much too soon, there is a high chance that retinol peeling aka retinol uglies—dryness, irritation, acne, and flaking—can occur. Word to the wise—you want to avoid this at all costs! From finding the best-in-show to explaining how to start using retinol—we've got you covered.
Make sure you do the research and follow dermatologist-approved tips before using retinol. While a potent formula might sound like you're getting your money's worth, retinol products can come in 0.3%, 0.5%, 1%, 1.5%, and 2% doses. You might also be asking yourself should you be using a retinol oil instead of a retinol serum? If you're new to retinol, it's best to start low and work your way up—how low depends on your skin type. Remember, no one wants to endure the unwanted retinol uglies!
With that said the potency of most retinols on shelves ranges between 0.3 and 1 percent and these can work wonders to youth-boost your complexion.
It's always recommended to check what additional ingredients your retinol serum may contain. While a moisturizing formula will be incredibly beneficial for dry skin, it could send acne-prone skin into overdrive. We asked a dermatologist can dry skin cause acne to further answer your questions.
The best retinol serums as reviewed by our skincare expert
1. Medik8 Retinol 3TR Intense
Best retinol serum for most people—and a great choice for beginners
Specifications
Strength: 0.3%
Additional ingredients: Vitamin E for added antioxidant protection and enhanced stability of the formula Anti-fungal Climbazole boosts retinols effectiveness, mimicking the results of a higher percentage without the irritation. Natural emollient squalane helps strengthen and restore the skin's natural defence barrier while simultaneously hydrating the skin.
Reasons to buy
+
This product has time-release technology for maximum results without irritating the skin
+
Vegan, paraben, alcohol and cruelty free
Reasons to avoid
-
It might be too moisturising for oily and combination skin types
The creator of one of our best vitamin C serums too, this fragrance-free serum sinks in quickly, leaving skin feeling soft and uber hydrated. We found that this was best used at night. Just four drops massaged into the face, neck, and décolletage in the evening is all you need to reap the benefits. If you have very dry skin, then we recommend applying a moisturizer or oil without weakening the effects of the 0.3% retinol.
The formula contains antioxidant vitamin E for enhanced stability and time-release technology to slowly deliver the retinol into the skin and minimize irritation. The lightweight serum is also supercharged with retinol-booster climbazole to further enhance results. Phased-in gradually—twice a week for the first two weeks, every other night for the next two weeks, then every night thereafter—you'll surely notice a reduction in lines, wrinkles, pigmentation and be left with brighter, smoother skin.
A high-tech serum that soaks into the skin and is suitable for everyday use
Specifications
Strength: Not listed
Additional Ingredients: Hyaluronic acid, swertia flower (a medicinal flower from the Himalayas
Reasons to buy
+
High-tech formula
+
Dermatologist-approved ingredients at significant concentrations
+
Pump prevents air from contaminating the retinol
Reasons to avoid
-
Too potent for very reactive, sensitive skin
-
Can be on the pricey side
Murad offers one of the best sunscreens for face on the market, so it's no surprise they have a top-tier retinol too. This results-driven high-tech formula targets fine lines, loss of firmness, hyperpigmentation (and also acne) soaks into the skin easily and feels refreshingly light. It is always formulated with the brands patent Tri-Active Technology is compromised of three different types of retinol (a fast acting retinoid, a slow-release retinol and top-up booster).
This combination of ingredients is thought to have few side effects but still delver a visible improvement to the skin. We found it was a good all-rounder for retinol pros and virgins alike—just remember as with all retinol products, to ease yourself in to avoid any of the adverse retinol effects. We also loved the dispenser, which meant that the exact amount you needed was delivered—two pumps will do the entire face.
The best retinol option for those with acne prone skin
Specifications
Strength: 0.5%
Additional ingredients: Neoglucosamine amplifies and intensifies the plumping and firming benefits and exfoliates to reduce acne and the appearance of pigmentation Gardenia cell culture preserves existing collagen structure and helps stimulate new collagen Amino acids and peptides help build new collagen
Reasons to buy
+
It works over hours thanks to time release technology
+
It majorly exfoliates
Reasons to avoid
-
More likely to cause irritation
-
Can be too strong on the neck and décolletage
When it comes to the best retinol serums, it doesn't get much better than this. The key to stopping pores clogging and spots erupting is efficient exfoliation. Thankfully, this retinol serum has skin sloughing powers in spades. While 0.5% of pure, stabilized Retinol might not sound much since it's possible to get higher dosages without a prescription, this seems to go above and beyond, speeding up cell turnover, boosting collagen and elastin production like a dream.
Neostrata says this is thanks to the clever combination of retinol, amino acids, peptides, plant stem cells, and neoglucosamine aka NAG. NAG, a precursor of much-loved hyaluronic acid, has many of the same benefits as retinol—blocking the formation of pigmentation, boosting cell turnover, collagen, and elastin, as well as tightening pores and stopping acne in its tracks. And that is exactly what it does as long as you ease into this serum. Housed in a UV-protected tube to stop the retinol from being broken down by UV rays and with a nifty pump to make it easy to dispense the pea-size amount needed—start slow to reap the long-term benefits. You can read about the differences between hyaluronic acid vs retinol.
See our full Neostrata Retinol Repair Complex review
4. Paula's Choice 1% Retinol Booster
Best retinol serum for darker skin tones—and beginners who want to customise their approach
Specifications
Strength: 1%
Additional Ingredients: Skin-soothing oat extract and licorice root, a potent antioxidant that can be effective in improving the look of pigmentation
Reasons to buy
+
Customizable: can be used alone
+
Or add 2-3 drops to your favourite moisturizer or serum depending on what strength your skin can tolerate
+
It can be applied around the under-eye area
Reasons to avoid
-
It's less cost effective than a single retinol skin-care product
-
The concentration is diluted by your serums and creams
If you're a retinol newbie and unsure how your skin will react, a booster could be the answer. Skincare boosters are designed to be added to your favourite serum or moisturizer, at concentrations that are customisable to your skin's needs. With this product 2-3 drops is recommended and you still need to apply an SPF30+ by day. You may wish to use the booster on its own once your skin has acclimated, or if you're dealing with a bout of post-summer hyperpigmentation—the point is, it's a versatile approach to retinol that's appealing to first timers.
The addition of antioxidant-rich licorice root extract and skin-soothing oat extract help to quell inflammation as well as an uneven skin tone, which is reassuring for those with darker skin tones who are wary of powerful ingredients such a vitamin A, which can trigger post-inflammatory hyperpigmentation.
5. Sunday Riley A+ Retinoid Serum
A premium retinol serum that is Ideal for those with pigmentation and deep wrinkles
Specifications
Strength: 1%
Additional ingredients: blue-green algae retinoid-like botanical extracts CoQ10 to help improve to even skin-tone, repair and hydrate Hawaiian white honey, and chamomile derivative bisabolol, soothe and calm the skin
Reasons to buy
+
reduces acne scarring
+
It's an award-winning serum
Reasons to avoid
-
Sensitive skins might find it too strong
-
It's fragrance free and the smell can change over time
Sunday Riley is known for supercharged formulas that fuse high-tech science with ancient botanicals and this award-winning retinol serum is no different. The light serum glides over the skin with ease and offers serious results without any downtime. It helps to breaks down pigmentation, and scaring, and plumps fine lines and wrinkles, thanks to its powerful blend of retinoid-like botanicals and 1% of gold standard retinol. Side effects are minimal as it also contains hydrating CoQ10, and calming Hawaiian white honey, and chamomile derivative bisabolol.
However, as this formula packs a mighty punch one to two pumps applied to dry skin before bed is all that's needed. For those with dry or sensitive skin types, we would recommend layering with your best moisturizer for dry skin.
6. The INKEY List Retinol Serum 30ml
This pocket friendly retinol is perfect for those looking to stick within budget
Specifications
Strength: 0.05 %
Additional ingredients: 0.5 per cent granactive retinoid, offers the same effect as retinol but with far less irritation Squalane for hydration and soothing
Reasons to buy
+
It's bank balance-friendly
+
The slow release formula and low percentage of retinol makes it sensitive skin-friendly
Reasons to avoid
-
The packaging is a little fiddly
-
Might not be strong enough for veteran retinol users
The consistency of this serum is almost water-like, so it blends into the skin with ease. It's a mix of retinol and vitamin A derivative, granactive retinoid—that helps amp up the strength of the formula. This retinoid works in much the same way as retinol but causes very little irritation—which is good news all round.
The formula is also slow release and contains moisturizing squalene, which is great for sensitive skin as by using this serum you can banish redness and flaking. After using this serum, fine lines were reduced, skin texture saw major improvement and complexion was far brighter than before.
Specifically formulated for sensitive skin
Specifications
Strength: 0.3%
Additional ingredients: Vitamin B3 helps tighten pores, improve uneven skin tone, soften, smooth and strengthen the skin's barrier Hydrating glycerin
Reasons to buy
+
ideal formula for sensitive skins
+
doubles down on pore size
Reasons to avoid
-
It contains silicone
-
needs to be massaged in to avoid feeling tacky
Specifically formulated for those with sensitive skin who are also concerned with dehydration, pigmentation, enlarged pores, texture, and wrinkles. The 0.3% retinol sounds low but a lower concentration means less irritation, but not a reduction in benefits. All that is needed is a little patience and to give it more time to see results.
Plus, skincare MVP vitamin B3 aka niacinamide elevates the formula to epic proportions thanks to its ability to further tighten pores and reduce pigmentation alongside restoring the skin's barrier. You should find that over time the recommended nightly dose of three drops on clean skin will brighten, tighten, and firm skin while plumping lines and wrinkles.
8. Shani Darden Retinol Reform Anti-Ageing Serum 30ml
For fast results to improve skin texture and tone
Specifications
Strength: 2.2%
Additional Ingredients: 2% lactic acid exfoliates and brightens, while an apple fruit extract ramps up skin's antioxidant defences against future damage
Reasons to buy
+
Results in a matter of a few weeks
+
Minimal irritation due to the encapsulated retinol
+
The packaging is 100% recyclable, including the pump
+
A little goes a long way as you only need two pumps of product a night
Reasons to avoid
-
Perhaps a little pricey given it's 30ml (this isn't necessarily bad as you are paying for premium ingredients)
-
Weight of the bottle if travelling light
Retinol is a finicky beast. For real results, you often have to endure weeks of flaking, burning and redness before crossing over to the promised land of improved wrinkles and pigmentation.
If you want to swerve these side-effects altogether, you often have to settle for a watered down formula or a retinol alternative, such as bakuchiol. Aesthetician Shani Darden has treated enough famous faces (think Chrissy Teigen and Jessica Alba) to know the pitfalls of both of these options, which is why she developed this game changer.
The genius behind the product is the gentle, yet potent, time-release formula. Rather than hit the skin hard with a potent dose of retinol that immediately irritates it, a steady stream of encapsulated retinol is deployed throughout the night.
Our contributing beauty editor Fiona Embleton, noticed a significant reduction in the post-summer pigmentation on her cheekbones in just six weeks and experienced zero irritation—a first for her given she is prone to sensitivity and angry red patches when using retinol.
How we tested the best retinol serums
Our testers, longtime beauty journalists and skincare enthusiasts Amerley Ollenu and Fiona Embleton, tested each retinol serum over a course of several weeks to see how they really affected their skin.
They assessed:
The viscosity of each serum
How easy it was to use and apply
How well it absorbed
How harsh it felt on the skin
What the immediate results were like
What the long term results were like
Some picks are even top tier products that have been part of the experts' longterm beauty routines.