You could get paid to listen to true crime podcasts
Halloween is about to get a lot more lot lucrative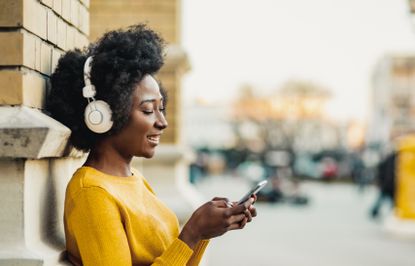 (Image credit: Getty Images)
Spooky season is upon us and what better what to embrace it then to delve into some deep, dark true crime podcasts? If you love a chilling murder story and have completed the likes of Serial and My Favourite Murder then we've got the perfect gig for you: you could now get paid for indulging in your favourite pass time.
Given the events of the year, it's safe to say we'd all welcome a bit of extra cash with open warms, especially when all there is required to get it is doing something we love.
Home security company Vio Security has announced that they're currently looking for a true crime fiend to spend hours (and we mean hours) listening to true crime podcasts in exchange for a generous sum of money, $1,666 to be exact.
Sound like something you'd be up for? Of course it does, it's a true crime lovers dream.
The company is keen on hiring someone who really knows their stuff when it comes to the genre. Someone who has watched and listened to enough true crime to suss out any suspects and common psychopathic behavioral traits as a result of it.
"Upstanding detective or criminal mastermind, true crime lover or adept podcatcher, scaredy-cat or 'final girl' — if you have a taste for the macabre, Vio Security is looking for a who that knows whodunit," the company pointed out in the job description. "This Halloween, we're shelling out $1,666 for one crafty crime buff to listen to 31 hours of the top true crime podcasts. Think you could handle it?"
To make sure they get the right candidate for the job, Vio Security has set a little task to put your true crime knowledge to the test. Each applicant must make a case for themselves in a short essay, explaining why they love the genre and packing it with evidence like a true detective.
Once the winner is picked, they will get to choose the podcasts they want to listen to out of a list including Motive for Murder, Crime Junkie, Son of a Hitman, Dateline, My Favorite Murder, Real Narcos, Serial, Someone Knows Something, I Survived, and The Thing About Pam.
The Vio Security will then send the winner a heart rate monitor to record their "physiological responses as they jump from pod to pod". After listening to each podcast, the person will be asked a serious of questions.
"The jury wants to know: What elements of each story did you like the most? Were your sleep habits affected? Do you believe anyone was falsely accused?" reads the job advert.
According to the company, the aim is to help them "understand how true crime podcasts affect people — specifically if they make people feel more unsafe the more they listen".
Interesting, huh? Applications are now open for anyone up for the challenge.
Sagal is a journalist, specialising in lifestyle, pop culture, fashion and beauty. She has written for a number of publications including Vogue, Glamour, Stylist, Evening Standard, Bustle, You Magazine, Dazed and Wonderland to name a few.