6 of the best sunscreens for sensitive skin to protect without irritation
Kind yet effective formulas, meet the best facial sunscreens that won't irritate sensitive skin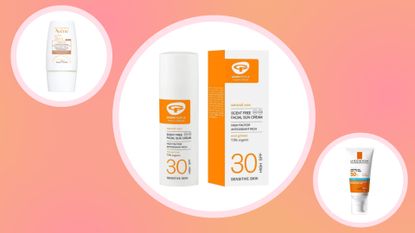 (Image credit: Avene/Green People/La Roche-Posay)
Ask any beauty editor what their no. 1 beauty tip is and we guarantee they'll say, "wear sunscreen". It's a non-negotiable, year-round thing. A daily habit, right up there with brushing your teeth. The sun in moderation feels wonderful and is good for us, but over-exposure to the sun's rays can cause both short- and long-term damage.
However, if you have sensitized skin, finding the best facial sunscreens for sensitive skin can be tricky. Delicate skin types are especially inclined to sun damage because it has a weaker structure and is less resilient to external aggressors such as the sun. As well as reacting to the sun's UV rays, sensitive skin can also be aggravated by many sunscreens too, causing stinging and itchy red bumps.
Meet the experts on sunscreen for sensitive skin
Eleanor Hartley is an NMC Registered Aesthetic Clinician, CEO & Medical Director at Hart Medical. She has explained why some sunscreens irritate sensitive skin.
Dr Cristina Psomadakis, also known as Dr. Soma on social media, is a dermatologist and ambassador for Eucerin. She's explained some of the factors that characterize sensitive skin types.
How we tested the best sunscreens for sensitive skin
To edit down our recommendations for the best sunscreens for sensitive skin, we looked for those with lightweight formulas and with the least possible non-irritant ingredients. We prioritized sunscreens that contained skin-soothing properties and had great rankings.
We also ensured that all were broad—spectrum sunscreens with an SPF of at least 30 (the FDA advocates that you use broad-spectrum sunscreen with an SPF of 15 or higher.) The main measure was to find formulas that are tough on protection, but gentle on our skin.
Meet the tester
Meet the tester
Charley Williams-Howitt
Charley Williams-Howitt is a beauty editor with over 20 years of experience. She has a sensitive skin type and is prone to hormonal breakouts, she also has patches of hyperpigmentation. She is a religious sunscreen wearer and looks for products that offer her comfort while wearing, no white cast after application, and an SPF of at least 30.
The best sunscreens for sensitive skin as reviewed by a beauty expert
1. Green People Scent-Free Facial Sun Cream SPF 30
Best organic sunscreen for sensitive skin
Specifications
RRP : $27.50 for 50ml
Key ingredients : Aloe Vera, squalane, prebiotics, Jojoba, antioxidant green tea
Reasons to buy
+
Non-comedogenic, non-greasy, unscented
+
Broad-spectrum UVA & UVB protection
+
Vegan and cruelty-free, with 73% certified organic ingredients
+
Skin feels beautifully soft and primed for makeup
+
Brilliant added skincare ingredients
Reasons to avoid
-
A little effort is needed to massage in which may aggravate very sensitive skins
I have a bit of a soft spot for Green People as a brand in general; founder Charlotte Vøhtz was one of the first to passionately pioneer a truly "green" beauty brand that doesn't scrimp on great skincare results. My love affair started about 10 years ago when my skin first became slightly sensitized. However, I hadn't tried their sunscreens before, and I had high hopes. Filled with hard-working botanicals such as Aloe Vera and green tea to soothe and hydrate, prebiotic inulin to promote a healthy, balanced microbiome, and broad-spectrum protection against UVA and UVB rays. So far, so good.
The thickish, very subtly green-tinged cream appears quite heavy at first and it does take a good massage to ease into my skin and disappear. But once it had sunk in there was no white cast at all and, although my skin felt a little tacky for a few minutes, it soon became undetectable except for a lovely soft, matte finish. I adore how my skin feels; like it's covered in a super-smooth veil, almost like a brilliant protective primer.
2. CeraVe AM Facial Moisturizing Lotion SPF 50
Best dermatologist-recommended sunscreen for sensitive skin
Specifications
RRP: : $18.90 for 52ml
Key ingredients : Three essential ceramides, Vitamin E, and niacinamide
Reasons to buy
+
Fast absorbing, lightweight and comfortable to wear
+
Non-comedogenic, fragrance free, fon-greasy texture
+
Packed full of skin-loving ceramides
+
MVE technology offers a continuous release of moisturizing ingredients providing up to 24-hour hydration
Ah CeraVe, what did we do prior to your existence? Super clever, dermatologist-backed, no-frills skincare that's effective and doesn't cost a bomb. I have actually worn their sunscreen before, but to be completely honest, I think I just whacked it on without a second thought. So after some considered testing, these are my thoughts.
First of all let's talk about ceramides. They're basically lipids (oils) found naturally in skin and when levels are low the skin barrier is weakened, this disruption can lead to irritated skin. This has tonnes of the stuff, hence why my skin feels impressively hydrated post wearing. It also feels very lightweight to wear, which is impressive for such a high SPF protection. I'd work this into my daily regime as a replacement to my everyday moisturizer as it has the skincare benefits my complexion needs as well as safeguarding it.
3. La Roche-Posay Anthelios UVMune 400 Hydrating Cream SPF 50+
Best sunscreen for dry sensitive skin
Specifications
RRP : $26.81 for 50ml
Key ingredients : MEXORYL 400 (the brand's new UV filter that protects against ultra long UVA), and NETLOCK TECHNOLOGY for an invisible, non-greasy texture
Reasons to buy
+
Water-, sweat-, and sand-resistant
+
No white cast
+
No eye stinging
+
Designed specifically for sensitive skin
+
High PDD (persistent pigment darkening) factor
Reasons to avoid
-
A small bottle may not last as long as others
Are you even a beauty editor if you haven't got an Athelios sunscreen in your tote? The dinky bottle is perfect for travel, midday top-ups, lending to less sun-vigilant colleagues, and the formula itself is standard brilliance from La Roche-Posay. For more than 25 years, Anthelios have been pioneers in terms of breakthrough innovations and this hypoallergenic formula has been created for and tested on sensitive skins. Win, win.
The consistency is super runny, so be careful when pouring it out as it will run all over your hand/down your face. That said, because of this, it's ridiculously lightweight considering the protection levels it gives. It sinks into my skin immediately on application and feels lovely to wear. Another huge plus for me is the anti-eye stinging formula—no watery peepers here. If used daily, the bottle wouldn't last you that long unfortunately, but it's a must-buy for its sheer protection and comfortability.
4. Eucerin Sun Oil Control Gel-Cream SPF 50+
Best sunscreen for oily sensitive skin
Specifications
RRP : $23.30 for 50ml
Key ingredients : Advanced spectral technology, licochalcone A, glycyrrhetinic acid
Reasons to buy
+
An excellent choice for oily or acne-prone skin
+
Comfortable to wear
+
No shine or "sandy" finish
+
Quickly absorbed
Reasons to avoid
-
If you like a glowy finish, this doesn't offer that
-
Not suitable for dry skin
I was a little dubious about trying a sunscreen for oilier skin, because although I do suffer from occasional breakouts, my skin isn't particularly oily. However, as you'd expect from a brand like Eucerin, it is filled with amazing technology to help control sebum production and neutralize free radicals, as well as offering very high UV protection.
It offers an immediate touch-dry application which is brilliant for those who do have an oilier skin type and the texture is very light. It dries to quite a matte finish, and I personally prefer a more radiant one. Nonetheless, it does feel easy to wear and makeup goes on like a treat thanks to the smooth surface it has given my skin.
5. Heliocare 360 Pigment Solution Fluid Solar Protector Sunscreen SPF 50+
Best sunscreen for sensitive skin with hyperpigmentation
Specifications
RRP : $30.58 for 50ml
Key ingredients : Antioxidant Fernblock® to protect skin health, DNA repair enzymes, niacinamide, vitamins C & E, and green tea extract
Reasons to buy
+
It 'protects, corrects, and unifies'.
+
Has a lovely, lightweight consistency and absorbs incredibly quickly.
+
Reduces the look of redness and pigmentation
+
Very high protection
+
Smells "like holiday"
Heliocare 360 is up there with one of the best daily protection against the sun and daylight. What's so great about it? It not only offers high-level, broad-spectrum protection against UVA, UVB, blue light from digital devices, and infrared-A, but it has the addition of intelligent complexion-loving ingredients to help boost your overall skin health. I was enthusiastic to try this particular product for its promise to help mask and prevent pigmentation patches, which I have a few of.
The first thing I note is the consistency; it's definitely a fluid, not a cream, so it feels super light. It also has a subtle tint which I wasn't expecting and after melting into my skin (very easily, BTW) the overall tone of my skin looks much more even and less blotchy—like I am wearing a sheer wash of coverage. There are also tons of very clever ingredients doing their stuff to help reduce melanin production and help to lift and prevent hyperpigmentation. Did I mention it's super comfortable to wear, too? No pore clogging here. I really like this product, so much so that I have already switched out my usual SPF to this one.
6. Avène Very High Protection Tinted Mineral Fluid SPF 50+ Sun Cream for Intolerant Skin
Best sheer-coverage sunscreen for sensitive skin
Specifications
RRP : $34 for 50ml
Key ingredients : Niacinamide, allantoin, vitamin E derivative Pre-Tocopheryl, and the brand's thermal spring water
Reasons to buy
+
Mineral-based filters: optimum UVA-UVB protection for sensitive skin
+
Light-to-medium coverage
+
Comfortable and soothing to wear
+
Water-resistant
Reasons to avoid
-
Shade probably won't match very pale or darker skin tones
-
May feel a little greasy for oilier or acne-prone skin
Avène is a particular favorite of those with reactive skin, like mine; the formulas are usually lovely and the price points reasonable, so I was excited to try the tinted version of their Mineral Fluid. The big discovery for me was that I didn't expect the 'tint' to be enough coverage for my uneven complexion—I anticipated having to apply foundation over the top of it. However, it covered all my little imperfections really well; this is probably due to the tone matching my medium skin tone almost perfectly, and those with light or darker skin tones may not agree.
It gave me a lovely healthy-looking radiance and would be ideal for pool or beach days (it's water-resistant) when you don't really want to be wearing full-on foundation. It also didn't pill when layered over my serum and moisturizer. A final finding was that I really noticed the addition of the Avène Thermal Spring Water, which seemed to soothe and calm my skin.
What is sensitive skin?
"Sensitive skin is hyper-reactive to both internal and external factors such as stress, weather conditions, and cosmetic products," says Dr. Christina Psomadakis.
There are various causes behind sensitive skin, spanning from genetics, to underlying medical conditions like eczema or rosacea, or possibly as a result of skincare practices such as over-exfoliating. For some, sensitivity is a transient condition that can be conquered once the skin barrier is restored.
Why do some sunscreens irritate sensitive skins?
"Many sunscreens contain fragrances, parabens, and phthalates which can cause inflammation, irritation and contact dermatitis, so checking the ingredients is key for people with more sensitive skin," says Eleanor Hartley. "Chemical sunscreens work by absorbing photons (light) as it hits the skin, while a physical sunscreen uses minerals like zinc oxide and titanium dioxide to reflect light off the skin."
This is why those with sensitive skin find a mineral (physical) sunscreen is more comfortable for them, as they tend to contain less harsh irritants that create inflammation. When choosing a sunscreen, look for those that are designed for all skin types, or specifically marketed toward those with sensitive skin.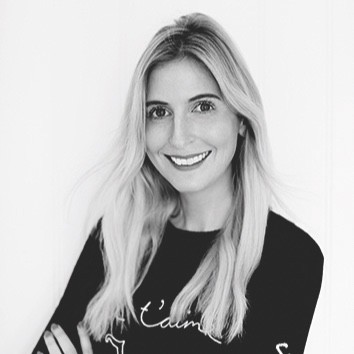 Charley Williams-Howitt has over 20 years of experience working in the beauty industry. As well as previously writing for lifestyle titles, such as woman&home, Woman and Woman's Weekly, Charley has worked for British institutions like Marks and Spencer, John Lewis, and Superdrug creating visual and editorial content cross-platform.
Starting her career in fashion at Cosmopolitan, she eventually moved to the world of makeup, moisturizers, and models, where she has interviewed celebrities and industry icons, reported backstage at MANY Fashion Weeks, shot beauty and hair editorial and scrutinized the ingredients in anything she's testing.