How to remove butt hair safely according to experts—and the best at-home products to use
These are the best methods to turn to for how to remove butt hair…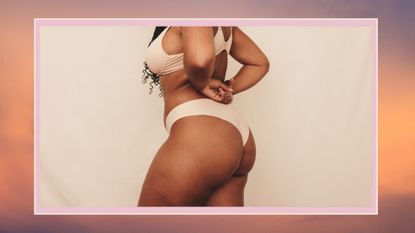 (Image credit: Getty Images)
There's a lot to consider if you're exploring how to remove butt hair in the smoothest possible way. Because, as you'll probably be aware, it's not the easiest area of your body to access. Unless you're flexible enough to reach it at home, it's likely you'll need to get someone you're rather intimate with—or, better still, a professional—involved to ensure you don't get caught in an, err, tight spot.
Chances are you're weighing up all manner of options to de-fuzz down there. It's possible that you're thinking all the usual at-home hair removal methods—from shaving to waxing, and hair removal cream to laser—are on the cards. However, due to the sensitivity of the butt area, it has to be treated differently from your underarms, legs, and even the bikini line.
That's why we've pulled together a handy guide to help you remove butt hair and keep things tidy and comfortable as it grows back. We've enlisted the experts to give you the down low on how to have a seamless at-home bathroom experience, advice on when to book into a salon, and their thoughts on the best products to stock up on…
The best products for removing butt hair at home
1. Flamingo Head To Toe Wax
Best waxing for butt hair removal
Specifications
RRP: $19 for 28 strips
Removal type: Waxing
As our experts noted, waxing can be a good option for removing butt hair—but you have to enlist the right tools. If you're waxing at home, then it's important to use pre-made waxing strips for sensitive skin, which can be gentler than traditional hot wax.
This option from Flamingo has been "formulated to grab even the finest and shortest of hairs," and includes products for post-wax care to "soothe and calm" skin.
2. Billie Shave Kit
Best razor for butt hair removal
Specifications
RRP: $14.99
Removal type: Shaving
Another expert-approved butt hair removal option is shaving. Choosing a razor that is able to reach difficult corners is essential for a less stressful bathroom experience.
Billie designs their five-blade razor so it "pivots around curves and has a grippy, no-slip handle". Additionally, it features aloe moisturizer to eliminate irritation, after use you can keep it out of the way via a magnetic wall holder.
3. Tweezerman Ingrown Hair Splintertweeze
Best tweezers for removing ingrown butt hair
Specifications
RRP: $20
Removal type: Tweezing
As mentioned, your bum area can be just as prone as other parts of your body to ingrown hairs, which are caused when a hair that's been removed starts to grow back and curves into the skin—and often happens after hair removal methods like shaving or waxing.
Enlisting a pair of good-quality tweezers, that are specifically designed for this issue, on hand is key—and this pair has sharp pointed tips that will do the job perfectly.
4. Fur Oil
Best oil for ingrown butt hair
Specifications
RRP: $52
Removal type: N/A, for ingrown hair
Experts insist that it's important to keep the butt area well-moisturized and soothed as much as possible. This oil has been specifically formulated to be used in the pubic areas.
It is safe for even the most sensitive body parts, and features a lightweight blend that will clear pores to ward off ingrown hairs and keeps the skin as healthy as possible.
5. Skin Doctors Hair No More Growth Inhibitor Spray
Best spray to reduce butt hair regrowth
Specifications
RRP: $15.90
Removal type: N/A, spray
Another way to remove butt hair is to encourage it to not grow back. This clever spray "saturates the hair follicle, starving the hair of the nutrients it needs", which causes it to grow back "finer and sparser".
It should be used after shaving or waxing, and massaged into the desired area every day until growth slows down.
Meet the experts on removing butt hair
Sarah Carswell is the founder of self care brand Sarah Louisa. She has over 20 years of experience in the beauty industry, and specializes in safe, stress-free waxing and treating ingrown hairs.
Charlotte Terling is the head of product development at razor brand Estrid, which offers flexible shaving subscriptions
Tracey Smith is the owner of wax brand Ashmira Botanica, which is stocked in over 800 salons and spas, including Harrods and Champneys.
Your guide to removing butt hair
Is it normal to have hair in bum?
While learning how to remove butt hair is a personal choice, it's important to also remember that you shouldn't feel like you have to remove it. "It is entirely normal to have hair around the buttocks," says Carswell. "Hair is a natural part of the human body, and its distribution can vary from person to person. The amount and thickness of hair in this area can differ based on genetics, hormones, and other factors."
It's likewise totally understandable if your butt hair has only just crossed your radar—hence why you're here. "Because we don't easily see it, we can sometimes be a little bit shocked when we notice that we do," points out Smith. "However, of course, it grows there just as much as the rest of our body. Like other body hair, it varies from person to person in terms of darkness and coarseness—but, on the whole, it's finer than pubic hair."
But before you reach for the razor or wax strips, there's one other important thing to take into account: ingrown hairs. "Removing hair in this area can raise the risk of them," Carswell acknowledges. "A common form of ingrown hair in the bum area is called a pilonidal cyst, which is a sac filled with hair, skin, and other debris. It typically forms at the bottom of the coccyx, and is often caused by a hair that becomes lodged inside the skin—becoming extremely painful and uncomfortable." It's something to sit with.
How to remove hair from inside your bum
The answer to this is down to you. "Of course, the best method for removing bum hair depends on personal preference and individual comfort levels," Carswell says. "Some common methods for bum hair removal include trimming, shaving, hair removal creams, waxing, and laser hair removal."
There are other reasons that certain methods might be better suited to you than others. "Before trying any new hair removal product or method, it's crucial to consider your skin type, potential allergies and seek advice from a dermatologist or healthcare professional if you have any concerns," adds Carswell. "Additionally, maintaining proper hygiene and using gentle skincare products can help prevent irritation after hair removal."
How long does it take for bum hair to grow back?
Once more, this will depend. 'Bum hair, like other body hair, will eventually grow back after removal," notes Carswell. "However, the speed of regrowth can vary from person to person, but it generally follows a similar pattern as other body hair."
That being said, the good news is that it isn't as speedy as other places. "It's often slower compared to other hair on the body, especially facial hair," notes Terling. Indeed, she says you can usually expect it to have grown back within six to eight weeks.
Can you use hair removal cream on your bum?
This is an option that comes with less pain than waxing. "Hair removal creams will dissolve the hair shaft, and can then be easily wiped away," explains Carswell.
However, there is a risk that they can trigger sensitivity in this area. "While you can use hair removal cream in the bum area, it's essential to read the product instructions carefully and do a patch test first to check for any adverse reactions," she adds.
Can you shave your butt?
You can also skip the pain of waxing and also avoid the sensitivity risk of creams by grabbing your razor—but there are some downsides to take into account. "Shaving safely with the obvious lack of sight can be tricky," warns Smith. "Plus, it can leave you feeling a bit itchy." There's also, on top of this, the risk of more frequent regrowth.
However, Terling notes that there are ways you can reduce itchiness and irritation in this case. "Make sure to take it slow—it can be a sensitive area so this is not the time to rush," she explains. "Wearing tight clothes or underwear can cause a little friction, so try to keep your clothing loose for the next 24 hours."
Can you laser your butt?
If you'd rather tackle your bum hair less frequently, then there is a solution for long-lasting results. "Laser hair removal can be effective for a semi-permanent reduction," says Carswell. "It targets hair follicles with laser energy to inhibit future hair growth."
However, it's essential to seek professional treatment for this delicate area. "Additionally, as with all laser treatments, the success is dependent on the color of the hair—so it could potentially be more expensive if you have lighter hair," adds Smith.
Can you wax your butt?
For those happy to endure a brief moment of discomfort, waxing has many benefits. "I'm a huge advocate of this for hair removal," says Smith. "It is the safest option, will be over in seconds—since, as the hair is finer, it's not too painful to pull out—and will leave you hair-free for a long time." This is because it removes hair from the roots.
While you can wax at home using pre-made waxing strips, one of the simplest ways to wax this area is with the help of a professional. If you go for a bikini wax at a salon, then you just need to tweak your booking. "Make sure you avoid heat and friction for 24 to 48 hours after you've left the salon," adds Smith.
Are there any products you shouldn't use in this area?
As you can imagine, it's important to be particularly cautious with this body area. "When using any product in the bum area, it's essential to avoid applying them too close to sensitive areas or mucous membranes," notes Carswell.
She adds: "Harsh or irritating chemicals should be avoided to prevent skin irritation. Always follow the instructions on the product label and consider doing a patch test before applying any new product."
Lauren is a freelance writer and editor with more than six years of digital and magazine experience. Most recently, she has been the Acting Commissioning Editor of Women's Health—where she co-produced the Going For Goal podcast—and has previously also written news and features for titles including The Telegraph, Grazia, Stylist, Dazed, The Sun's Fabulous, Yahoo Style UK and Get The Gloss. She covers all aspects of lifestyle, specializing in health, beauty, and travel. Can't live without: oat milk lattes, new podcast episodes, long walks, and great skincare.