How to remove finger and toe hair effectively, according to the experts—and the best at-home products to use
Not sure how to remove finger hair or hair on your toes? Experts share their insights to help you get a grip on it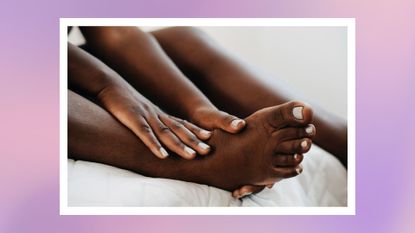 (Image credit: Getty Images)
How to remove finger hair and toe hair isn't something that's often discussed. It's important to know that you should by no means feel like you have to de-fuzz in these areas, with a little hair growth on your mitts and trotters very normal. But if you've decided that you would like to smooth things up, then chances are you're in the dark about how to best go about it.
Fortunately, whether it's knuckle hair you're most concerned by or fuzz on your big toe, there are a number of safe and effective methods for at-home hair removal. We've enlisted experts to explain why hair sprouts in these places in the first place, as well as the best methods to get rid of hair on your hands and feet at home. They will weigh up the common options, including shaving, plucking, waxing, and laser—because, depending on your budget, time, and the results you're after, some choices are superior to others.
Our experts will also take you through the common hair removal methods—including products—to avoid when de-fuzzing your fingers and toes in order to swerve irritation or redness left on full display. Additionally, we'll reveal the, err, handy products to get your hands on so you don't put your foot in it (sorry, not sorry).
Meet the experts on finger and toe hair removal
Hilary Hepburn is the hair removal expert for removal brand Smooth Appeal and has shared some insights into removing body hair from areas such as the fingers and toes.
Lucy Anderson is the founder of hair removal brand WooWoo, who has also explained some of the key need-to-knows about finger and toe hair.
Your guide to removing toe hair and finger hair
Is it normal to have hair on your fingers and toes?
To begin with, it's important to know that pretty much everyone has hair on their fingers and toes. "It is perfectly normal," insists Anderson. "Hair follicles are present all over the body, though the distribution of that hair including color, thickness, and length, varies from person to person. While the hair on fingers and toes is usually fine and less noticeable compared to other body areas, it is a natural part of human body hair."
However, the hair that appears on your fingers and toes is generally less obvious than the kind that sprouts from underarms, bikini line, and legs. "The finer hair that is found all over your body and is mostly unnoticeable is called vellus hair, which is the same type you find commonly on your fingers and toes," explains Hepburn. "This differs from the terminal hair, which is the hair you see more visibly on your head and underarms."
What causes hair on fingers and toes?
This is personal. "It's a genetic trait to have hair on your fingers and toes," says Hepburn. Interestingly, she adds that it's particularly common to have more hair on your fourth finger, and less-to-no hair on your thumbs.
In contrast, it's unlikely to be down to hormones. "The presence of hair on fingers and toes is primarily determined by genetics rather than hormones," notes Anderson. "Hormonal fluctuations and changes for example during puberty, pregnancy, perimenopause and the menopause, or conditions such as polycystic ovary syndrome (PCOS), can affect hair in certain areas, such as the scalp, face, underarms, and pubic region—but they are not significant factors in finger and toe hair growth."
How can I remove hair from my hands at home?
Firstly, you shouldn't feel pressure to get rid of it. "There is nothing wrong with having hair on your fingers and toes and most people are not concerned about having it in their day-to-day life," insists Hepburn. "However, if you do want to remove the hair, it is fine to do so, just ensure to take care to avoid any cuts, burns, ingrown hairs or inflammation."
Your method of hair removal will likely be determined by cost. "If budget isn't a concern, there are in-clinic laser hair removal treatment offerings for these areas," says Hepburn. This can provide long-term or permanent hair reduction by targeting the hair follicles with light or electric currents. You can also now buy at-home IPL devices—but they can still be a relatively costly initial purchase and aren't suitable for every skin type.
"However, if you want to keep the hair removal costs low and to be done in the comfort of your own home, it is best using a waxing, shaving, or lasering method," she adds. Hepburn also stresses that you should be sure to use a soothing cream afterward to lock in moisture and protect the skin barrier post-hair removal.
Semi-permanent laser hair removal aside, it may also be influenced by how long-lasting each method is. "If you're someone who can't keep on top of their hair removal and prefers to remove the hair quickly and often, then shaving is probably your best option," adds Hepburn. "However, if you're someone who can set aside the five minutes every four to six weeks to remove the hair and not have to worry about it again for four weeks, then waxing is your best bet with longer-lasting results."
Is it OK to pluck finger and toe hair?
"Like any other hair removal method, plucking finger and toe hair is generally considered safe," explains Anderson. "It's important however to exercise caution and use clean, sterilized tweezers to avoid any potential infection." She adds that plucking can be slightly uncomfortable, especially in sensitive areas, and may cause slight skin irritation: "If you choose to pluck hair from your fingers or toes, ensure that you do it gently and without excessive force to minimize any potential discomfort or damage to the skin."
A similar, but better, approach to this would be to wax. "It is easier than plucking and provides longer-lasting results compared to shaving, since it removes hair from the root," says Anderson. "However, it can be a little fiddly on your non-dominant hand, and as hair is pulled out at the root, you're also more likely to experience in-grown hairs - so remember to exfoliate regularly using either a small facial loofah pad or an exfoliating scrub."
Similarly, there's epilation. "Like waxing, using an epilator to remove unwanted hand hair is a great method as it plucks multiple hairs simultaneously from the root," explains Anderson. "It provides longer-lasting results compared to shaving and may also lead to finer regrowth over time. But, like waxing, you're more likely to experience ingrown hair, so remember to exfoliate regularly. If you've got a low pain threshold it might be worth considering a different hair removal method as epilators pull each hair out individually, which some people can find uncomfortable."
Can I shave finger and toe hair?
"Like any other body part, shaving is a common method, and a safe and quick way to remove finger and toe hair—but remember to use a clean and sharp blade to minimize the risk of cuts or irritation," says Anderson. "Do also bear in mind that shaving only removes hair at the surface level, so it will regrow relatively quickly in one to two days, and regular maintenance will be required to keep the area hair-free. Shaving also leaves blunt, squared-off hair at the surface of the skin, and while the regrowth doesn't grow back thicker, the blunt edge can make it feel like it is [doing so]."
Another highly convenient method if you're rushing out the door is hair removal cream or gel. "It is a great, cost-effective, DIY way to remove hair as it essentially dissolves hair from their follicles, allowing it to be easily wiped or washed off," explains Anderson. "This means that it also leaves a softer, tapered end which feels nicer to the touch and is less likely to leave razor bumps or lead to in-grown hairs. It also lasts longer than shaving—anything up to four days." However, she adds that the skin on hands can be sensitive, so you should avoid using chemical-heavy products and always remember to patch test 24 hours before use.
Are there any products or methods you shouldn't use for hair removal in these areas?
While safe to use or hands and toes, Hepburn advises against plucking and hair removal cream. 'Avoid using tweezers on these sensitive areas, as they are most likely going to cause the most pain and skin trauma,' she explains. 'If you're not used to using a depilation cream, it might be best to avoid this method, as these creams involve chemicals which may be harsh on sensitive skin and could cause an adverse reaction.' She adds that threading as a method might also cause scars or pigmentation, particularly for light-to-medium brown skin tones.
Anderson agrees that you need to be really careful about the products you use. 'It is advisable to avoid harsh chemicals, strong exfoliants or methods that may cause skin irritation or damage especially if you have more sensitive skin,' she explains. 'This includes products like hair removal creams or gels that contain strong chemicals or abrasive ingredients, so always check the packaging to ensure the product is safe to use before application.'
The best methods & products for removing finger and toe hair at home, according to experts
1. WooWoo Tame It! Wax Strips
Best wax strips for removing finger and toe hair
Specifications
RRP : $9.70
Removal type: Waxing
As our experts mentioned, waxing is an ideal way to remove hair on your fingers and toes. These pre-made wax strips are made with damask rose oil and aloe vera for anti-inflammatory, cooling and soothing relief.
They are also shaped for use on smaller areas, and each strip can be used several times for stubborn hairs. The results can, they claim, last up to 28 days.
2. Billie Shave Kit
Best razor for finger and toe hair removal
Specifications
RRP: $14.99
Removal type: Shaving
Shaving is, likewise, an expert-approved option. Choosing a razor that is able to glide over difficult surfaces—like finger and toe knuckles—is essential for a less stressful bathroom experience.
Billie designs their five-blade razor so it "pivots around curves and has a grippy, no-slip handle". Additionally, it features aloe moisturizer to eliminate irritation, after use you can keep it out of the way via a magnetic wall holder.
3. Braun IPL Hair Removal New Silk Expert Pro
Best IPL device for finger and toe hair removal
Specifications
RRP: $379.99
Removal type : IPL device
For a longer-lasting solution to finger and toe hair, and one that's cheaper than heading to the salon, you can invest in one of the best IPL hair removal devices. This option has two sensitive modes, to avoid irritation, and automatically optimizes every flash to your skin tone for the most effective results. You can also use it on your legs, arms, face, armpits, and bikini line, and it claims to provide visible reduction in just four weeks.
4. Decleor Clove Post Hair Removal Cooling Gel
Best soothing gel post finger and toe hair removal
Specifications
RRP : $36.60
Removal type: N/A, aftercare
Whichever hair removal method you choose, aftercare is vital. This gel—which is suitable for use on both the fingers and toes, and has a rapidly absorbing, non-greasy texture so you can get on with your day—has been designed to soothe the skin and leave it softer.
Additionally, it has been formulated to prevent hair regrowth and reduce ingrown hairs.
Lauren is a freelance writer and editor with more than six years of digital and magazine experience. Most recently, she has been the Acting Commissioning Editor of Women's Health—where she co-produced the Going For Goal podcast—and has previously also written news and features for titles including The Telegraph, Grazia, Stylist, Dazed, The Sun's Fabulous, Yahoo Style UK and Get The Gloss. She covers all aspects of lifestyle, specializing in health, beauty, and travel. Can't live without: oat milk lattes, new podcast episodes, long walks, and great skincare.