The beauty products that bring Team My Imperfect Life joy
Looking for beauty inspo? The team shares the products that lift our spirits and make us happy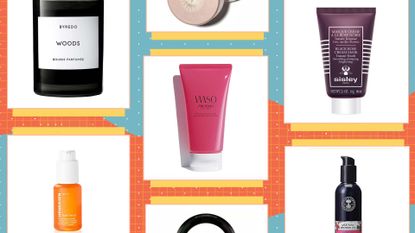 (Image credit: Courtesy of brands)
Beauty products are powerful things. As well as benefitting our hair and skin, they have the ability to change our mood and boost our confidence levels.
Whether your go-to move is painting your nails a vibrant shade, spritzing your signature scent or the joy of a skincare routine you love, we all have a product or two (or ten) that are close to our hearts.
So to kickstart the year, we've rounded up the team's favourite beauty products to share the joy and inspire your beauty wish list. From the brilliantly boujie to bargain beauty buys, keep reading for the products that lift our spirits with just a slick, swatch or spritz.
Mariana Cerqueira, Editor
"2021 hasn't gotten off to the easiest start, but I have a few beauty friends helping me bring a little joy to each day. My essential everyday saviour has been the ISDIN Fusion Water SPF 50 – ever since I started using retinol (I've started with The INKEY List's), I've been really careful about protecting my skin from sun damage (yes, even while working from home). It's hands down the best sun cream I've ever used!
"I have also been treating myself to a weekly face mask in the shape of the Shiseido Purifying Peel Off mask. I'm usually quite lazy when it comes to skincare outside of my daily routine, but the fact that it's pink and I get to peel it off after (which is very satisfying!) gives me the extra incentive to do it."
Sunil Makan, Deputy Editor
"I'm obsessed with Neighbourhood Botanicals Big Strong Man Moisture, which is by far one of the most superior oils I have ever used. The epitome of a multitasking product, this all-natural magical potion is a blend of several ingredients including rosehip oil, jojoba, eucalyptus oil and vitamin C to help keep skin bright and clear, and makes razor burn a thing of the past.
"Joy for me is taking time of out the day – even if it's just five minutes – for some R&R, so every morning I'll massage the above on my face with a tool. I alternate between my Face Gym Multi-Sculpt Gua Sha tool or a Rose Quartz roller to really get the product all over the skin while keeping things firm and uplifted.
"When it comes to evenings, liberal application of a treatment is where it's at. So, you'll find me slathering on Dagger Rose Treatment Balm by Guy Morgan, which contains rosehip oil , baobab oil and shea butter (among other vegan and organic ingredients) to help soothe skin, even texture and appearance and reduce redness.
"Twice a week, I'll indulge in a super bouj treatment, namely the Sisley Black Rose Cream Mask. Yes, it's pricey (I did say super bouj) but it really is all that IMHO. It promises smooth, plumped and brighter skin, and seriously delivers.
"Okay, you get the gist, beauty products bring me JOY. I could (and often do) harp on about it for ages, so I'll just leave this last one here before I go. Anyone that knows me knows that my love for fragrance is real and I have approximately 17,359 bottles stored in my apartment. But it takes a very special fragrance to earn a permanent spot on my mantelpiece – there are only five on there and this is one of them. As an aside, I recently found out that one of my faves is being discontinued, I WON'T be sharing which, as I'd quite like to snap up the remaining bottles for myself (sorry!) so there is a spot open – but I digress.
"Aesop Tacit really DOES bring me so much joy. A seriously beautiful (and complex) construction of basil, yuzu and clove on a vetiver heart. It's spicy and fresh and perfect for every occasion."
Fiona Embleton, Senior Beauty News Editor
"Normally I'm a big believer that brands should focus on the one thing they excel at rather than trying to be everything to everyone. But when it comes to Charlotte Tilbury, I'm a massive fan of both her make-up and her skincare. My introduction to the brand wasn't through the iconic Pillow Talk lipstick but rather through the Magic Cream, which my dry skin just seemed to drink up. The Magic Serum not only plays well underneath but it was created with the expertise of hugely respected dermatologists such as Dr Anjali Mahto and delivers a real glow, like my face is bathed in candlelight.
"In lockdown I've stepped up my haircare routine as much as skincare. And in the same way that science governs what I apply to my face, it's also what I look for in my shampoo. Virtue contains a human-identical keratin molecule – which means your hair recognizes and readily absorbs it. I not only find that any damage from heat styling and general wear and tear is repaired, but my hair seems to grow so much quicker and fuller. The Recovery Shampoo and Conditioner are real game-changers, and a healthy swish of hair is like the ultimate in self care."
Lucy Abbersteen, Junior Beauty News Editor
"Of all the beauty products, nothing has the power to lift our spirits quite like our favourite fragrance, and Byredo Woods is my favorite smell in the world. You may (somewhat justifiably) think I'm mad for spending more than fifty quid/eighty dollars on a candle, but I've not found anything remotely similar. It's smoky, woody, leathery deliciousness undercut with subtle and sweet notes of rose, and creates the cosiest ambience. Any time I get a gift card for a store that stocks it, you can bet this is what I'll spend it on.
"Like many people, I've been wearing way less make-up during lockdown. Don't get me wrong, I love make-up, but it's been nice to give my skin a break and it's one less thing to do before my commute from the bathroom to my desk. Most days my make-up regime routine consists of corrector, CC cream and brow gel, with a bit of mascara and lipstick if I'm feeling particularly wild. If I only put one thing on in the mornings it's the corrector because it helps me look vaguely awake (I'm fairly pale and so my dark circles stand out like a raccoon's). I swear by Bobbi Brown's corrector, but the one that's currently in my make-up bag is a limited edition version of BECCA's light-reflecting Eye Brightening. The brand is working with Mental Health Mates initiative and this illustrated pot reminds me to 'own my light'."
Ava Welsing-Kitcher, Beauty Contributor
"A couple of months ago, Burt's Bees sent its Almond & Milk Hand Cream to me along with a thermos of moon milk, and I've been repeating the comforting bedtime ritual ever since. A cup of hot Horlicks and a dab of this ultra-rich cream on hands and feet make me feel snug, soft and secure, like a little baby wrapped up ready for bed. The scent is just like cherry Bakewells and marzipan, except not so sickly sweet.
"Then, come morning, I practically leap into the shower with excitement at using the plethora of aromatherapy products I've built up during lockdown. Neal's Yard Remedies' Wild Rose Shower Oil takes first place for its incredibly uplifting and invigorating rose and rosemary scent.
"And coming in at a close second is the Wild Source Detox Salt Scrub. Pink grapefruit and lime fill the shower with such a zingy atmosphere, and it leaves my skin with the softest of sheens – no more hurried moisturising in a freezing cold bathroom."
Sagal Mohammed, Contributor
"First up is Ole Henriksen's Truth Serum. This product makes me happy because it literally feels like a vitamin for my face. I love how it feels on my skin, it's like an instant boost that leaves my face feeling soft and hydrated – I use it after cleansing and toning at night.
"Next is MAC's Studio Finish Concealer. This product not only makes me happy, it's my holy grail – I couldn't live without it. I have been using it since I was 16 and no other concealer has ever worked as well for me. Not only is the shade I use (NC45) a complete skin tone match but it perfectly covers up my dark circles (my biggest beauty struggle!) and a tiny bit always goes a very long way."
Consider your beauty wish list significantly added to.
Which beauty products are bringing you joy in 2021? Let us know on social at @thisismyimperfectlife.
Lucy is a beauty journalist who has written for titles including Marie Claire, Cosmopolitan, OK!, woman&home and Women's Health, as well as regularly contributing to My Imperfect Life. Her work covers everything from skin and haircare tips to trying and testing the latest beauty launches, and interviewing celebrities and experts. A certified dog person, her other interests include mental wellbeing, books, piña coladas and not getting caught in the rain.