Black Pound Day: How to shop and support Black businesses in the UK
Get ready for Black Pound Day on November 7th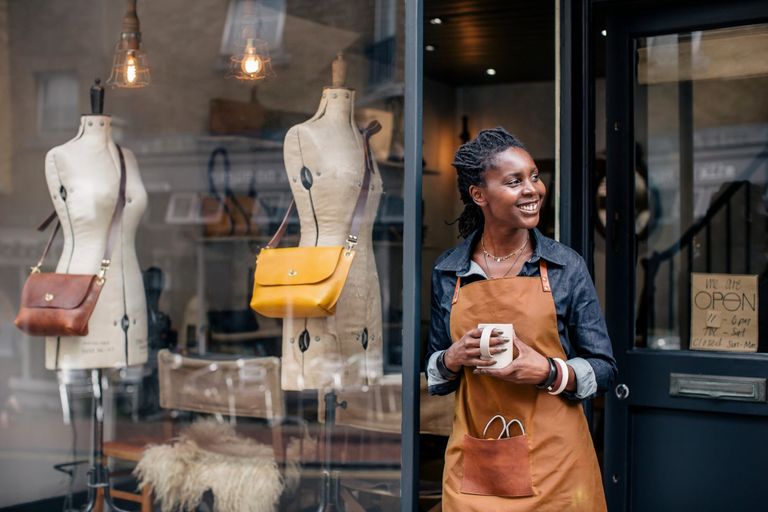 (Image credit: Getty Images)
Tomorrow is the first Saturday of November which means Black Pound Day is back, and after the week we've had with the roller coaster that is the US election (our anxiety has been through the roof), we're ready for some retail therapy.
Summer 2020 brought an overdue yet pivotal conversation about systemic and institutionalised racism to the forefront of the world, with the rise of the Black Lives Matter movement following the gut-wrenching police murders of George Floyd, Breonna Taylor and Ahmaud Arbery in America.
The events highlighted a history of police brutality and the oppression of Black people not only in the States but in countries around the world, including the UK. Millions marched in protest demanding justice, whilst social media became the place to open up conversations about white privilege and inequality.
From social settings to work environments, many pledged alliance to their Black peers and promised to "do better" by educating themselves and acknowledging their white privilege. However, one of the key things in creating long-lasting change in the fight for an anti-racist world is for Black communities to achieve economic equity. That's where Black Pound Day comes in.
What is Black Pound Day?
Founded by former So Solid Crew member Swiss, Black Pound Day is a national campaign created to support and raise awareness for Black-owned businesses in the UK. Taking place on a monthly basis following its launch in June, the initiative encourages consumers to change their shopping habits by putting their money into Black-owned businesses, both locally and online. The goal is to slowly but surely make UK businesses more inclusive while also boosting Black economy, which ultimately uplifts Black communities.
"Black Pound Day is a real solution-based, community-empowering campaign and motivating endeavour that will leave a better infrastructure for the next generation to walk into," the campaign announced via Instagram during its launch.
When is Black Pound Day?
27 June marked the first Black Pound Day and it has since been a monthly event, taking place on every first Saturday of the month. In the words of Swiss himself, "it's a movement, not a moment".
The campaign isn't the only day of the month you should support Black businesses, but it's certainly a reminder to do so and acts as the first step in changing consumer habits. In fact, according to Black Pound Day organisers, if everyone was to spend just £10 a week on Black businesses, we could inject £1.9bn into Black communities.
Plus, with more Black-owned brands in fashion, beauty, wellness and the hospitality industry than ever, supporting Black businesses has never been easier. If you need some inspiration, head over to the Black Pound Day website to find both new and established brands across the country or take a look at some of the below.
Black-owned businesses to support
If you need inspiration on which Black-owned businesses you can spend your pounds with, we picked a few of our faves to shop online...
As the name suggests, London-based hair brand Holy Curls is all about embracing your natural curls. Their products work wonders for curly hair textures and are made with 100 natural and vegan-friendly products, avoiding all harsh chemicals.
For 100% natural, vegan and cruelty free skincare, check out The Glowcery, a Black-owned brand creating products with superfood ingredients. Think of it as feeding your skin like you would your body as all their products are made with nutrient-dense, vitamins and mineral-rich properties found in fresh fruits, vegetables and nuts.
While catering to all hair types, Dizziak is another hero brand for women with curly hair. The award-winning haircare brand is famed for its deliciously hydrating shampoo and conditioner combo.
Founded by London-based Toronto natives Samantha Newell and Alesha Bailey, Yard + Parish is an Afro-Caribbean inspired fashion brand featuring a sustainable product range.
If you want to start exercising from the comfort of your home but aren't sure where or how to start, then PT Christina will whip you into shape. For just £15 per month, you'll get more than eight live workouts on Instagram per week, to the sounds of Afrobeats, Soca and plenty of Beyoncé. There's also a lovely community who will pick you up and motivate you when you most need it. For any more inspo, just look at Christina's Instagram profile...
Nubian Skin is a lingerie and hosiery brand creating beautiful nude pieces for Black women of all shades. The brand caters to all shapes and sizes, with comfy and complimenting fits for all.
Every piece by designer Kemi Telford is designed to "tell the whole world: look at me, I'm fabulous". The London-born brand has a beautiful range of sustainable womenswear for every occasion.
House of Kato is an online plant business run by Ugandan-British couple Haula and Daniel. They sell beautiful pieces, with the aim of their business being to get more nature into urban homes.
The brand creates handmade soy candles and wax melts that'll make the perfect addition to your home but bringing in a lovely aroma. Not only do they bring a fresh scent but every product is 100% vegan.
Founded by model Leomie Anderson, LAPP is a sportswear brand selling chic workout gear. The brand, which also has a magazine of the same name, sells everything from stylish leggings and matching crop tops and sports bras, to tracksuits and crew neck jumpers.
Afrocenchix is a vegan haircare brand specialising in Afro and curly hair textures. They sell everything from nourishing shampoo and conditioner (all sulphate and silicon free), to braid care sets and moisturisers for natural hair.
Founded by businesswoman and designer Jenny Espirito Santo, Mind The Cork sells beautifully crafted, eco-friendly cork homeware. Best of all? All of the products are made with biodegradable, renewable and recyclable material.
Sagal is a journalist, specialising in lifestyle, pop culture, fashion and beauty. She has written for a number of publications including Vogue, Glamour, Stylist, Evening Standard, Bustle, You Magazine, Dazed and Wonderland to name a few.