5 cute tattoo ideas to inspire your first or next piece of body art
We've rounded up some cute tattoo ideas for you to choose from if you're looking for ink inspiration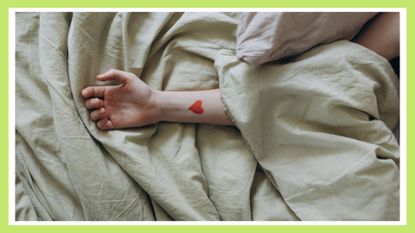 (Image credit: Future/Getty Images)
Planning cute tattoo ideas is all part of the fun of getting your first, or next, inking. We've rounded up some fun ideas, whether you're looking for something subtle, like a chic micro tattoo, or a tattoo that will make a real statement.
While you might find something that you love in one of those binders at the tattoo parlour, it is always a good idea to plan what your ideal design might be ahead of time. Not only does this ensure that you will be happy with the finished product, but establishing what you want in your mind beforehand helps you to connect with the piece—which is important given that it's a permanent addition to your body.
Finding cute tattoo ideas that are both meaningful to you and timeless is key, ensuring you don't hop on a trend that you'll regret in years to come. Take your time perusing these ideas, and you should be left with something you'll love looking at every day.
Cute tattoo ideas—the My Imperfect Life edit
1. A tattoo that is symbolic or meaningful to you
Everyone has different symbols and references that speak to them, so getting a symbolic tattoo is a great way to ensure that your inking is something especially meaningful to you. For example, many people honor late relatives or pets with something that reminds them of their loved ones. If you want a tattoo with a heap of meaning behind it, symbolic tattoos could be the way to go.
They can including everything from:
meaningful or inspiring quotes or words
a loved one's name or initials
an important date
a symbol of yours or a loved one's favorite hobby
song lyrics, or TV or movie quotes that resonate with you
2. Floral tattoos
If you want to get a cute tattoo that you'll love to look at, consider designing a floral tattoo. Floral tattoos are hugely popular and so on trend right now. And they don't have to be large inked pieces that cover the entire back—many people are choosing tiny blossoms or even delicate outlines of stems and flowers, which are perfect for decorating a wrist, back or part of an arm.
3. Tiny finger tattoos
Celebrities like Lady Gaga, Chrissy Teigen, and Ariana Grande have all popularized finger tattoos, which are normally very small inkings on the front or side of the finger. From musical notes to small sayings, finger tattoos are usually delicate and beautiful, so it's no surprise they're popular with celebs and normal folk alike. A finger tattoo is also a great way to show off your new ink, since we all have our hands on show most of the time.
Many people are familiar with the trend of inking wedding bands on their ring finger (one of the best tattoo ideas for couples), but when choosing a finger tattoo, you aren't limited to any one design or style. However, popular options include:
celestial tattoos—be it tiny stars or a small inking of the moon
small delicate hearts (as above)
climbing flowers or foliage (the tattoo can wrap around the finger in a way that's reminiscent of real life)
tattoo jewelry—like pendants or rings
4. Minimalist tattoos
Similar to symbolic tattoos, minimalist tattoos can carry a great deal of meaning. Normally, they are small, fine-line tattoos (rather than something filled in), and can be almost anything, from a tiny lightning bolt to a single star. Minimal tattoos are easy to dress up or down, and can be placed anywhere on the body, be it your collarbone, ankle, or foot.
There are no rules with minimal tattoos, so you don't have to feel constrained by any one style, trend or idea. Why not choose a tiny outline of a boat or a plane, if you love travel? Or, for a permanent piece of jewelry, why not get a thin bracelet tattooed to your wrist, or a ring tattooed onto your hand?
Some more ideas include:
a tiny quote or word
an outline of an animal
a simplified image of the sun or sea
a constellation of stars
a collection of clouds
Choose a minimal tattoo if you are new to the body art space or aren't sure about committing to a bigger design.
5. Surrealist or psychedelic tattoos
If you are a lover of modern art, classic rock, sci-fi, or just all things unique, a surrealist or psychedelic tattoo might be perfect for you. Surrealist tattoos are a great choice for a seasoned tattoo veteran since they are typically a bit more bold and colorful. Normally, they are larger than the cute tattoo ideas mentioned above, so you'll need to be 100% sure before sitting yourself down in the tattoo artist's chair.
These kinds of tattoos can be harder to visualize and plan on your own. If you're struggling, consult with your tattoo artists to combine ideas and come up with a drawing. Many tattoo artists like to combine multiple themes and characters in a surrealist tattoo, and can often work to make a unique tattoo design that won't be seen on anyone else.
---
How to care for a new tattoo
No matter what type of cute tattoo ideas you choose, the rules for caring for a new tattoo remain consistent. And while your tattooist will give you a run-down of the aftercare instructions once you're done being inked, here's a little refresher.
Once the new tattoo is inked on your body, your tattoo artist will cover it in a thin layer of petroleum jelly, and then place a bandage or some saran wrap on top. Then, it's over to you:
Keep your tattoo covered for 24 hours, at which point you can remove the bandage and gently wash it with soap and water.
Apply a plain moisturizer or Vaseline over the tattoo and make sure to keep that area clean over the next few days. Consistently reapply moisturizer over the tattoo to keep it from peeling.
You should avoid swimming and the sun for around two weeks, and never pick or scratch your tattoo to keep it from developing an infection while it heals.
Lucy is a beauty journalist who has written for titles including Marie Claire, Cosmopolitan, OK!, woman&home and Women's Health, as well as regularly contributing to My Imperfect Life. Her work covers everything from skin and haircare tips to trying and testing the latest beauty launches, and interviewing celebrities and experts. A certified dog person, her other interests include mental wellbeing, books, piña coladas and not getting caught in the rain.

With contributions from