Here are 9 empowering quotes to keep going through tough times—whether romantic heartbreak or career setbacks
In need of some words of wisdom? We've sourced inspiring quotes to keep going when you're feeling overwhelmed by life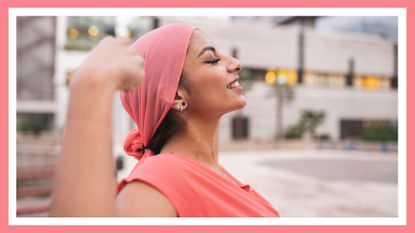 (Image credit: Getty)
When you're going through a challenging period in your life, sometimes reading inspiring quotes to keep going—words to encourage you to put one step in front of the other—can be really helpful. Whether you're in need of some extra support while healing from a difficult break-up or are after some motivation to pick yourself up after disappointment at work, a little guidance is always welcome.
As such, we've rounded up some of the best words of wisdom to power you through the days and weeks ahead until you regain your strength—which we'd recommend sitting back and enjoying, alongside using the best meditation apps. There are reminders to stay positive, practice self-love, never give up and reframe your perspective when that inevitable quarter-life crisis feels insurmountable. You're welcome!
Feel instantly better with these 9 empowering quotes to keep going
If you're unsure how to relax during a difficult time in your life, these poignant words will calm you down and remind you that better days are ahead...
1. Go easy on yourself
Just like Adele pleaded, practicing self-kindness is oh-so-important. In this wise quote, shared with her 1.2 million followers on Instagram, the Lebanese-Canadian activist and writer Najwa Zebian urges you to not be so hard on yourself.
2. You'll get there in the end
Life doesn't always go to plan—whether that's with work, relationships or something else. This post, from the inspirational Instagram account @thegoodquote, serves as a reminder that people's journeys aren't linear, and will encounter bumps in the road that you have the power to eventually overcome.
3. Stop putting yourself down
Whatever you're struggling internally with, these wise words from the Instagram account @femalecollective are so very worth absorbing. Because self-loathing will get you nowhere—whereas self-compassion is the approach that will allow you to ultimately flourish. Get out of that unhelpful vicious cycle.
4. Surround yourself with the best
The American author R. M. Drake shares streams of thoughtful observations on his Instagram—including this post. It's an apt reminder that you should always be striving to fill your life with people who let you be yourself and lift you up. With that in mind, here's whether you're in a situationship with the guy you're dating, as well as how to cope with a friendship break-up.
5. You can make a difference
Remember to value yourself—and know that you can give something from within you that will make the world a better place for others. Even if it's small. This quote from the British influencer Megan Rose Lane, shared on Instagram, wants you to know that you're an "incredibly powerful force for love and change." Preach!
6. Don't ever give up
Life will inevitably be filled with setbacks along the way, but there will always be a route to achieving your goals eventually—even if it might just be a path less well-trodden. It's the theme of this quote from American artist Cleo Wade, posted to Instagram, in which she notes that "our lives are filled with mountains" and "the magic is found in following our own unique path"—whether that's in relation to aims like parenthood, entrepreneurship, partnership and self-love.
7. Stop comparing yourself
This powerful quote by British writer Poorna Bell will resonate with most people. Constantly looking to others as your barometer for where you should be, will only lead to you feeling unfulfilled and making decisions that aren't right for you. In the caption, Bell adds that she has "so much respect" for those who live "lives that differ to the opinions of mainstream society, and/or the opinions of your loved ones," praising the "courage and certainty that must take."
8. Time will heal you
With access to so much on the tips of our fingers, it can feel frustrating to have to wait patiently for our feelings to process things. These astute words, shared by the Instagram account @youareluminous, remind you that recovery takes time, noting that "in your surrender, you reclaim your power" and that the "answers will arrive when they're ready to be seen."
9. The world is what you make it
Last but not least, Indian-born Canadian poet Rupi Kaur wants you to acknowledge your beauty, resilience, shine and brilliance. In this post, she notes that there is nothing "purer" than greeting each week positively and making the best of it as you can.
Lauren is a freelance writer and editor with more than six years of digital and magazine experience. Most recently, she has been the Acting Commissioning Editor of Women's Health—where she co-produced the Going For Goal podcast—and has previously also written news and features for titles including The Telegraph, Grazia, Stylist, Dazed, The Sun's Fabulous, Yahoo Style UK and Get The Gloss. She covers all aspects of lifestyle, specializing in health, beauty, and travel. Can't live without: oat milk lattes, new podcast episodes, long walks, and great skincare.