5 healthy meal prep ideas that make lunch and dinner a breeze
Trying to stick to a balanced diet? Our healthy meal prep ideas will help you stay on track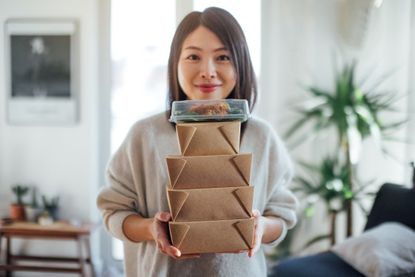 (Image credit: Getty)
When life gets hectic, it's easy to pick up an underwhelming ready meal. Planning your meals sets you up for success and can lead to some pretty tasty results.
Juggling work with your social life, working out and planning a week's worth of meals might feel overwhelming. But we promise it's possible and you'd be surprised by how easy it is once you start.
Before you know it, you'll be throwing in your own combos and batch-cooking recipes will become second nature.
In case you need persuading, there are numerous benefits to organising what you eat. Thousands of tonnes of perfectly edible food is thrown away each year, which we can all agree is unacceptable. Planning your meals means you'll only buy the food you need and can maximise every ingredient. Doing your bit for the planet and saving money - it's a no-brainer right?
In addition to boosting your bank balance, meal prep could help clear your head. Consistency is one of the most important parts of having a healthy diet and it's good for our mental health too. As explained on the Royal College of Psychiatrists: "Eating well also makes us feel emotionally well."
Ready to give it a go and experience the benefits for yourself? Here are five healthy meal prep ideas for you to try.
1. Bulk roast your vegetables
Roasting veg can take around 40mins-1hr but you can reheat them in minutes in the microwave or eat them cold. Batch cook your favourite vegetables at the beginning of the week and transform them into three different meals that take less than 30mins to plate up.
Meal 1: Roasted veg with grilled chicken breast or steamed fish. For a quick lunch try tinned mackerel instead.
Meal 2: Mix the roasted veg through some fluffy couscous and sprinkle with feta cheese, pomegranate seeds and almonds.
Meal 3: Blitz the remaining veg with 500ml stock, chicken or vegetable for a speedy soup. Add your favourite herbs and spices and a spoonful of crème fraîche (optional).
2. Double the portions
If you're making something that takes a little time, cook double and freeze it for when you fancy the same meal but don't want all the dishes! Veggie and meat curries both freeze well as does dahl, stew and soup.
Make a note of the portions per container so that you can defrost the amount you need.
3. Make your mince go further
Transform a bolognese-style mince into three completely different, utterly delicious dinners. Bulk it out with lots of veggies on the first day of cooking, this helps it go further and reduces your meat intake per portion. We like to add carrots, courgette, mushrooms and peppers.
Meal 1: Veg-boosted bolognese with wholewheat pasta
Meal 2: Add a can of kidney beans in chilli sauce to the remaining mince and serve with a sweet potato jacket or brown rice.
Meal 3: Still have leftovers? Spread the remaining chilli onto half a tortilla wrap. Sprinkle with a little cheese then fold over the wrap to create a half-moon. Gently warm in a frying pan, turning halfway to toast on both sides. Cut in half and serve with a tomato, avocado and cucumber salad.
4. Easy cook seeds and grains
Brown rice, bulgar wheat, quinoa and couscous form a brilliant base for your prepped meals as they last in the fridge for a few days and are easily reheated. Portion into containers with one or two vegetables and a source of protein. For example, you could add roasted broccoli and chicken or boiled egg, green beans and flaked tuna. Small jars make excellent containers to transport homemade sauces and dressings to the office. Pour over when you're ready to eat and say goodbye to soggy salads forever!
5. Pesto meals
Try walnuts and cashews instead of pine nuts in your pesto base, or even a mix of pumpkin and sunflower seeds. While basil is the classic flavour profile of pesto, you can throw in other salad leaves like spinach and rocket.
Meal 1: Pesto pasta with your choice of protein, we like chicken, salmon or a portion of almonds.
Meal 2: Mix the pesto with some more olive oil and drizzle over a salad. Take the dressing in a container and pick up a bag of shop-bought salad for a speedy office lunch.
Meal 3: Stir the remaining pesto into a tablespoon of crème fraîche. Serve mixed with fresh gnocchi and roast courgette.
Jessica is a senior food writer at Future and works across the Life & Style portfolio writing recipes and curating food and drink content. When she's not cooking, Jessica loves to dine out and travel in search of new inspiration. Her saved posts on Instagram mostly consist of burgers and craft beer or brunch spots. She also likes to keep fit and chill out with yoga after a long day.