High protein lunch ideas for when you need a boost
Find new ways to add protein to your lunch recipes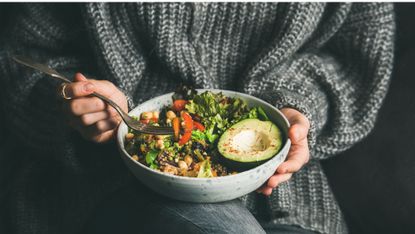 (Image credit: Getty)
If you're working out more but the idea of macro counting sends you to sleep, here are some high protein lunch ideas that are easy to get your head around. And don't worry, it's more than a list of protein shakes five different ways!
1. Why is protein important?
Eating enough protein can support weight loss, as it helps you feel fuller for longer and less tempted to reach for the share bag. It's also essential if you're exercising more because it helps muscle recovery and growth.
Protein is a crucial building block for healthy hair and skin and even affects mental health too. It's made up of amino acids, which in turn make up chemicals in your brain that regulate your thoughts and feelings.
2. How much protein do you need?
The recommended portion for women is around 45g of protein a day. While protein shakes might appeal as a convenient option when you're running from the gym to the office, they often lack the nutrients needed to act as a sufficient meal replacement. It's much better to choose protein-rich foods and stick to a balanced diet.
Take a look at some of our high protein lunch ideas below and we're sure you'll agree it's more tempting than a liquid lunch. And no, sadly prosecco has zero protein…
3. High protein dairy options
Milk
Okay, we said no liquid lunches, but a smoothie made with semi-skimmed milk would make a good lunch option alongside some vegetable crudites or rice cakes. Why not channel your inner influencer and create a painfully 'grammable smoothie bowl? Milk is high in protein and calcium, but avoid drinking too much too often as it's also high in fat and sugar.
Cheese
As milk is one of the core ingredients in cheese, it shouldn't come as a surprise that it has a decent protein count too. Some varieties have a high saturated fat content but good choices include cottage cheese, low-fat ricotta and Parmesan. Try a packed lunch of cheese, crackers and sliced cherry tomatoes with some torn basil leaves.
4. High protein vegan options
Beans and pulses
A hearty alternative to meat that can still deliver full flavour - lentils, peas and kidney beans are high in fibre and low in fat. You could try a spiced lentil curry or a mixed bean chilli. Both lend themselves well to batch-cooking, can easily be reheated in the microwave and are affordable too.
Nuts
Walnuts boast an impressive 4g of protein per ounce (28g) and are naturally cholesterol-free. Try a yogurt-dressed Waldorf salad or swap chicken for walnuts in your pasta. Other high protein nuts include almonds and hazelnuts.
Tofu
Made using soy milk in a similar process to cheese, tofu is a popular vegan alternative to meat. It absorbs flavours very easily so you can try your favourite marinades. It's more delicious served hot in curries and stir-fries, so a good option for those working from home days.
5. High protein pescatarian and vegetarian options
Fish
Experts recommend that you eat two portions of fish a week, with one of them being an oily fish such as salmon. Try a tuna, avocado and tomato salad or spicy tinned mackerel with fluffy couscous and roasted veg.
Eggs
Egg whites contain the most protein, but unless you're working from home, it might be hard to whip up an egg-white omelette. Good options for when you're on the go are adding boiled eggs to your salad or pitta bread with an egg, cress and low-fat mayo filling.
6. High protein meat options
Poultry
See how many options we went through before reaching chicken? It's a popular choice for those on a protein-hype but don't forget about turkey too. On average, turkey has a tiny bit more protein per 100g. Both are delicious marinated and can be eaten hot or cold.
Try them grilled or roasted and added to pasta, salad or sandwich-fillings. One of our favourite lunch options is spicy, shredded turkey in a wholemeal wrap with yogurt slaw.
Red meat
Generally, you should try to limit your intake of red meat, especially if it's processed. Pork tenderloin is a good low-fat option that can be used in recipes that call for chicken breast. Lean cuts of steak such as fillet are also good sources of protein but it's likely you'll prefer this at dinner when it can be cooked and eaten straight away. Not lugged to the office in a Tupperware box!
Jessica is a senior food writer at Future and works across the Life & Style portfolio writing recipes and curating food and drink content. When she's not cooking, Jessica loves to dine out and travel in search of new inspiration. Her saved posts on Instagram mostly consist of burgers and craft beer or brunch spots. She also likes to keep fit and chill out with yoga after a long day.