How to know your ring size: bookmark now, shop online later
Need to learn how to know your ring size? Save our handy guide to take the guesswork out of jewelry shopping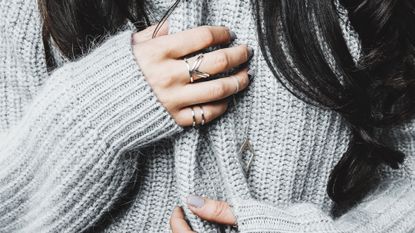 (Image credit: Anna Kravtsova / EyeEm via Getty Images)
The jewelry you wear can say a lot about your personality. From subtle pieces to statement accessories, what you wear to accent an outfit is a great way to personalize your style – and learning how to know your ring size is a must, especially when shopping online.
You're spoiled for choice in terms of finding unique jewelry brands that suit your style in 2021. Even specialized brands that feature the best sustainable jewelry, like Pandora and designer Emma Aitchison, adapt their pieces to cater for every style and fashion preference.
Rings are an especially fun way to incorporate your personality in your daily fashion choices, but knowing your ring size can be a bit of a challenge. Here's a look at three methods for how to know your ring size at home.
How rings are sized
In the US, Canada, and Mexico, rings for adults have sizes and half sizes running from size 3 to 13.5. Rings for women are generally size 3 to 9, and rings for men usually size 8 to 14.
The size indicates a set diameter and circumference for the ring. Size 3 is for a finger that is 14.1 mm across and 44.2 mm around. Each half-size increase corresponds to an approximate 0.4 mm increase in finger width and ring diameter.
In the United Kingdom, Ireland, South Africa, Australia, and New Zealand, however, rings use the alphabet to indicate sizes. The letters correspond to the sizes used in North America, per Bling Jewelry.
Ring sizes for women
According to jeweler Taylor & Hart, the average ring size for women is 6. Per their website, the sizes translate to the following measurements (rounded to one decimal place).
Ring sizes for men
Taylor & Hart notes that the average ring size for men, on the other, hand is 8.5. Per their website, that and the next few sizes up equate to the below measurements.
Your ring shouldn't be so loose that it can fall off, but you should be able to slide it over your knuckle without too much difficulty. It's best to measure your finger size before purchasing a ring to make sure you get the best fit possible – here are three ways to do that.
How to find your ring size with string
Find a piece of string or dental floss and wrap it around the base of your finger. You could also use a thin strip of paper if you prefer. Next, using a pen, mark on the string or floss where one end joins the rest of the string, floss or paper.
Then, unwrap it and lay the length against a ruler. Measure from the beginning of the string to the end mark in millimeters, and then see which ring size corresponds to your circumference measurement. Be careful not to pull the string or floss too tightly, as if it stretches while you're measuring, your ring size result could actually be too large.
How to find your ring size using a chart
f you already have a ring that is a great fit, you use that ring as a guide to finding the size you should order for your next ring purchase. Jeweler Catbird offers a printable page to size your own ring in US sizes, while designer Alice Eden offers a printable option for UK sizes.
Simply match the circle to the inside of your ring to find the corresponding size. If your ring appears to be in between sizes, it's usually a better bet to go with the larger size option.
How to find your ring size with a ring sizer
Another option is to order a ring sizer online. These devices come in two common formats and usually cost just a few dollars. They are perfect for measuring children's, women's, and men's ring sizes.
The first ring sizer is essentially an adjustable ring. The tape is tightened until the size feels correct with an arrow atop that points to the correct size.
The second option is a bit like a keyring with a selection of ring sizes, allowing you to test various ring sizes until you find one that's comfortable. This method is similar to the tools a jeweler would use in a shop. A similar style sizer has holes for ring sizes punched into a sheet of plastic so you can test which hole fits your finger the best.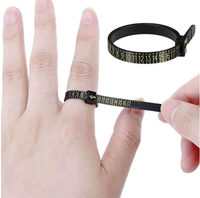 Adjustable Ring Sizer, $3.99 | Amazon
This is the first example of a ring sizer, which measures sizes 1-18.
Things to consider when measuring your ring size
Knuckle size: some people have larger knuckles that are wider than their ring size. If that's you, you might need to order a ring that is a half size bigger than the measurement your finger suggests, otherwise, you won't be able to put the ring on comfortably. If getting a larger ring makes it feel too loose after it passes over your knuckle, ring sizing beads can be added for a snugger fit.
Temperature can also affect the size of your fingers. When your hands are colder, they will feel smaller than when they are hot. Try not to measure your finger(s) when your hands are particularly hot or cold.
Left vs right: a finger on your left hand is likely a different size to the same finger on your right hand. Often the hand you write with is slightly larger.
Ring width: thicker bands can often feel tighter than thinner bands.
Once you've found your correct ring size you're much more likely to find the perfect fit the next time you shop for a new piece of jewelry. From inexpensive ring sizers to DIY measuring tools you can create at home, learning how to know your ring size is easier than ever with these expert tips under your belt.
The My Imperfect Life team is all about helping you navigate your world. We bring you the latest on fashion, beauty, travel and wellness so you can live life on your terms.