The best sustainable jewelry brands to shop now
The best sustainable jewelry brands offer eco-friendly bling in a variety of ways, from using recycled metals to eco-friendly packaging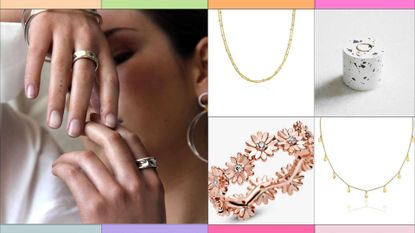 (Image credit: Emma Aitchinson / Kind / Little by Little / Pandora / Milly Grace)
If you're after the best sustainable jewelry brands look no further—our jewelry experts have trawled the web in search of brands that are not only uber-stylish, but that also employ some brilliantly sustainable practices that are good for the environment.
Sustainable jewelry brands are on the rise. As technology advances and consumer expectations become more environmentally focused, jewelry brands all over the globe are offering beautiful, practical, and most importantly, eco-friendly options.

Whether you're looking for stunning stacking rings, stylish layering necklaces, or conscious versions of your favorite earrings, our round-up of some of the best sustainable jewelry brands will help to guide you on your next purchase. Below you'll find big-name brands including Edge of Ember (bigger doesn't always mean unsustainable), and smaller, independent picks such as Milly Grace and Emma Aitchison. Like the best sustainable fashion brands, there's plenty to choose from when it comes to ethical and eco-friendly jewelry...
---
---
Best sustainable jewelry brands to shop
1. Edge of Ember
Best if you want fine, delicate jewelry that expertly layers
Specifications
Sustainability: 100% carbon neutral, recycled materials, lab-grown diamonds used
Materials: Certified recycled 14k solid gold
Reasons to buy
+
Good range of price points
+
Ability to personalize items
Reasons to avoid
-
Not the best option if you prefer chunkier jewelry
A favorite of Meghan Markle's no less, Edge of Ember has soared in popularity over the last few years, and we're not surprised. The brand is at the cutting edge of stylish jewelry, with a wide range of pieces that'll work as well on their own as they would stacked together.
They only sell gold jewelry (necklaces, earrings, rings, bracelets, pendants and anklets), and it's all made to the highest ethical and environmental standards. Edge of Ember are 100% carbon neutral across production and operations, use recycled materials and lab-grown diamonds rather than mined ones, and are committed to fair pay and safe working environments for those who create their pieces. They also work with a number of community initiatives, including the Black Women's Health Imperative and The Red Card Organisation, an educational charity dedicated to anti-racism.
---
2. Milly Grace
Best for jewelry on a budget meaning its accessible for everyone
Specifications
Sustainability: They are carbon neutral, use responsibly sourced and ethical raw materials and eco-friendly packaging
Materials: 18 carat gold plating on nickel-free brass
Reasons to buy
+
Accessible price point
+
Stock up on fine necklaces to layer
Reasons to avoid
-
Brass is used in many of the products which can discolour over time
-
The selection is relatively small with no bracelets or rings
Layering fans, this brand is for you. Milly Grace is a one-stop shop for layering necklaces at brilliant prices. We especially love the fine, gold necklaces, which look great worn together.These on-trend pieces won't break the bank and are super pretty and dainty. We love the presentation too—each purchase is presented in an eco-friendly gift box with the brand's logo embossed in gold on the outside and a cute, illustrated thank you card.

As well as the impressive sustainability credentials, founder Emily Robinson is passionate and enthusiastic about the small family-run nature of the business and is always keen for customers to reach out and connect.
---
3. Missoma
Best for contemporary modern demi-fine jewelery
Specifications
Sustainability: Recyclable and recycled packaging, have a recycled metals jewelry line
Materials: Gold plated metal and gold vermeil
Reasons to buy
+
Unique and stylish pieces
+
Great price range
Reasons to avoid
-
Arguably not as sustainable as they could be
Another favorite of Meghan Markle's and her sister-in-law the Duchess of Cambridge, Missoma is one of the biggest jewelry brands around, and they're doing their bit for sustainability too.
They're currently making big changes to offset their carbon footprint and put money back into projects that help to conserve both wildlife reserves and wildlife. They've also recently swapped their original plastic hinges on the packaging for a new plastic-free style, which is 100% recyclable.
In terms of their aesthetic offering, their designs are modern, contemporary and unique—you'll find something you like whether you're after colored gems, patterned pendants or fine elegant chains.
---
Best for unique, chunky jewelry with designs inspired by nature
Specifications
Sustainability: They use responsible material sourcing, 100% recycled metals and chains, use local suppliers and easily recyclable or composted packaging
Materials: Recycled silver and metals
Reasons to buy
+
Unique designs with a story behind them
+
Handmade with quality as a focus
Reasons to avoid
-
Sustainable practice means a slightly higher price point
-
Returns aren't accepted
Emma Aitchison is leaps ahead of the pack when it comes to sustainability and her commitment to the plant. Everything is considered and taken into account including the metals she uses, to the packaging and transportation.
The unique nature of her jewelry's designs is truly beautiful, and she specializes in cool, minimalist pieces like chunky stacking rings that look stunning when worn alone or paired with other pieces. Aitchison hand-crafts all of her nature-inspired pieces from eco-silver in her studio in the English countryside. Her pieces are both striking and contemporary in design but with enough classicism to make them truly great investment pieces.

We're also big fans of Emma Aitchison's packaging and presentation. Pieces arrive in a soft, slightly textured jewelry box that has been monogrammed, with a matching canvas bag and lovely burnt orange, illustrated tissue paper. She includes a small bundle of wire wool to help you remove tricky patches of dirt or blemishes and a polishing cloth and a thoughtful note on what inspired your new piece.
Read the full Emma Aitchison review
---
5. Vashi
Best for diamond jewelry and engagement/wedding rings
Specifications
Sustainability: Jewelry made to order to prevent waste, pieces made locally, use recycled materials
Materials: Recycled gold and platinum
Reasons to buy
+
Truly special pieces that are to be treasured
+
Rings can be made-to-order
Vashi is a high-end jewelry brand where the price of the items befits the quality. While the brand arguably aren't the most sustainable on this list, their bespoke nature means they are able to be highly environmentally friendly and eco-concious.
The brand use recycled gold or platinum in every single piece, and make their jewelry locally to where it is sold, massively reducing their carbon footprint in their production process. All of their pieces are made to order too, so nothing is left to waste.
Visit Vashi for engagement or wedding rings, or bespoke orders for a really special occasion.
---
6. Little by Little jewelry
Best for modern, design-focused jewelry in gold and silver
Specifications
Sustainability: Use recycled silver where possible, packaging is 100% recycled
Materials: 24 carat gold and sterling silver
Reasons to buy
+
Minimalist pieces that are good value for money
+
Each purchase supports a disadvantaged woman's training at the Luminary Bakery
Reasons to avoid
-
Currently not all of the metal that Little by Little uses is recycled or traceable, but they are working on that
-
Some designs won't suit everyone's taste due to their abstract nature
There's a lot that makes this brand special. Perfect for stacking and layering, they sell pretty, delicate pieces that look great worn every day. And aside from the look of their jewelry, it's clear that the founders, Annabel Cox and Georgina Fuggle, pour their passion into creating a product that's symbolic of friendship and connection, but they're keen to give back, too.

The brand is completely transparent about the way its jewelry is made, sharing that each piece is created in a Peruvian factory that the founders have seen themselves, and have guaranteed is safe, spacious and well-equipped. Even their gift boxes explain that they only work with a well-established producer and use recycled materials. Any metals they use that aren't recycled have an environmental certification and Little by Little offers repairs on jewelry (for a fee) so that your piece can be re-worn again and again.

Little by Little also has a strong social impact focus and has partnered with the Luminary Bakery, which supports disadvantaged women with employment and emotional support.
---
7. Pandora
Best if you're after a well-known reliable jewelry brand
Specifications
Sustainability: Use recycled materials sourced from eco-friendly facilities
Materials: Varies—sterling silver, oxidised sterling silver, a 14k rose gold-plated metal blend, an 18k gold-plated metal blend and solid 14k gold
Reasons to buy
+
Beautiful intricate design
+
Uses man made diamonds
+
High percentage of recycled material
Reasons to avoid
-
Designs aren't for everyone
Pandora may need no introduction (the Danish brand is a global phenomenon) but what we do need to highlight is the brand's conscious effort to give back to the environment. Pandora prides itself in its sustainability, using eco-factories and recycled materials to create its products.
While we all love diamonds, they're incredibly harmful to the planet, which is why Pandora uses man-made diamonds, known as cubic zirconia, for most of their sparkly jewels, including their famous charms. On top of that, 100-percent of the gold used in pieces like Pandora's stackable rings is recycled as well as 88-percent of the silver, too.
For the products that are the real deal, they only buy from certified, reputable suppliers, as they're part of the RJC, Responsible Jewellery Council.
---
8. Wolf & Moon
Best for colorful, statement jewelry in geometric shapes
Specifications
Sustainability: Handmade pieces created in a studio run completely on renewable energy
Material: Wood, recycled acrylic and mirrored acrylic
Reasons to buy
+
Gleefully pretty designs
+
Support a female-founded British independent
Reasons to avoid
-
If precious metals or stones are important to you, you could be spending $100+ for costume jewelry
-
This is fun, carefree jewelry so don't expect a huge gift box and cleaning equipment
Wolf & Moon's big selling point is their playful aesthetic. The brand is founded by Hannah Davis, who originally won over a cult following at London markets with her geometric designs and bright color palettes.

Now, the brand's designs stretch far and wide—we love the fruit-themed range, which currently includes strawberries, cherries, and peaches. We also rate that the brand uses innovative methods to reduce its carbon footprint such as powering its studio with renewable energy and working with eco-minded company Ecologi to offset carbon emissions and plant a tree for every purchase. The items are slightly on the pricey side, but it's worth it for such fun and unique jewelry.
---
9. Lima Lima
Best for abstract shapes and playful styles
Specifications
Sustainability: Jewelry is crafted using 100% traceable recycled silver (Ecosilver), responsibly sourced gemstones and some recycled brass.
Materials: Ecosilver
Reasons to buy
+
Light-weight and easy-to-wear designs
+
Modern, industrial feel
Reasons to avoid
-
Gold fans might struggle as many pieces are silver
-
Abstract designs make these pieces hard to layer
Founder Rhiannon Hart says she's inspired by architecture, art, interior design, and sculpture when designing her modern, forward-thinking pieces. These creative influences become clear when you look at the breadth of interesting and often abstract rings, necklaces, and earrings on the website.
Lima Lima's packaging gives full pizzazz with punchy turquoise and peony pink wrapping. This comes with a cute cotton pouch, illustrated with Lima Lima's cool metallic branding.
In addition to the mostly recycled materials used to create the jewelry, the packing for Lima Lima is also made of 100% natural cotton and recycled packages, and Hart also hold regular 'waste-not' sales where she sells items repurposed completely from waste materials!
---
10. Monica Vinader
Best for elegant crowd-pleasing pieces that make for great gifts
Specifications
Sustainability: Uses recycled materials, fully carbon neutral and 100% recyclable packaging
Materials: 100% recycled gold and silver
Reasons to buy
+
Pieces are both trendy and timeless
+
Wide selection of items so you can find something for everyone
Monica Vinader is an internationally-loved brand and for good reason. Their pieces—which range all the way from rings to bracelets, to pendant charms all the way through to men's jewelry—are super stylish and trendy, but still manage to be timeless, making them great investment items. Due to their wide ranging stock Monica Vinader is also a fantastic options for gifts, be it for moms, sisters, daughters or grandparents.
When it comes to sustainability, they're also equally up-to-par. They only use 100% recycled gold vermeil and sterling silver to make their jewelry, and are carbon neutral as much as possible. They've also ditched single-use plastics in their packaging which is fully recyclable, and source ethical diamonds where they are necessary.
---
11. Vrai
Best for elegant minimalist jewelry
Specifications
Sustainability: Sustainably grown diamonds, carbon neutral, and factories powered by renewable energy
Materials: Diamonds, solid gold and white gold
Reasons to buy
+
Elegant pretty pieces that will work with any outfit
+
Use sustainable diamonds
High-end jewelry brand Vrai have committed to sustainability created diamonds, explaining that theirs are made using technology via the Diamond Factory, rather than being mined. Their diamond foundries are also powered by 100% renewable energy, and the company is certified carbon neutral. They company also support various initiatives that promote renewable energy.
Their jewelry is arguably some of the most premium on the market, much of it retailing in the high thousands when it comes to price. Well-known for their engagement rings, you'll also find bracelets, necklaces, and earrings at Vrai, all of which are delicate, minimalists, and oh-so-elegant.
Sustainable jewelry brands: what to look for
We understand as consumers that our buying choices shouldn't come at an expense to the environment, but does shopping sustainably mean that you have to sacrifice on the style stakes?
When it comes to sustainable jewelry brands, we can promise you this isn't the case. When looking for sustainable jewelry, there are a few things to consider, from how the brand you're buying into has innovated its business to cut down its impact on the environment to the packaging used and, of course, the quality of design.
1. Is the brand really sustainable, rather than just ethical?
First up, don't confuse being sustainable with ethical. While many brilliant, independent jewelry brands work with charities to empower women, for instance, this doesn't necessarily mean that the brand is also focused on reducing its impact on the earth.
When it comes to jewelry brands that claim to put the earth first, you should be looking for those that go above and beyond to reduce their carbon footprint. London-based Wild & Moon, for example, run their studio using renewable energy, while Emma Aitchison has worked to put thorough recycling systems in place so that nothing in her studio is ever wasted.
A lot of jewelry brands are partnering with environmental charities to help offset their carbon footprint, too. Kind Jewelry work with One Tree Planted and plants a tree every time they sell a piece. It's also a good idea to think about where you are and order jewelry within your country so that it doesn't have to be shipped across the world, therefore reducing its carbon footprint.
2. Are they using the most sustainable materials?
Sustainable jewelry should ideally use mostly, if not all, recycled materials, whether these be precious metals, wood, or acrylics. Eco silver is rising in popularity and simply means silver that has already been used in one form, and has now been melted down to make another. This process doesn't affect the look of the metal or make its appearance any less special; it looks brand new. This process continues its lifespan and stems from the demand for mined metals.
Mining is a huge contributing factor to climate change—it emits greenhouse gases and causes erosion, contamination of water supplies, and destroys wildlife and their habitats. The demand for new precious metals continues to rise, so it's important to buy with brands that focus on a circular economy and using materials already in use, which applies to gemstones, too.
3. Is their packaging also sustainable?
One of the things that people often forget about when buying sustainably is all the bits that we take for granted, like the packaging. Eco-friendly packaging is a must when you're buying sustainably.
Most jewelry brands who champion sustainability are keen to shout about having conscious packaging so they'll probably mention this on their website, but if you're ever unsure just drop them an email and check.
The best packaging is recyclable so that you can dispose of it responsibly after it's arrived, but also is made from FSC-certified or recycled materials, sourced locally, and no extra bits of paper like invoices that could be emailed.
4. Can sustainable jewelry be stylish too?
Duh, of course they can! Being good to the planet doesn't mean that you can't be stylish too.
There are plenty of sustainable jewelry brands out there with a diverse range of aesthetics. Layering is a big trend at the moment and brands like Milly Grace have embraced this wholeheartedly with a range of delicate, dainty chains that look great piled on top of each other. They even have a "layering inspiration" section on their website. Lima Lima is all about abstract pieces with interesting, angular shapes based on architecture and art. Or, check out Emma Aitchison's nature-inspired rings, necklaces, and bracelets which have been created to reflect rippling waves or bubbling magma.
Megan Murray is editor of Soho Home and has ten years of experience in lifestyle journalism writing across topics such as interiors, food, and travel. Previously, she launched interiors franchises for Stylist.co.uk, where she was senior writer and still freelances, as well as for sites such as Square Meal and Mr Porter. Megan has a passion for shining a light on the stories of talented womxn and has interviewed the likes of Mariah Carey, Munroe Bergdorf and Maya Jama. In her spare time, Megan loves decorating her rental, reading independent magazines and exploring the UK.
With contributions from