Emma Aitchison review: the loveliest eco-friendly jewelry brand
Emma Aitchison is a gorgeous sustainable jewelry brand to shop for pieces that you'll keep for a lifetime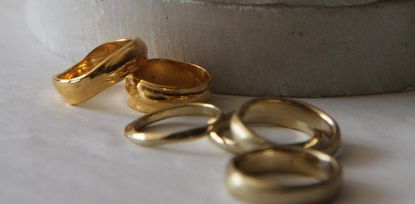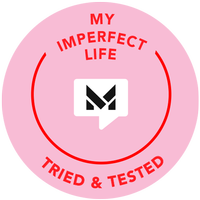 (Image credit: Emma Aitchison)
My Imperfect Life Verdict
We've reviewed Emma Aitchison's jewelry, sustainability offerings, shipping process and overall customer experience, after trialing the Swell Ring in 100-percent recycled silver. We found the brand to be everything a sustainable jewelry enthusiast wants—each piece is completely unique, can be layered with other pieces (a huge trend right now), and its essence is rooted in nature and care for the environment.
Reasons to buy
+

Slides easily onto the finger

+

Soft, smooth edges make it comfortable to wear all day

+

Made from eco-friendly 100% recycled silver

+

Handmade and therefore unique

+

Delivered in thoughtful, beautiful packaging
Reasons to avoid
-

Fiddly to clean

-

Inconsistency in texture and shine due to the design
Sustainability is informing our buying choices now more than ever and when it comes to sustainable jewelry brands, independent companies like Emma Aitchison are leading the charge on how to make beautiful pieces that don't cost the earth—literally.

If you're new to buying from the best sustainable jewelry brands, Emma Aitchison's is a great place to start. Below, we've reviewed the brand, sharing just how sustainable it really is, and how that translates to the shipping and delivery process, and the overall quality of the jewelry. We've specifically taken a look at the Swell Ring, to assess the sustainable brand's offerings—and found that overall, it's the perfect jewelry box staple, with a chunky look and smooth finish, which will give any outfit an edge. It's been designed to be stacked, a huge trend at the moment, and unlike many sustainable brands (which can be super pricey), won't cause you to dig too deep into your bank account.
Read on for our full review of this sustainable brand...
---
---
Emma Aitchison sustainability
If you're investing in a piece of sustainable jewelry, it's important to make sure the brand you're buying from is genuinely doing everything they can to ensure that they aren't negatively impacting the earth.

Emma Aitchison is an advocate for living sustainably and ethically in all ways, something which she puts at the heart of her business. All jewelry is made using 100-percent recycled metals and gemstones, plus all of the packaging it comes in is made from recycled materials and can be recycled. There is no plastic and a zero-waste approach to this packaging too, with even the tape used to close boxes being fully recyclable.

Aitchison regularly cross-checks all of the suppliers she works with to ensure that they meet her standards and finds new ones if any fall short. She donates 5-percent of every online sale to Survival International, a charity that works with tribal peoples to help them protect their lives and land. She is currently investigating a carbon-neutral delivery method and runs her studio using green energy, as well as putting thorough in-house recycling systems in place.
Overall, the brand appears to be operating as sustainably as it possibly can, working super hard to offset any carbon emissions and reduce waste. A big tick for us!
What is processing and shipping like at Emma Aitchison?
We all know how frustrating it can be when you've fallen hook, line and sinker for a new item, but it takes forever to arrive. But, if you're committed to shopping sustainably it's important to remember that conscious investments are not the same as fast fashion impulse buys that arrive on your doorstep the very next day.

Aitchison explains on her website that everything she sells is handcrafted in the UK—no big production lines or unethical factories crammed full of workers. Because of this, it takes her two to three weeks to create a piece and have it sent out. In our case, delivery was actually much faster—the Swell Ring we ordered was already in stock and Aitchison sent it out straight away using shipped recorded delivery, and it arrived within a few days.
She understands that when it comes to special occasions though, you might be desperate to secure that dream gift for a friend and need something a little sooner. In those cases, she welcomes customers to get in touch and she will see what she can do.
What is the Emma Aitchison packaging like?
Emma Aitchison's packaging is some of the nicest we've seen—ever. All of her packaging has been designed with brand coherence in mind, from the burnt orange tissue paper illustrated with earthy swirls and a monogrammed "thank you" sticker. Items come in a taupe-and-orange gift box that has a quality feel, embossed finish and a cork sheet inside—getting eco points as an innovative sustainable material.

We also received a monogrammed canvas bag to keep our ring in when traveling and an explainer on the inspiration behind the Swell Ring. The bag was illustrated with ocean waves and a soothing written portrait of how the flowing movements of the metal reflect the rippling waves. Just lovely!
Emma Aitchison's brand story
Emma Aitchison grew up in the South West English countryside and from a young age felt connected to nature—something which is evident in her work. After studying jewelry design at university and working in London, Aitchison decided to reawaken her love of nature by returning to her rural roots and set about starting her own business with a deep environmental and ethical ethos.

Emma Aitchison has been running as a company since 2016 and has the vision to help shape the jewelry industry to be a better, fairer and more sustainable place. She hopes to prove through her beautiful, quality pieces that it is possible to make sales and run a business in a mindful way.
So, what did we think about the actual jewelry when we tested it? See our full review of the Swell ring below...
Our review of the Emma Aitchison Swell Ring: what you need to know
What is the design of the Emma Aitchison Swell Ring like?
Emma Aitchison's Swell Ring is a design-focused piece. Its form is unusual, characterful and thanks to its handmade nature, completely unique. Aitchison is inspired by nature and the Swell Ring's curves and dips represent the ocean. Once you know that, you can really see the creative journey she has been on, which makes the piece even more special.

This ring definitely suits the current trends as it's chunky with an edge and is designed for layering and stacking with other rings. But there's something timeless about it, too. There are no engravings or details that point towards a fashion-focused trend, so we don't see why this piece would ever fall out of favor. Plus, it has an interesting mix of finishes with certain parts of the ring appearing smooth and shiny, while others are full of grooves. This again creates a sense of uniqueness and is a far cry from the mass-produced products we see at high street stores.
How is the ring to wear practically, though? As beautiful as gemstones are, they offer more opportunities for clothes to be snagged on sharp edges or raised stones. The Swell Ring does not suffer from this problem. As previously mentioned, its shape is very smooth and it doesn't get caught on anything. The thick band also makes it difficult for it to fall off, and the flowing design means it doesn't matter if it swivels around your finger. It's a very practical ring to wear day-to-day.
How comfortable is the Emma Aitchison Swell Ring?
Linked to practicality is comfort, and again the Swell Ring gets top marks. We found the ring to be a snug fit, which we liked, as it meant we felt comfortable in the knowledge that it wouldn't slide or slip off without us noticing. As it is the same thickness all the way around, it does touch a larger surface area of the two fingers next to it than other rings might, but as it is so smooth, this isn't a problem.
How to clean the Emma Aitchison Swell Ring
Emma Aitchison goes above and beyond to ensure that customers are prepared and equipped with everything they need to keep their pieces clean and in good condition. We were pleasantly surprised to find inside the (beautiful and recyclable) packaging, instructions for three different methods of cleaning, depending on the kind of metal you have purchased. Not only is this really helpful, but it also came with a small bundle of wire wool to use as part of one of the methods and a soft, grey cleaning cloth to polish with.

All of these elements were packaged in an on-brand way, tucked into little bags or folded up neatly, and were a joy to open. We would say, though, that because the Swell Ring has two exterior folds that rim the edges of the piece, this creates a cavity that has the potential to get dusty and dirty. We like the design so wouldn't see this as a flaw, but it's something to be aware of—the ring is quite fiddly to clean.
However, you likely won't need to do this too often, so it's not a major drawback in our books.
What is the price of the Swell ring?
The Swell Ring in recycled silver is priced at £110. If a gold look is more your thing, you can select the option for 18-carat gold plating for £165, which sits on top of a recycled silver base. Most of the pieces in Emma Aitchison's ring collection sit between the £100 to £200 price range. The ring is only available in the UK.
Aitchison doesn't often do sales, which makes sense, as it's more expensive to run a business sustainably. But she does sometimes offer her customers surprise discounts and treats via her newsletter and secret online portal called The Wishing Well. So keep your eyes peeled!
Megan Murray is editor of Soho Home and has ten years of experience in lifestyle journalism writing across topics such as interiors, food, and travel. Previously, she launched interiors franchises for Stylist.co.uk, where she was senior writer and still freelances, as well as for sites such as Square Meal and Mr Porter. Megan has a passion for shining a light on the stories of talented womxn and has interviewed the likes of Mariah Carey, Munroe Bergdorf and Maya Jama. In her spare time, Megan loves decorating her rental, reading independent magazines and exploring the UK.