Is Fenty Beauty vegan?
Rihanna's cosmetics brand is super popular – but is Fenty Beauty vegan?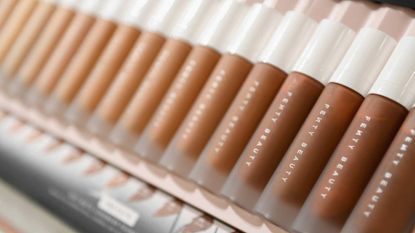 (Image credit: Getty Images / Stuart C. Wilson / Stringer)
When it comes to skincare, celebrity lines don't always cut the mustard. However, in the case of Queen Riri, it's simply not the case. Fenty, launched by the icon Rihanna is an award-winning cosmetics brand famed for its inclusivity across skin tones, especially in its Pro Filt'R foundation which is one of the best non-comedogenic foundations out there. Launching with an impressive 40 shades, the brand has gone on offer even more options by taking it up to 50 shades.
Is Fenty Beauty vegan?
We're all becoming more conscious about what ingredients go into our skincare and many vegans who love beauty and skincare have asked, 'Is Fenty Beauty vegan?' The answer is that while Fenty Beauty is marketed as a cruelty-free product, it is not completely vegan, but there are some products that are. The brand uses some standard non-vegan ingredients such as beeswax and carmine to formulate a handful of their products.
Wondering what the deal with these ingredients is? Here's what you need to know:
Beeswax This is obtained by melting honeycomb with boiling water before straining it. This procedure produces the by-product used to make some of Fenty's products. Beeswax is a natural substance secreted by bees through glands near their abdomen. Vegans are against beeswax because of the process used to harvest it. The harvesting methods don't only interrupt bees' lives, but many bees are also harmed during handling.
Carmine Believe it or not, the pigments found in some lipsticks and blushes (including those from Fenty) come from dead bugs. The crimson red dye known as carmine is extracted from a scaled insect species called cochineal. Any beauty product that contains carmine is not vegan. Carmine sometimes goes by different names. If you are a vegan, you should look out for the following ingredients when buying make-up: crimson lake, Cl 7470, natural red 4, cochineal extract, carmine.
Which Fenty Beauty products are vegan?
Luckily, Fenty Beauty also offers products that are completely vegan. Top vegan products from the brand include:
Hydra Vizor Invisible Moisturizer Broad Spectrum SPF 30 This is a 2-in-1 moisturizer and sunscreen ideal for dehydration, discoloration, and fading spots. The product is skin-friendly and refillable. It also boosts and brightens your skin to make pores, fine lines, and wrinkles less visible.
Fat Water Pore-Refining Toner Serum A 2-in-1 toner/serum combo that helps improve the appearance of dark spots and enlarged pores. It primarily targets pores while brightening and smoothing your skin and also fighting shine. It also helps even out skin texture over time with frequent application.
Total Cleanser Remove-It-All Cleanser A universal cleanser that is entirely vegan. It is a 2-in-1 make-up remover cleanser that gives you the beautiful deep clean you've always dreamed of. The product is useful in removing dirt, oil, and long-wear make-up without drying or stripping your skin.
Gloss Bomb Universal Lip Luminizer A top lip gloss that delivers an explosive shine. It is ideal for that finishing touch.
Invisimatte Blotting Powder If you are looking for a vegan product from the Fenty stable that absorbs oil and diffuses the look of pores, this is the best choice. The formula helps keep your skin looking fresh and oil-free.
Pro Filt'r Soft Matte Longwear A hydrating long-wear foundation that comes in 50 different shades. This is Fenty Beauty's all-time best seller and one of the best non-comedogenic foundations on the market.
All of Fenty Beauty's brushes and tools are vegan
Is Fenty Beauty gluten-free?
Fenty Beauty's website states that their products are formulated without gluten-delivered products. However, owing to the manufacturing process, some of their products may come into trace contact with gluten.
Where is Fenty Beauty made?
Fenty is a brand that is wholly manufactured in the US and Europe. Fenty Beauty's parent company is LVMH, and its offices are based in San Francisco, California. LVHM is not a cruelty-free company. Some of the company's products that are tested on animals include Benefit Cosmetics and Makeup Forever.
Key takeaway
Although Fenty Beauty is considered a cruelty-free beauty company, their products are not 100% vegan. Some use beeswax and carmine, which are extracted from insects. However, the brand boasts a long list of vegan-friendly products free from these two ingredients.
The My Imperfect Life team is all about helping you navigate your world. We bring you the latest on fashion, beauty, travel and wellness so you can live life on your terms.