What does non-comedogenic mean? We break down the basics
It's a skincare essential for many, but what does non-comedogenic mean?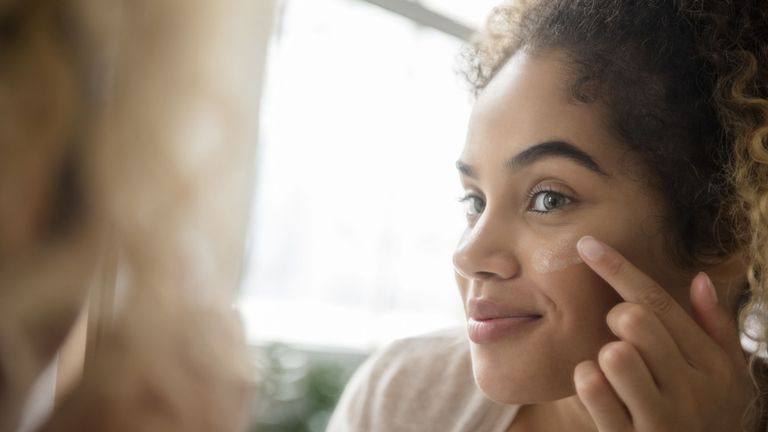 (Image credit: Getty)
You'll have read it on your products, but what does non-comedogenic mean?
Well, when it comes to keeping acne, breakouts, oily skin and large pores under control, the best non-comedogenic foundations (opens in new tab) and skincare should be on your radar. The well thought-out formulas contain ingredients that won't contribute to blocked pores, preventing spots and excess oil building up on the face.
But like many other baffling beauty terms, the phrase non-comedogenic seems to have just sprung up out of nowhere, leaving many of us confused as to what it actually means and how we go about making sure that our products fit the bill.
So we asked the experts exactly what to look for in our products and how we should go about moving across to a non-comedogenic routine.
What are non-comedogenic products?
"Non-comedogenic basically means the products will not block your pores," says Dr Parisha Acharya (or Dr Paris), Aesthetic Doctor at London Marylebone's Waterhouse Young (opens in new tab) clinic. "A comedo is the medical term for a blocked hair follicle or pore, blockages can result in whiteheads, blackheads and papules.
"Open comedones are a scientific term for black-heads," explains aesthetic doctor Dr Maryam Zamani (opens in new tab) of the blemishes, which form when the oil and bacteria in the blockage becomes oxidised by the air, causing it to change in colour. "Closed comedones are white," adds Dr Maryam, explaining that a whitehead is what happens when a blocked hair follicle is covered by the skin.
"Non-comedogenic products make sure that there is nothing that could overly clog the pores," says Dr Maryam. "Overall, it helps to prevent pore blockages, comedones, blackhead, congested and bumpy skin.
"All skin types can benefit from non-comedogenic products as they allow your skin to breathe," adds Dr Paris, "but specifically those with oilier skin types and a propensity for acne will gain most from the formulations."
How can you tell if your make-up is non-comedogenic?
With some products it can be relatively easy to figure out whether it is comedogenic or not, as anything that is free from comedogenic ingredients will usually be labelled "non-comedogenic".
That being said, keep an eye out when purchasing from any sellers other than the brand directly, as in some instances there are those that will label the product non-comedogenic when it is simply oil-free - and there's a difference between oil-free and non-comedogenic foundations (opens in new tab) and skincare.
"Oil-free does not necessarily mean non-comedogenic," advises Dr Paris. "So even if a foundation claims it is oil free it may still contain ingredients that can potentially block your pores.
"All packaging should state if a product is non-comedogenic," she explains. "By stating this it means that the product has undergone trials under supervision of a dermatologist to confirm that the product is what it says it is.
"However, that being said, the beauty industry does not necessarily use regulated tests and so I would also look at the ingredients to ensure the chances of blocked pores are kept to a minimum. Ideally you should be using products containing salicylic acid and retinol if you are susceptible to breakouts."
Common skincare ingredients that could potentially clog the pores include sulphates, silicones, and coconut oil, so be sure to keep a lookout for them when shopping around.
Should you use both non-comedogenic skincare and foundation?
"This fully depends on the individual and their sensitivity," says Dr Maryam. "For people with more sensitive skin, I would recommend tinted moisturisers, BB creams or more liquid-based, light-to-medium coverage foundation.
"In general, those that suffer from acne tend to use more foundation to cover the spots and therefore should specifically choose both skincare and foundation that is non comedogenic. Generally, individuals with dryer skin types do not need to worry about this."
"I always recommend using lightweight formulations for both skincare and foundation to avoid congesting your skin," adds Dr Paris.
"Your ideal foundation should be lightweight, water, gel or aloe-vera based. Bonus points if it contains salicylic acid for acne prone individuals.
"Look for terms like hypoallergenic or non-comedogenic but remember these terms are not necessarily regulated so still be vigilant of the ingredient list."
Aleesha is acting deputy editor for My Imperfect Life, where she looks after the beauty, fashion and eCommerce pages. Previously she was shopping writer for woman&home and gained an AOP awards nomination after working on their news team. She earned an MA in Magazine Journalism from City, University of London in 2017 and has since worked with a number of brands including, Women's Health, Stylist and Goodto. When she's not testing new products, Aleesha spends her time soaking up the newest bestsellers and Netflix releases, exploring different wines, attempting new languages and (in non-COVID times) has been known to be a bit of a jetsetter after spending a year living in Madrid.