Is moisturizer actually bad for your skin?
It's a question we never thought we'd ask ourselves.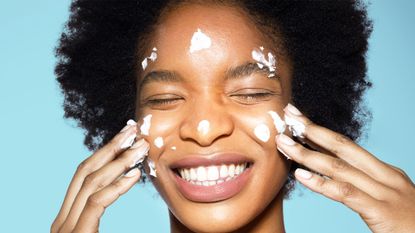 (Image credit: Jonathan Knowles/Getty Images)
For most of us, applying moisturizer twice a day is hardwired into our DNA. It's as automatic a reflex as brushing our teeth and the word alone conjures up images of a comforting blanket of product that nannies skin into feeling softer and plumper. So the idea of rethinking that relationship is actually blowing our minds.
Can moisturizer make my skin dry?
The argument for skipping moisturizer is that it makes skin lazy and less able to hydrate itself.
According to dermatologist Dr Rachael Eckel: "Skin already naturally produces water, lipids and protein. If you artificially saturate the skin surface with moisture, this sends a signal to cells to stop producing these nutrients. The epidermis shrivels and thins, and fine lines start to appear."
In fact, Dr Eckel believes that only 15 per cent of us actually need to invest in creams: those with genetically dry skin and those with eczema.
Her other argument for going without is that moisturizers, in general, reduce your skin's natural ability to exfoliate:
"Not only is it making skin drier, it's also making it dull, slowing down cellular turnover by basically pushing the skin cells down, flattening them and not allowing them to self-exfoliate."
Hence, for Dr Eckel, the gold-standard skincare regime includes exfoliants, oil-free serums with vitamins and SPF50 by day and the best retinol serums for overnight to speed up cell renewal and trigger natural hydration.
Hailey Bieber's favorite aesthetic doctor, Dr Barbara Sturm, concurs that rich, unctuous creams can suffocate pores: "If your skin is constantly laden with very rich moisturizers, it sends a signal to its water reservoirs to say that it has enough water, lipids and proteins so it starts to produce less hydration and nutrients on its own."
But Dr Sturm believes the key for creating balanced skin isn't skipping face cream altogether but finding the right type of moisturizer, especially when it comes to the best moisturizers for dry skin.
She explains: "It's more important to choose products that sufficiently care for the skin in the first instance; hydrating ingredients such as glycerin, panthenol, urea and hyaluronic acid attract water molecules and add them back to the skin."
Fiona Embleton is a multi-award-winning beauty editor who has tested over 10,000 products in her 10 years + of writing and shooting beauty stories. For the past four years, she was the Senior Beauty Editor at Marie Claire, having previously worked in the role of Beauty Editor at both Stylist and Cosmopolitan. She has recently gone freelance and alongside My Imperfect Life, she has written for titles including ELLE UK, ELLE Canada, Buro 247, Harper's Bazaar Arabia, Vogue Scandinavia, and ES Magazine. Beauty journalism allowed her to marry up her first-class degree in English Literature and Language (she's a stickler for grammar and a self-confessed ingredients geek) with a passion for make-up and skincare, photography, and catwalk trends. She loves jumping on the latest internet-breaking beauty news, dissecting the best red carpet looks, and having the crème de la crème of dermatologists, make-up artists, and hairstylists on speed dial so she can tap them for the best advice. She's a discerning beauty shopper and knows it can be confusing trying to navigate what's hype and what really works. So if she really likes something, you can trust that she has reached that opinion by vetting it against everything else she's ever tried. Her career highs? Interviewing Cate Blanchett and winning a Jasmine Award for the deeply personal feature Cancer Stole My Mother's Scent.