What are the best sex positions for menstrual cramps?
These sex positions for menstrual cramps will ensure that Aunt Flow won't get in the way of the Big O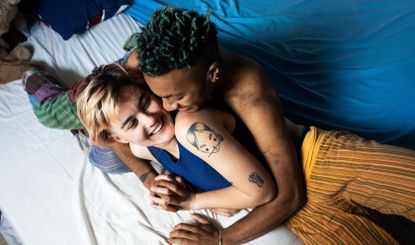 (Image credit: Getty)
Do you skip sex while on the menses? These sex positions for menstrual cramps are just what you need if you usually avoid sex during your cycle out of fear of period cramps, belly bloat or leaking.
Sex is usually enjoyable, but during your menstrual cycle, it can actually be even better, especially since menstruators often experience a higher sexual drive and natural lubrication during their periods. In fact, if you've ever wondered, 'Do orgasms help period cramps?', the answer is, happily, yes.
There's no shame in the period sex game, and these sex positions will enable you to enjoy penetration, be more intimate with your partner, and help with your unpredictable mood during your menstrual cycle. Give it a go during your monthly flow with the best sex positions for menstrual cramps.
Best sex positions for menstrual cramps
1. Mutual masturbation
Does your partner feel squeamish about blood? Masturbating with each other is a good solution where your partner won't be exposed to blood, and you will still get to enjoy each other sexually. After all, who said sex always has to involve penetration?

Masturbate side-by-side to enjoy each other's company. You can think of it as a time of showing each other what you each like and the way you like to be touched. Give your side-by-side stimulation a boost by adding one of the best app-controlled vibrators to the occasion—hands-free vibrators and sex toys, in particular, would make for very fun additions.
2. Shower sex
Think of shower sex as a way of multitasking—as you enjoy being with your partner, the shower water washes away any leaks that may occur.
The bathroom is ideal for having sex during your period because you won't have to worry about staining your beautiful bed sheets. A bonus for shower sex is that you can let the warm water run on your back, helping alleviate any muscle pain you might be feeling during your cycle.
Some people do not prefer having shower sex because it can make the vagina feel drier. However, you can opt to get a lubricant specially designed for shower sex to better the experience.
3. Yoga missionary
When better to try the most classically romantic sex position than a time when you need romance so badly? When having menstrual cramps, you desire to feel loved and cared for, and missionary style can help you achieve all that and still feel sexy. The missionary style allows you to rest while your partner makes you feel loved and satisfied. Win-win!
The yoga missionary style is the best sex position for when you are experiencing cramps. In this missionary style, your legs are hugging your partner's sides with your knees bent and feet pressed together—you can grasp each of your feet at the midsole for better balance and an even deeper stretch. The position helps your abdominal muscles relax, and as a happy result, your cramps to reduce.
4. Doggy style
For those who love deep penetration, this is the period sex position for you. This comfortable, versatile style can be enjoyed standing up or laying down.
For the former, use a wall in front of you as a balance aid. For the latter, add a rolled-up towel or covered pillow underneath you to act as support. The support can improve the intensity of the sex—you can rub yourself on the towel or pillow and get that extra clitoral stimulation, enhancing your pleasure.
5. Little spoon
If you're looking for a period-friendly style that combines sexual positions and emotional investment, spooning proves to be a romantic choice, as you have a lot of skin contact with your partner. Spooning is relaxing, and in a time when you can feel emotional and slightly erratic, this sex position can help alleviate your mood.
With spooning, you get to have sex in a slow, intimate manner. It is ideal when you're having cramps, as you feel more appreciated as you cuddle with your partner, and they can massage your belly or any achy muscles during it. Also, you have more access to your clitoris, which is always a bonus!
6. Butterfly stretch
A butterfly style is also a great option when you have cramps, as the spillage is minimal. In this position, you lie on the edge of the bed (or the kitchen table, if you're feeling particularly adventurous) and have your legs elevated on your partner's shoulders. You can use your hands to elevate your hips and achieve the specific angle and depth that you desire.
7. Cowgirl style
Do you have alleviated sexual drive during this time? Or are you just looking to take back some control during the emotional messiness that is menstruation? Then giddy-up for some cowgirl. Sure, blood spills might happen, but you can dictate the tempo and the depth for maximum satisfaction in this style.
8. Anal sex
Looking for an option with zero chance of spillage? Anal sex is it. (It's an especially great option because you don't even need to remove your tampon to enjoy!)

But if booty play isn't part of your everyday sex routine, research is crucial to keep anal sex pleasurable for both parties. Remember that when having anal, lube is key, so make sure to stock up on the stuff. Anal sex also required patience, with about 10 to 15 minutes of foreplay, so be sure to go slow. And make sure you're comfortable throughout—have your hips supported by a pillow so the muscles can relax.
After reading all about the best sex positions for menstrual cramps, do you see there is no need to suppress your sex life during your period cycle? Sex is part of life; it is relaxing and enjoyable, and when anything tries to block you from enjoying sex, find a way to get past it. These handy styles should help you do just that!
The My Imperfect Life team is all about helping you navigate your world. We bring you the latest on fashion, beauty, travel and wellness so you can live life on your terms.