Hands-free vibrators and sex toys: a lazy girl's guide to orgasm
Sometimes, we want that Big O without doing a whole lot. Hands-free vibrators will definitely help!
Included in this guide:
1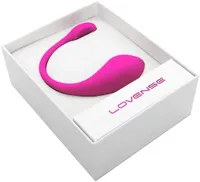 Lovense
Lush 2
2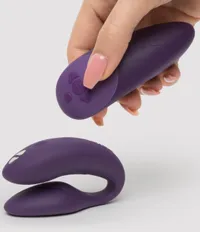 We-Vibe
Chorus Vibrator
3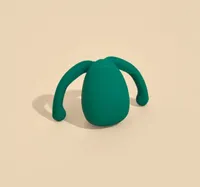 Dame
Eva II Hands-Free Vibrator
4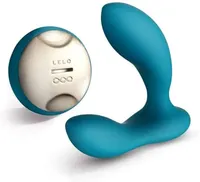 Lelo
Hugo
5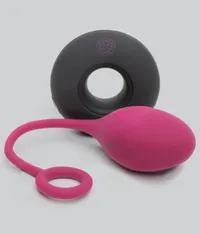 Mantric
Rechargeable Remote Control Egg Vibrator
6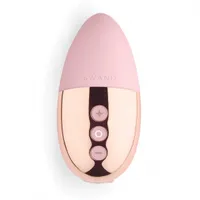 Le
Wand Point
7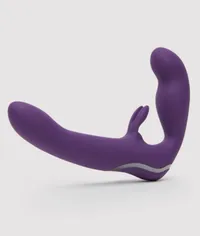 Desire
Luxury Rechargeable Strapless Strap-On Dildo Vibrator
8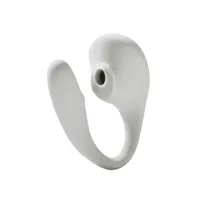 Lora
DiCarlo Osé 2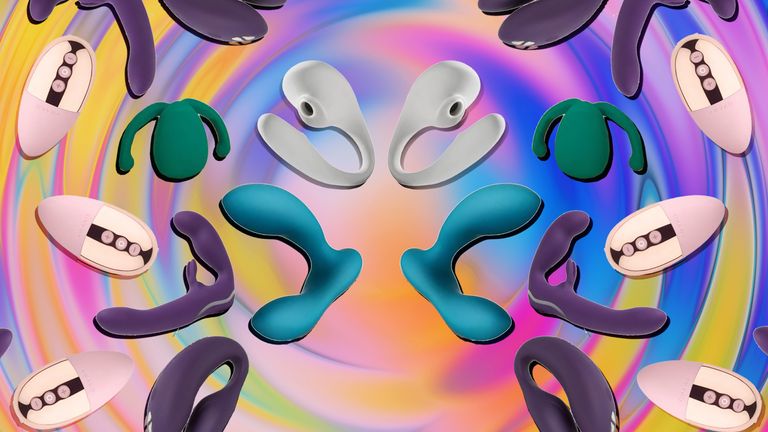 (Image credit: Getty Images)
We'll take an orgasm wherever we can get it, whether it's with a significant other or with a little help. But there's something special about bedroom play with hands-free vibrators, enjoyed solo or during sex with a partner.

We're talking about wearable vibrators, clitoral massagers, love eggs, prostate ticklers, jiggle balls, and even some of the best app-controlled vibrators. Equipped with remote controls, smart technology, and more, these types of vibrators and sex toys are truly intimacy innovations, keeping you in control of your body and your pleasure while entirely freeing yourself from having to hold a standard, weighty rabbit or wand vibrator the entire time. (Because, really, sometimes all of that adjusting can take you out of the mood!)
Whether you're looking for a toy with dual stimulation for you and your lover, or simply want to keep all the good vibes to yourself, there are plenty of hands-free vibrators and sex toys out there for you to explore and engage with. So light a few of the best-scented candles you've got, turn up the mood music (Rihanna, duh), and then sit back, relax, and enjoy the ride of your life. (Look, no hands!)
The best hands-free vibrators for public play
Lovense Lush 2
Powerful but quiet stimulator with long-distance remote reach
Feeling a little frisky on your night out? If you're one for getting naughty in public, the Lovense Lush 2 might just be the hands-free vibrator for you.

An upgrade to the brand's original Lush bullet vibrator, the Lush 2 is equipped with a powerhouse new motor that offers seven leg-shaking vibration modes, but the toy is surprisingly quiet for all its strength. (Its highest sound level is 43 decibels, just a few notches above a quiet library.) Plus, its curved shape (specially designed for G-spot stimulation) and smooth, body-safe silicone make-up means that it can discreetly, comfortably, and securely be worn anywhere, at any time.

The upgrade also means that the Lush 2 has improved Bluetooth connectivity and a 360-degree distance range, so your partner can control the intensity and speed of your pleasure from up to 45 feet away using the accompanying smartphone app. A battery life of five hours will ensure that you have plenty of time to play.
---
The best hands-free vibrators for couples
We-Vibe Chorus Vibrator
An easy-to-use, intuitive toy made with couples in mind
Specifically designed to be enjoyed with a partner during penetrative sex, the We-Vibe Chorus is one of the most intuitive hands-free vibrators on the market, using an innovative Squeeze Remote that syncs with the free We-Connect app to adjust the three speeds and seven vibration patterns. The tighter you squeeze the remote, the stronger the vibration gets, so your shared pleasure won't be interrupted in the heat of the moment because of fidgeting with switches or searching for buttons.
The wearable vibrator can adjust in two different places for a snug, precise fit (every purchase comes with the brand's water-based lubricant to aid with entry), offering deep, thrilling sensations for you and your partner. The internal arm vibes against the G-spot and the penis, while the external arm stimulates the clitoris during wear.
---
The best hands-free vibrators for shower sex
Dame Eva II Hands-Free Vibrator
A durable, waterproof toy for shared shower fun
Shower sex is already slippery business, and the last thing you want to worry about while you're trying to get it on in the bathroom is if your toy is going to flying out of the stall.

The Eva II is here to save the day. The hands-free vibrator from design-forward intimacy brand Dame Products is made with waterproof, medical-grade silicone— already an upgrade from most vibrators, which are usually only water-resistant— that can stand up not only to showers but also tub time, pool-sex sessions, and more.
It features flexible wings that tuck under your labia to keep the gadget snug and secure even during the most adventurous positions. That leaves your hands free to love up on your partner, find purchase on those tile walls, or hold on for dear life. Who knew getting clean could be so dirty?!
---
The best hands-free vibrators for prostate stimulation
Lelo Hugo
A personal prostate massager that packs a punch
The Lelo Hugo is marketed as a prostate massager for men—"the most powerful remote control vibrating prostate massager in the world" in fact, according to the brand—and while you definitely can use it to increase the intensity of your fella's climax by a whopping 33-percent, the hands-free vibrator can also be used by women or anyone without a prostate, too. (We can't let the boys have all the fun, now can we?)
Designed for double the pleasure, the Lelo Hugo features two powerful vibrating motors—one in the tip to massage the prostate and another at the base to stimulate the perineum—with eight different settings to play around with. The wireless remote control, rigged with the brand's Sense Motion technology, can be operated from up to 40 feet away.
---
The best hands-free vibrators for vacation sex
Mantric Rechargeable Remote Control Egg Vibrator
A discreet pick to bring along on your next sexy holiday
Don't worry, you won't have those awful nerves when you put your bag through the security scanner with this travel-friendly, hands-free vibrator. The Mantric Rechargeable Remote Control Egg Vibrator is discreetly designed and small-scale enough (the insertable portion measures only 3.5 inches) that you can easily tuck it into your carry-on without sparking the curiosity of the TSA.
If you're still unsure, the Mantric love egg comes with a handy travel lock function, so it won't embarrassingly go off while you're trying to shove your luggage into the overhead bin.

Both the vibrator and its accompanying remote are rechargeable via USB, so it can truly be enjoyed anywhere in the world. And with seven speeds and vibration pulses, you're going to want to take it on every holiday as your own personal vacation souvenir.
---
The best hands-free vibrators for external use
Le Wand Point
A sleek, stylish massager for all-over body stimulation
Not made for penetrative use, the Le Wand Point hands-free vibrator was originally conceived for clitoral stimulation, but we think the body-safe toy can expand its external uses to all the erogenous zones, from nipple play to penis stimulation and everything in between.
The streamlined, steel-and-silicone device is heavily weighted—nearly half a pound—which means that it's hefty enough that it can be laid over the genitalia or any other area, and you can pretty much set it and forget it. Well, you won't really forget it, what with six intensity levels and 15 vibration modes that rival the deep sensations promised by some of Le Wand's larger-scale personal massagers.

The pleasure bona fides prove that the Le Wand Point is more than just a pretty face, but what a pretty face it is—available in blush pink silicone with rose gold metal, or black silicone with charcoal metal, this is one of the best-looking hands-free vibrators we've ever seen.
---
The best hands-free vibrators for strap-on action
Desire Luxury Rechargeable Strapless Strap-On Dildo Vibrator
A hands-free strap-on vibrator for double the fun
An ideal pleasure gadget for same-sex couples or those who want to explore the joys of pegging, this Desire Luxury Rechargeable Strapless Strap-On Dildo Vibrator will amp up couple's play with guaranteed, double-ended arousal.

While the receiver gets to experience the eight vibration patterns, 12 different speeds and five inches of the longer shaft, the giver can enjoy the silicone toy's shorter "pony" shaft, which adjusts for the perfect angle and is capped off with rabbit ears for clitoral stimulation.

The strapless strap-on is USB rechargeable—in fact, it can conveniently be charged directly inside the lockable storage case that comes with each purchase.
---
The best hands-free vibrators for blended orgasms
Lora DiCarlo Osé 2
A two-in-one toy that's great for anyone with an oral fixation
What are blended orgasms, you ask? When both the G-spot and the clitoris are stimulated equally and simultaneously in your quest for climax completion. The Osé 2 from Lora DiCarlo—yes, the high-tech sex toy brand that boasts Cara Delevingne as its co-owner and creative advisor—promises to do just that.

The "premium robotic massager" is said to replicate the feeling of a partner's finger and mouth through its combined G-spot massager and clitoral stimulator, which will titillate both pleasure points at the same time. The former features custom settings that allow you to choose the length and speed of each stroke against your G-spot, while the latter has mouth-like suction, full-coverage thrums, and 10 intensity levels to dive into.
Customization is key across the Osé 2. The hands-free vibrator, made of body safe medical silicone, is flexible and can be bent to ensure a bespoke fit to whatever person is wearing it.
Christina Izzo is the Deputy Editor of My Imperfect Life.
More generally, she is a writer-editor covering food and drink, travel, lifestyle and culture in New York City. She was previously the Features Editor at Rachael Ray In Season and Reveal, as well as the Food & Drink Editor and chief restaurant critic at Time Out New York.
When she's not doing all that, she can probably be found eating cheese somewhere.