Six small hand tattoos that work on just about anybody
If you're looking for small hand tattoos, these beautiful designs are bang on-trend and super subtle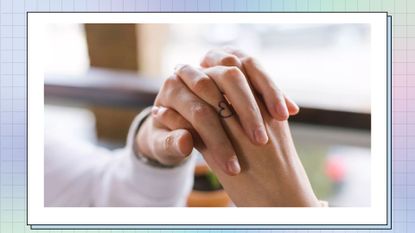 (Image credit: Future/Getty Images)
Small hand tattoos are a delicate but bold choice, as it's a guarantee your new tat will be noticed! While there are many spots for a tattoo that can be easily hidden, a hand tattoo is pretty much always visible—which means that it's vital you choose a design that you absolutely love.
Getting a tattoo on your hands is a brave choice, but it will allow you to see and enjoy your meaningful art all the time. And there are many tattoo ideas that will look great, from micro tattoos to slightly bigger (but still small), more distinct and noticeable designs. Just be aware that hand tattoos can be fairly painful—due to the thin, delicate skin in this area, you're definitely going to feel the needle! But there's no need to panic; just make sure you find a trusted tattoo artist who can make your ink dreams a reality in the safest way possible.
If you're set on getting a tattoo on your hand but are worried you have a small canvas to work with, you're about to be happily surprised. There are lots of small designs that will still give off whatever vibe you're going for, whether that's edgy or elegant.
Six small hand tattoos to inspire your next inking
1. Draping flowers and vines
Long, draping flowers and vines are a great option for your hand, as they can be as intricate and delicate as you like. They're a great choice to have tattooed on one of your fingers, as they can elegantly flow down your hand in a way that looks really natural—as though you've actually got a flower or vine on your hand.
When deciding on your specific tattoo, consider one with a long stem than can travel down your finger or hand to complete the look. However, you could have a pretty flower tattoo on the side of your finger, which would look equally elegant.
2. Ring tattoos
For a while now, non-traditional wedding rings have been gaining popularity, and a tattooed ring is another idea for those who want to go the non-traditional route—it's one of the best tattoo ideas for couples.
A ring tattoo can be styled according to your preference from something thick and complex, to something narrow and simple. It needn't be on your ring finger either. You could go for something lower on your finger than the typical ring placement spot, or put it on another finger. And a ring tattoo on your hand doesn't need to be for romantic purposes; even if you're not seeing anyone right now, they can look super pretty all on their own.
3. Flying creatures
Instead of one continuous design, you could choose a series of smaller, more delicate tattoos that begin near the base of your fingers and extend upwards towards your finger tips. You might even want the tattoo to wrap around your finger.
And one of the best tattoos to place in this ascending design are flying creatures, such as a collection of birds, butterflies, or bees, which would look as though they are flying gracefully up and around your hand. By choosing designs that curve, you actually allow yourself more room to fit the tattoos onto smaller hands, compared to a design that uses straight lines.
4. Minimalist abstract designs
The hand is a bold choice for tattoo placement, so why not get a tattoo that's still chic and minimalist, but also a little bit out of the box?
Small, delicate designs like unfilled line art and abstract geometric shapes look fantastic in many spots on the hand, and fit easily on people with smaller features. In fact, Chrissy Teigen recently unveiled a new minimalist hand tattoo of several dots running down the length of her fingers. Something small like this works well on any hand size, and looks elegant and chic.
Unsure what kind of small abstract design to get? Why not consider a few of your favorite shapes, and have them in a line ascending down your finger and/or the side of your hand?
5. Something meaningful
This is a popular tattoo option for pretty much anywhere on your body, but getting a meaningful name, date, phrase, or even GPS coordinates tattooed onto your finger somehow feels extra special and unique—perhaps it's because a date or a name would fit just right on the side of your finger or down the side of your hand?
Getting a name or date is another sweet option for couples looking to solidify their commitment to one another. You might even want to put an anniversary date on there that you'll often be reminded of; after all, we all get glances at our hands pretty much all the time!
6. Celestial designs
When getting a tattoo on your hand, the key is often to get something small and subtle, rather than something hugely oversized.
Celestial designs, such as the sun, moon, or stars, not only look pretty, but can easily be made as minimal and as tiny as you'd like—and they'd make for really lovely tattoo ideas for best friends. You could have a few small designs down the length of your finger or the side of your hand, or even on your wrist. The options are endless...
Where to get your small hand tattoos
On your inner finger—If this is going to be your first hand tattoo, the inner finger is a pretty safe place to experiment, as it's less visible than the back of your hand or along your knuckles. For those with small hands, getting longer tattoos down the length of your fingers can even elongate their appearance.
Incorporating your wrist—If you have your heart set on a larger, bolder design, consider tattoos that start at the wrist or lower arm and wrap downwards towards your fingertips. You could choose foliage or animals, like a snake, to form one continuous design that wraps around your wrist, extending down along the back of your hand and fingers. This will make a big statement and give you plenty of room for a design with a high level of detail. A tattoo like this would also look amazing peeking out from under the sleeve of a jumper or jacket.
On your knuckles—No matter how small your hands are, getting tattooed on the knuckles makes a really big statement—though it will cause some pain! There are many designs that work well in this area, although the most popular type is to get four-letter words or a name written here. If you have a name or a word that is very meaningful to you, putting it in this spot will keep it visible at all times.
Down the side of your hand—Placing any small hand tattoos along the side of your hand can look super elegant. It's also a great area to neatly place a vertical design. Just beware that getting a tattoo on this thinner, more sensitive skin can also be fairly sore!
Lucy is a beauty journalist who has written for titles including Marie Claire, Cosmopolitan, OK!, woman&home and Women's Health, as well as regularly contributing to My Imperfect Life. Her work covers everything from skin and haircare tips to trying and testing the latest beauty launches, and interviewing celebrities and experts. A certified dog person, her other interests include mental wellbeing, books, piña coladas and not getting caught in the rain.

With contributions from