The One cast: meet the stars of the Netflix sci-fi drama
Netflix original series The One explores a world filled with technologically determined soulmates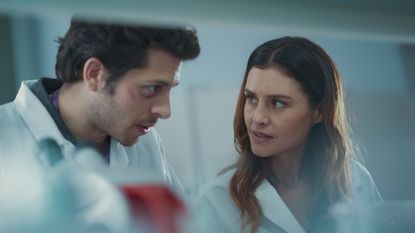 (Image credit: Netflix)
Netflix's newest original series, The One, looks to be a must-see for every Black Mirror enthusiast, as it explores the catastrophic consequences of unregulated technical advancement.
The One imagines a world in which people will find their dream soulmate by sending in a basic hair sample, but what seems to be a revolutionary development quickly devolves into a nightmare.
So, if you've been glued to your couch watching the highly-addictive tech drama, here's everything you'll need to know about the cast behind it.
Meet the cast of The One
WHO PLAYS REBECCA IN THE ONE ?
Played by Hannah Ware, Rebecca is the CEO and founder of MatchDNA, a corporation that has developed innovative technologies that can match individuals with their genetic soulmates. Her optimism and reckless actions, on the other hand, drive her down a road to ruin.
Hanna Ware is most known for her role as the estranged daughter of a Chicago mayor in Kelsey Grammer's drama series Boss. She also acted in the short-lived American drama Betrayal and appeared in the films Guilt, Oldboy, and Hitman: Agent 47.
WHO PLAYS JAMES IN THE ONE ?
Dimitri Leonidas plays James, who co-founded MatchDNA with Rebecca. However, he unexpectedly quits the organization when it's taking off, and no one knows why except Rebecca, who keeps tight-lipped about the situation.
Leonidas rose to fame on the classic children's drama Grange Hill, but most recently appeared in Sky Atlantic's Riviera alongside Julia Stiles. He then made his big-screen debut in George Clooney's 2014 film The Monuments Men.
WHO PLAYS BEN IN THE ONE ?
Amir El-Masry plays Ben, a close friend of both MatchDNA creators, but his feelings for Rebecca have always been stronger. He sees their friendship as more than platonic, but things switch up after Rebecca gets her soulmate match.
Over the last few years, El-Masry has featured in a variety of high-profile series, including BBC One's The Night Manager, McMafia, and Amazon Prime Video's Jack Ryan. He most recently appeared in the BBC Two banking drama Industry as Usman.
WHO PLAYS HANNAH IN THE ONE ?
Hannah is played by Lois Chimimba. Her character is one of the many people whose lives are negatively affected by MatchDNA's work. Although she is completely in love with her partner, Mark, she becomes concerned that he will want to leave her for the company's proposed soulmate.
Lois Chimimba has worked with Jodie Whittaker twice, with the first on the medical drama Trust Me and the second on the Doctor Who episode The Tsuranga Conundrum from the 11th revived season. She was most recently seen in Sky One's fantasy series A Discovery of Witches, where she played Catherine Streeter.
WHO PLAYS MARK IN THE ONE ?
Mark, Hannah's husband and a journalist with a friendly, laidback personality, is played by Eric Kofi-Abrefa.
Eric Kofi-Abrefa is better known for his appearance as Noah Webster in the BBC Two period drama Harlots. He's also starred in Humans, a Channel 4 science fiction drama; Treadstone, a Jason Bourne spinoff; and Stan Lee's Lucky Guy.
WHO PLAYS MEGAN IN THE ONE ?
Pallavi Sharda portrays Megan, a confident young woman who enters Hannah's life at the start of the season.
Pallavi Sharda is an Australian actress who recently appeared in the Oscar nominee Lion alongside Dev Patel and Nicole Kidman. Sharda is set to return to the big screen as she stars in Tom & Jerry: The Movie, which will be released in the UK later this year.
WHO PLAYS KATE IN THE ONE ?
Played by Zoë Tapper, Kate is a Detective Inspector with the Metropolitan Police who approaches her investigations with a direct and skeptical approach. Kate is also partnered up with Nick through MatchDNA.
Zoë Tapper is best known for her appearances in ITV's Lie and Safe Place, along with BBC One's pandemic drama Survivors and Syfy's original series Nightflyers, based on short stories from George R. R. Martin.
WHO PLAYS NICK IN THE ONE ?
Gregg Chillin plays Nick, a rambunctious Detective Sergeant for the Metropolitan Police who is working on a case with Kate.
Chillin is best known for his appearances on Da Vinci's Demons and A Search of Witches, as well as the final season of ITV's Scott and Bailey.
WHO PLAYS ETHAN IN THE ONE ?
Ethan, played by actor Wilf Scolding, is Rebecca's partner, whom she met through the MatchDNA process. They become the profitable face of the groundbreaking modern technology business.
What other movies has Wilf Scolding appeared in? Scolding's previous work includes the BBC war drama The Passing Bells, Mrs. Wilson, and The Archers, in which he voiced Chris Carter.
Since December 2020, Kudzai has worked as a trainee journalist at FUTURE, writing about fashion, entertainment and beauty content for My Imperfect Life.

Kudzai previously worked as a freelance fashion wardrobe stylist, directing magazine photoshoots and coordinating the fashion direction of recording artists.

A fully qualified Journalism and Media graduate from De Mont Fort University, Kudzai graduated in the summer of 2020.