What really happened to Elisa Lam at the Cecil Hotel?
Warning: spoilers ahead for Crime Scene: The Vanishing at the Cecil Hotel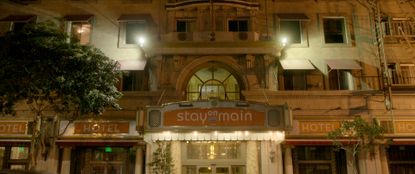 (Image credit: Netflix)
Netflix's Crime Scene: The Vanishing at Cecil Hotel tells the story of Elisa Lam, a 21-year-old Canadian college student and promising writer who went missing during her solo stay at the Cecil Hotel in Los Angeles—but what actually happened to her?
What we know are facts: Lam made a reservation for three nights in a shared room on Jan. 28, 2013. She was reported missing by her parents on January 31.On February 13, 2013, the LAPD released video footage of Elisa to the public. Oh, and serial killers Richard Ramirez and Jack Unterweger frequently let their hair down at the Cecil Hotel.
Authorities ruled Elisa Lam's death a tragic accident, but some don't agree. Cue web sleuths. A viral video. Guests drinking water contaminated with bodily fluids. A crime scene that reveals the dark underbelly of a hotel on the perimeter of downtown LA's 'Skid Row' where 80 people reportedly died. And...wait for it...a conspiracy theory involving a tuberculosis test.
Basically, you couldn't make this stuff up.
The new infamous grainy elevator footage of Elisa shows the student frantically pressing buttons but the elevator doesn't move. She is then seen hiding in a corner as she waits for the lift doors to close. She keeps peering out from the elevator and appears to be speaking with someone unseen. She can be seen hopping through the doors and making bizarre hand gestures in what looks suspiciously like The Ring in real life.
Then, she vanishes.
2:30pm on January 31, 2013, is the last sighting of Elisa as she is seen leaving the elevator. It is here that some claim to see the edge of another person's shoe.
What becomes increasingly clear to the LAPD is that Elisa never left the hotel. 19 days later, Elisa's naked body is found floating in a water tank on the hotel's roof after guests complained about discoloured water trickling through the taps.
But what exactly happened to Elisa Lam?
What really happened to Elisa Lam at the Cecil Hotel?
Theory #1: Accidental death
Authorities ruled Elisa Lam's death an accident caused by withdrawal from her prescribed medication for her bipolar disorder. Experts tell Netflix that her behavior in the elevator is typical of someone suffering a psychotic break. It has also been reported that Elisa was transferred to a private room after her roommates complained about unusual behavior, including leaving post-its with the words 'Go Away' scribbled on them.
You would think this ruling puts to bed any sensationalist theories and gives the Elisa Lam case closure at last. Not likely.
Theory #2: She committed suicide
Elisa was an avid blogger on Tumblr and some posts point to a struggle with anxiety and depression. In one post in November 2012, Elisa wrote: "Today has been one of those blah days full of apathy. Really dangerous too; I can see myself feeling suicidal and it always scares me when I start feeling suicidal."
However, the coroner didn't support this idea.
Theory #3: Elisa was murdered
This is where the waters get a bit muddy.
The hotel was split into cheap accommodation for visitors like Elisa, while other rooms were short or long-term accommodation for people who lived in the Skid Row area. This raised red flags for other armchair sleuths as this was a vulnerable young girl on her own.
Plenty of people still believe that Elisa's flailing arms and odd behaviour in the elevator were the actions of a frightened girl who was being followed.
There's also confusion surrounding the lid of the water tank where she was found and its implications that someone else could be involved. At first, it is reported that the lid was closed—something that would have been impossible for her to do on her own had she climbed into the tank.
Wild accusations start to fly, including suspicion falling on Morbid, a metal rocker, who teased a music video called 'Died in Pain' around the same time. It turns out that he did visit the Cecil Hotel—but in 2012, not 2013, and was in Mexico recording an album at the time of Elisa's disappearance.
It later transpires that the lid in the water tank had in fact been found open. The hotel maintenance worker who first discovered Elisa's body told Netflix that he closed it before sounding the alarm.
Theory #4: It was a copycat murder
Internet sleuths note the similarities between Elisa's death and the 2005 movie Dark Water, where people at an apartment complex complained that the drinking water is dark in color, which leads to the discovery of a girl's body in a water tank on the roof.
Theory #5: Elisa was involved in a tuberculosis test
Now things get weird—like really weird. By a strange coincidence there was a tuberculosis outbreak at the same time on Skid Row and that the test circulating was called LAM-ELISA (opens in new tab) (Lipoarabinomannan (LAM) Enzyme-Linked Immunosorbent Assay (ELISA).
This has led some conspiracy theorists to hatch the idea that Lam was used as a biological weapon to help take out the homeless population and that she was later killed. This final theory seems highly unlikely given that the autopsy didn't reveal signs of TB.
Fiona Embleton is a multi-award-winning beauty editor who has tested over 10,000 products in her 10 years + of writing and shooting beauty stories. For the past four years, she was the Senior Beauty Editor at Marie Claire, having previously worked in the role of Beauty Editor at both Stylist and Cosmopolitan. She has recently gone freelance and alongside My Imperfect Life, she has written for titles including ELLE UK, ELLE Canada, Buro 247, Harper's Bazaar Arabia, Vogue Scandinavia, and ES Magazine. Beauty journalism allowed her to marry up her first-class degree in English Literature and Language (she's a stickler for grammar and a self-confessed ingredients geek) with a passion for make-up and skincare, photography, and catwalk trends. She loves jumping on the latest internet-breaking beauty news, dissecting the best red carpet looks, and having the crème de la crème of dermatologists, make-up artists, and hairstylists on speed dial so she can tap them for the best advice. She's a discerning beauty shopper and knows it can be confusing trying to navigate what's hype and what really works. So if she really likes something, you can trust that she has reached that opinion by vetting it against everything else she's ever tried. Her career highs? Interviewing Cate Blanchett and winning a Jasmine Award for the deeply personal feature Cancer Stole My Mother's Scent.