Is the Cecil Hotel still open and can you actually stay there?
Some people's vacation plans are, um, questionable.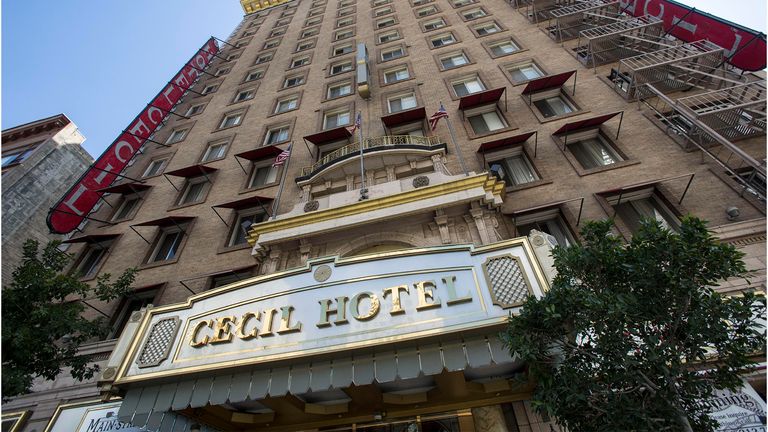 (Image credit: ZUMA Press, Inc. / Alamy Stock Photo)
A macabre fame surrounds the Cecil Hotel, the location at the heart of Elisa Lam's tragic death and the Netflix docuseries Crime Scene: The Vanishing At The Cecil Hotel. 
What really happened to Elisa Lam at the Cecil Hotel? To recap: the 21-year-old Canadian student disappeared at the hotel during her stay there in 2013. While searching for Elisa, the LAPD released CCTV footage of her in the hotel's elevator, exhibiting bizarre behavior, peering around the doors and apparently speaking to someone unseen before running out into the hallway. Nineteen days later, her naked body was found in a water tank on the roof of the hotel.  
Elisa's death was eventually ruled an accident but that hasn't dampened the conspiracy theories. In some ways, it's hardly surprising when you deep dive into the hotel's dark history—and how many murders were committed at the Cecil Hotel.
Even after rebranding itself as the boutique hostel Stay on Main, the space remained known as "the most haunted hotel in LA" thanks to its bizarre history of suicides, murders and serial killer clientele (Robert 'The Night Stalker" Ramirez reportedly stayed there during the height of his murder spree, leaving his bloodied clothes in the parking lot and running up to his room via the fire escape). 
And yet there has been a spike in Google searches about staying there.
Is the Cecil Hotel still open and can you stay there?
In 2007 the hotel was sold for $26 million and a section of it refurbished and renamed the Stay On Main Hotel. The other part of the building remained rented out to long-term tenants from the surrounding Skid Row area.
In 2014, hotelier Richard Born bought the property for $30 million and it continued to stay open. However, in 2017 the building was shut in order to undergo a complete renovation with a gym, lounge and rooftop pool being added in. The same year, it was named a historic-cultural monument by the Los Angeles City Council. 
Work on the hotel is scheduled for completion in October 2021, but the hotel still remains closed at present. According to reports, the new renovations will include 299 hotel rooms and 264 affordable residential units. The roof, the spot where Elisa's body was found, will apparently be converted into a recreational space for hotel guests. 
The hotel's website doesn't work, but there is an active Yelp page if you're feeling curious...