Is the Cecil Hotel still open and can you actually stay there?
Some people's vacation plans are, um, questionable.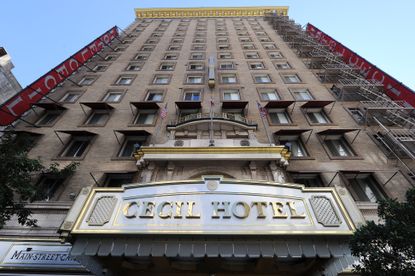 (Image credit: Getty Images)
If you're a fan of genuinely terrifying stories and quite like not being able to sleep at night, then make sure you keep reading for the lowdown on the Cecil Hotel!
It's no secret that seriously macabre fame surrounds the Cecil Hotel, the location at the heart of Elisa Lam's tragic death, and the Netflix docuseries Crime Scene: The Vanishing At The Cecil Hotel.
The historic site is located in Downtown Los Angeles, and was founded in 1924. It has an incredibly morbid history, becoming prolific for its numerous murders, suicides, and mysterious accidents. Read on to find out more about the Cecil Hotel, and whether you can actually still stay there...
What happened to Elisa Lam at the Cecil Hotel?
The case of Elisa Lam brought the Cecil Hotel back to the forefront of people's minds recently—after all, the entire case is shroud in mystery, so it's no surprise that one of the most frequently asked questions is: What really happened to Elisa Lam at the Cecil Hotel?
For Cecil Hotel newbies, here's a quick recap: the 21-year-old Canadian student disappeared at the hotel during her stay there in 2013. While searching for Elisa, the LAPD released CCTV footage of her in the hotel's elevator, exhibiting bizarre behavior, peering around the doors, and apparently speaking to someone—rather conveniently out of sight—before running out into the hallway. Nineteen days later, her naked body was found in a water tank on the roof of the hotel.
Elisa's death was eventually ruled an accident, with mentions of her having bipolar disorder—but that hasn't dampened the conspiracy theories. In some ways, it's hardly surprising when you deep dive into the hotel's dark history—and how many murders were committed at the Cecil Hotel.
In 2014, the site rebranded itself as the boutique hostel Stay on Main, but it's done little to temper the fascination around it. The space has remained known as "the most haunted hotel in LA" thanks to its bizarre history of suicides, murders, and serial killer clientele.
And yet, there has been a rather frightening spike in Google searches recently with people enquiring about staying there. Seriously, are people OKAY?
---
---
Is the Cecil Hotel still open and can you stay there?
Can you still actually stay at the Cecil Hotel?
In 2007, the hotel was sold for $26 million and a section of it was refurbished and renamed the Stay On Main Hotel. The other part of the building remained rented out to long-term tenants from the surrounding Skid Row area.
In 2014, hotelier Richard Born bought the property for $30 million and it continued to stay open. However, in 2017 the building was shut in order to undergo a complete renovation with a gym, lounge, and rooftop pool being added in. The same year, it was named a historic-cultural monument by the Los Angeles City Council.
Work on the hotel was completed at the end of 2021, and the hotel has now reopened—but only as affordable housing for the moment. According to reports, the new renovations include 600 affordable residential units. Kevin De Leon, La City Councilmember, announced that the renovations for the housing section had been completed, and were now good to go.
Today, we celebrated the opening of 600 affordable housing units at the historic Cecil Hotel, proving that public and private partnerships can do great things when working together. pic.twitter.com/I4srO5kXxqDecember 14, 2021
See more
The renovations were also set to include around 299 hotel rooms, as part of Born's plan to make the Cecil into a boutique hotel. The roof, the spot where Elisa's body was found, is reportedly set to be converted into a recreational space for hotel guests.
However, as yet there is no way of booking the Cecil as a hotel stay, and no further information on whether/when those renovations will be completed.
The hotel's website doesn't work, but there is an active Yelp page if you're feeling curious...
How many people have died at the Cecil Hotel?
It has been widely reported that 16 people, including Elisa Lam, have died at the Cecil Hotel since its opening. Look, we're sure that if you REALLY were to analyze deaths in hotels all around the world this wouldn't be a shocking figure, but it's the fact that the deaths have either been sudden or shroud in mystery that is downright spooky.
And, if that wasn't enough, there's also the mysterious case of the Night Stalker at the Cecil Hotel to contend with. Robert 'The Night Stalker" Ramirez reportedly stayed there during the height of his murder spree, leaving his bloodied clothes in the parking lot and running up to his room via the fire escape.
The Cecil Hotel on film
It has been widely reported that the Cecil Hotel has served as inspiration for much in the tv and film world. Most notably, the uncanny resemblance of Hotel Cortez in American Horror Story: Hotel.
And of course, it is now notably well known for the Elisa Lam documentary on Netflix.
And yet still, people CHOOSE to stay here. Each to their own!
Fiona Embleton is a multi-award-winning beauty editor who has tested over 10,000 products in her 10 years + of writing and shooting beauty stories. For the past four years, she was the Senior Beauty Editor at Marie Claire, having previously worked in the role of Beauty Editor at both Stylist and Cosmopolitan. She has recently gone freelance and alongside My Imperfect Life, she has written for titles including ELLE UK, ELLE Canada, Buro 247, Harper's Bazaar Arabia, Vogue Scandinavia, and ES Magazine. Beauty journalism allowed her to marry up her first-class degree in English Literature and Language (she's a stickler for grammar and a self-confessed ingredients geek) with a passion for make-up and skincare, photography, and catwalk trends. She loves jumping on the latest internet-breaking beauty news, dissecting the best red carpet looks, and having the crème de la crème of dermatologists, make-up artists, and hairstylists on speed dial so she can tap them for the best advice. She's a discerning beauty shopper and knows it can be confusing trying to navigate what's hype and what really works. So if she really likes something, you can trust that she has reached that opinion by vetting it against everything else she's ever tried. Her career highs? Interviewing Cate Blanchett and winning a Jasmine Award for the deeply personal feature Cancer Stole My Mother's Scent.