12 things you need to know to make your hair grow longer
Your days of hair envy are long gone.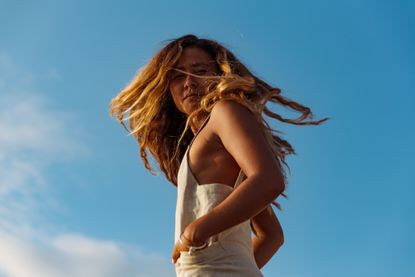 (Image credit: Getty)
Suffering with hair that just won't grow past a certain length? Don't worry, we've got you covered with our best tips and tricks to give your hair an added boost, giving you the luscious locks your heart desires.
1. Ditch the hot water when washing your hair
While we all love a nice, hot shower after a long day, it's time to stop with the steam! Unfortunately, using super-hot water will only weaken your hair, leaving it dry and damaged.
2. Never use a cotton pillowcase again
According to celebrity hair stylist Mark Townsend, you should ditch your cotton pillowcase and use a satin or silk pillowcase instead. The softer surface won't cause so much friction as cotton, leaving your hair tangle-free in the mornings.
3. Buy peanut butter in bulk.
For many years peanut butter has been used to get rid of chewing gum in hair, but it turns out it's actually a multi-purpose product for looking after your hair. Peanut butter contains alpha-tocopherol, a type of vitamin E which makes hair follicles grow stronger, and is ideal as a deep conditioner.
4.Never wrap wet hair in a towel
After a shower, wet hair is super fragile, meaning it can be easily damaged if wrapped and twisted in a towel to try. To combat this, gently pat dry with a towel to avoid breaking strands of hair, or use a special microfiber hair towel instead.
5. Mix up a DIY egg mask
It's a well-known fact that eggs are great for faster hair growth, because they contain lots of protein, as well as iron, sulphur and zinc. Simply whisk an egg and mix with four tablespoons of grapeseed oil, and a few drops of lavender oil. Apply to hair and scalp, and leave on for half an hour before rinsing and shampooing as normal.
6. Go for the snip
Sometimes, you have to give things a cut to let them grow free, and the same applies to your hair. Going to the salon for a slight trim will get rid of any damaged ends, keeping your hair looking healthy and avoiding any scary split ends!
7. Make friends with Aloe Vera and brandy
Probably the least likely of partners, this hair hack actually really works! Simply mix together an egg and a few tablespoons of brandy, and leave on your scalp for at least an hour before washing and rinsing as normal. The end result? Nourished, natural hair which will grow longer in no time.
8. Keep on drinking (water)
We all know how vital it is to drink at least eight glasses of water a day, because it is good for your overall health but it will help your hair too. As well as ensuring your body is on top form, it also makes your hair stronger, and stronger hair equals longer hair.
9. Say goodbye to straighteners
Sometimes to get the things we want, we have to sacrifice the things we love, and this includes styling your hair with hot tools. As well as straighteners, the same applies to curling tongs and hair dryers, as the heat from them damages strands and causes split ends. To avoid drying out your ends, keep the use of heated tools to a minimum.
10. Get your vitamins
Without vitamins, your hair will become very dry and brittle, not a plus for anyone trying to grow it longer. Keep on track with your Vitamin A, B and C intake and use multivitamins if necessary. Alternatively, you could even wash your hair with potato water as an extra source of vitamins.
11. Keep on eating protein
Whilst protein is a buzz word in the fitness field, it's also super important for your hair too. Try to keep eating foods which are rich in protein, as you will see a bigger difference in the strength and appearance of your hair, as well as speeding up the growth too. Eggs, fish and vegetables should become your new best friends!
12. Invest in a warm oil massage
A great way to encourage growth is by regularly massaging the scalp using a warm oil treatment. While there are plenty of oils you can buy in store, you can also make one yourself using coconut, jojoba and olive oil. Simply warm up the mixture, and massage onto the scalp for around 20 minutes, before leaving the oil in for another 30 minutes and then rinsing.
Sagal is a journalist, specialising in lifestyle, pop culture, fashion and beauty. She has written for a number of publications including Vogue, Glamour, Stylist, Evening Standard, Bustle, You Magazine, Dazed and Wonderland to name a few.