90s fashion: the style we all rocked
Get ready for some serious 90s fashion nostalgia...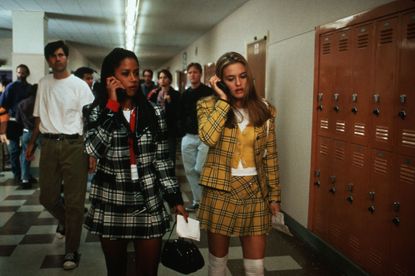 (Image credit: Shooting Star/SIPA USA/PA Images)
In ten short years a style revolution was born, and if you were right there with us (watching Buffy whilst goofing around with your Tamagotchi) then you'll happily admit to owning at least one, or all of the below. Have we missed anything?
1. Buffalo shoes
The Spice Girls really started something with Buffalo. Pretty soon, we were all bouncing around on sky-high sponge platform trainers thinking we looked like Baby Spice or Ginger.
2. Skirts over trousers
Lucky you if you were one of those girls that had an actual skant (see what we did there?) hybrid. The rest of us had to make do wearing an actual skirt over trousers…
3. Backless tops
Less was definitely more in the 90s, and that included shameless back flashing. The more you bared, the cooler you were. Total nightmare for those of us generously blessed in the boob department.
4. Babydoll dresses
It started with Whigfield. It ended around 1995. Three decades later and the mall is full of them again. If you want, you can up the My So Called Life ante by wearing a white tee underneath.
5. Pedal pushers
As seen on 90s stars like Geri Halliwell, these babies made everyone look like a confused 1950s teenager. And not at all flattering on the crotch area.
6. Dragon and flame motifs
Remember Natalie Imbruglia's tee in Torn? Yeah, don't pretend you didn't try and hunt that one down.
7. Combat trousers
The All Saints ladies made utility pants a bona fide trend. It basically meant we all walked around with our underwear hanging out.
8. Satin everything
Shiny satin dresses or maxi skirts (preferably cut on the bias) were the A-list go-to for red carpet glam, and it still is today… Well, pre-COVID when red carpets were actually still a thing anyway. In the 90s, Drew Barrymore sported hers with blonde pixie-cut. What a maverick.
---
---
9. Knee-high boots
A platform heel was essential, and if you had a pair in white PVC you were the actual bomb.
10. Leopard-print coats
From rock stars to ladettes, a leopard-print coat gave you instant pub-landlady glam.
11. Knee-high socks
*sigh* Clueless was, like, our '90s movie style bible and, whatever Cher wore, we wore…even if it looked a bit ridiculous for shopping with your dad.
11. Square sunglasses
12. Retro sportswear
Damon Albarn (swoon) pretty much created the need for obscenely tight sports tees and Adidas Sambas.
13. Bad hats
Hands up who didn't own, or aim to own a Kangol hat? You know who you are. Then there was the Bez bucket, and the Blossom-style velvet floppy style…pinned up at the front, and accessorized with a ridiculously large fake daisy.
14. Chokers
From thick velvet Victoriana style, to those weird plastic twisty things, every teenage '90s girl owned a choker. The cool high-school girls rocked ones with yin and yang symbols, and we coveted them from the far end of the playground.
16. Midriff
The ULTIMATE '90s accessory that prevails today. If you weren't baring your belly, you were basically your grandma. Open Instagram now and you'll find nothing has changed.
17. A Baby-G
Prime arm candy for the technologically-savvy nineties fashionista. The Baby-G had tons of functions, came in a whole rainbow of colours and if you owned one, you were pretty much winning at life — especially if it was pink. Today it's all about Fitbits and Apple watches, *sigh*
Sagal is a journalist, specialising in lifestyle, pop culture, fashion and beauty. She has written for a number of publications including Vogue, Glamour, Stylist, Evening Standard, Bustle, You Magazine, Dazed and Wonderland to name a few.