A love letter to 'Red': "Taylor taught me a tale of love in a way that nobody else could"
As Taylor re-releases 'Red', a writer reflects on how much the album impacted her life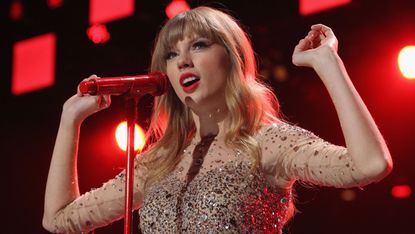 (Image credit: Photo by Kevin Kane/Getty Images for Jingle Ball 2012)
I was fifteen years old when Taylor Swift released Red, and remember it like it was yesterday. Back in 2012, I wore disco pants, red lipstick and push-up bras. I'd already shaped my early teens with lessons from Taylor without knowing it.
Her album Fearless echoed how I grew to learn that my Mom was truly my best friend ('The Best Day'), and how the first guy you give all your love to will likely not be the last ('Fifteen'). Speak Now felt like it came straight from my heart, including songs like 'Mean', when girls at school pushed me too hard. But then, Red.
There was not a song on that album that didn't resonate with me. Bringing together the topics that every teenage girl can relate to—love, friendship, heartbreak, and growing up, Red became the soundtrack to what was left of my teenage years, and beyond. I may have been thousands of miles away in England, living a life without American football players and having autumn instead of fall, but I knew we understood each other.
---
---
It never would have been possible to go back & remake my previous work, uncovering lost art & forgotten gems along the way if you hadn't emboldened me. Red is about to be mine again, but it has always been ours. Now we begin again. Red (my version) is outhttps://t.co/ZUAWDuv4jL pic.twitter.com/Ji26KdOlWQNovember 12, 2021
See more
Getting home from school on a Monday, I ran up the stairs dragging my wet trousers over the carpet and switched on my iPod, which had been syncing Red from iTunes, ready for me to get home.
I can't remember ever being so excited for the release of an album, and I wasn't alone in my anticipation.
Clicking shuffle on the album, the first song to play was 'I Almost Do'. Like most teenage girls, I instantly thought I related to it because it was about love. In the charming way that all fifteen-year-olds think they have experienced every depth of love that there is. But it would be years before the lyrics to this song would become difficult for me to listen to because they rang so true.
In succession, I listened to the entirety of the whole album, on repeat, for days. 'We Are Never Ever Getting Back Together' came just at the right time, as my first boyfriend dumped me yet again, after already doing so about ten times. Of course, the lyrics were soon plastered all over my Facebook wall.
A few years later and I still remained loyal to Red above all others and continued to cheer for Taylor the way I felt she cheered for all of girlkind. 'Stay Stay Stay' became my reality, and for the first time, so did real love when I met somebody new. Both of us navigated a relationship for the first time that came with ups and downs, but also with so much love that it taught us what was worth staying for.
After nearly 3 years together, during a cold October, the guy who I said 'I'd like to hang out with you for my whole life' broke my heart. And suddenly, I was alone again. I played 'The Last Time' to the falls of my tears, thinking about how I had pleaded with him to stay with me. Taylor just knew how to pull on my heartstrings and help put me back together at the same time.
By January of the following year, I'd fallen for somebody who came at just the right time. Nearly three years older than me at an age where maturity means everything, he felt worldly, beautiful and showed me quickly that all I wanted was spontaneity. Living in different cities, he showed me new places, introduced me to passion in a way that I didn't know existed, and during our highs made me feel like the luckiest girl in the world. But with that hot and fast love, came pain and insecurity like I'd never felt.
That Valentine's Day, instead of flowers and chocolates, I got ghosted. An intuitive friend sent me a link to 'The Moment I Knew'. I soon realized how passion and laughter could only translate into love if the person I felt it for was there for me when I needed them to be, and they weren't.
That summer, I went on my first date since the heartbreak. It was a Wednesday and in a cafe in Bristol. A friend drove me home and screamed when she realized how everything happening related to a song from Red. After scrambling through her box of CDs, we blasted Red all the way home and I smiled as 'Begin Again' played.
Nothing materialized from that date, but I finally felt like I believed in being happy again, and knew that one day, things would be just as they should be.
I was soon introduced to a friend of a friend, and we went on two dates before he told me he was moving to America for a few months. I couldn't believe it was happening again, but my exact situation replayed in my earphones on the train to work, wiping my tears, listening to 'Come Back… Be Here'.
Eventually, I ended that relationship and felt immeasurable guilt. I'd never broken a heart before and it felt more painful than having my own broken. Just like in 'I Almost Do', I replayed where he'd be at certain times of the day, and what he'd be doing. I felt guilty for not reaching out but knew that I couldn't risk reliving the hurt, and she understood.
And I knew that if I was able to relate so profoundly to an album, written by a woman thousands of miles away, that I'd never met, then millions of other young girls would be feeling exactly the same way. There was something so special and raw about Taylor's ability to write a story into a song. Not so that there were perfect riffs or catchy openings, but in a way that could simultaneously make me feel deep emotion, that I at first thought I wanted to forget, but learned it was more powerful to hang on to.
There was one song that I never wanted to relate to. But upon reconnecting with the guy that broke my heart and still held it, I realized how the line 'time won't fly, it's like I'm paralyzed by it' was more true than any, and I remembered the hurt of our first ending, listening to 'All Too Well'. I was still bound by his spell, in this rare, emotional connection and found myself replaying the song again and again, so that I could pluck up the courage to do what I needed to. On hearing 'You call me up again just to break me like a promise, so casually cruel in the name of being honest' I questioned whether I would always be a chess piece in his game, and if I was making it too easy to be manipulated, allowing cruel things to happen to me. I knew I needed to become stronger.
Through her music, Taylor takes no prisoners. During verses where she understands so beautifully a collective pain to the point we almost want to escape, Taylor shows no mercy. She knows what we need to hear, and continues full steam ahead with more words that teach us so much about ourselves.
Taylor taught me a tale of love in a way that nobody else could. When I wanted the truth from friends who didn't know how to compare, or from my parents who I shielded from my pain, I found it in her Red. She helped me romanticize the good in life, separate puppy love from the gut-wrenching real stuff, and learn to take on an unashamed level of self-love. She will have a number one fan in me, forever and always.
Next year will mark ten years since the release of Red, and those same words, the same songs, are still what I turn to when I need clarity. Taylor's music has been more to me than songs to dance to in a sweaty nightclub, or skip past mindlessly in a catalog of others. I felt like these lyrics were written especially for me. They have played the backing tracks to my love life, been the anthems to my heartbreak and given me the courage to make hard decisions, knowing I was backed by millions of other girls all over the world.
Reflecting on Red in this way will surely make others question my choices in love and ask how many men there have been, the same way that Taylor has been mocked for her love life over the years. But we all fall in love "'til it hurts or bleeds, or fades in time".
And now, as Taylor releases Red (Taylor's Version) I find myself single, nearly ten years into the world of dating, more content in myself, and feeling grateful for all she taught that young girl, and not just about love, but loss, friendship, and self doubt too.
Shivers come over me when I think of listening to how her perspective of the original album has changed over time, just as my perspective on love has. This beautiful re-telling has done the impossible. It was never an album to be improved, but one to be re-told; and not in a way that needed to be because it was so catastrophic the first time around, or because the artist is trying to relive their golden moment, but with tales of how far she's come.
As Taylor takes back control through her re-recordings after the masters recording dispute with Scooter Braun, she is able to be more candid, growing with what those songs mean to her now. There is now a new meaning to 'Everything Has Changed'. She has regained control over her music, and her music has helped me gain my sense of self-worth.
From winged eyeliner and cowboy boots, Taylor has grown so much—and me with her.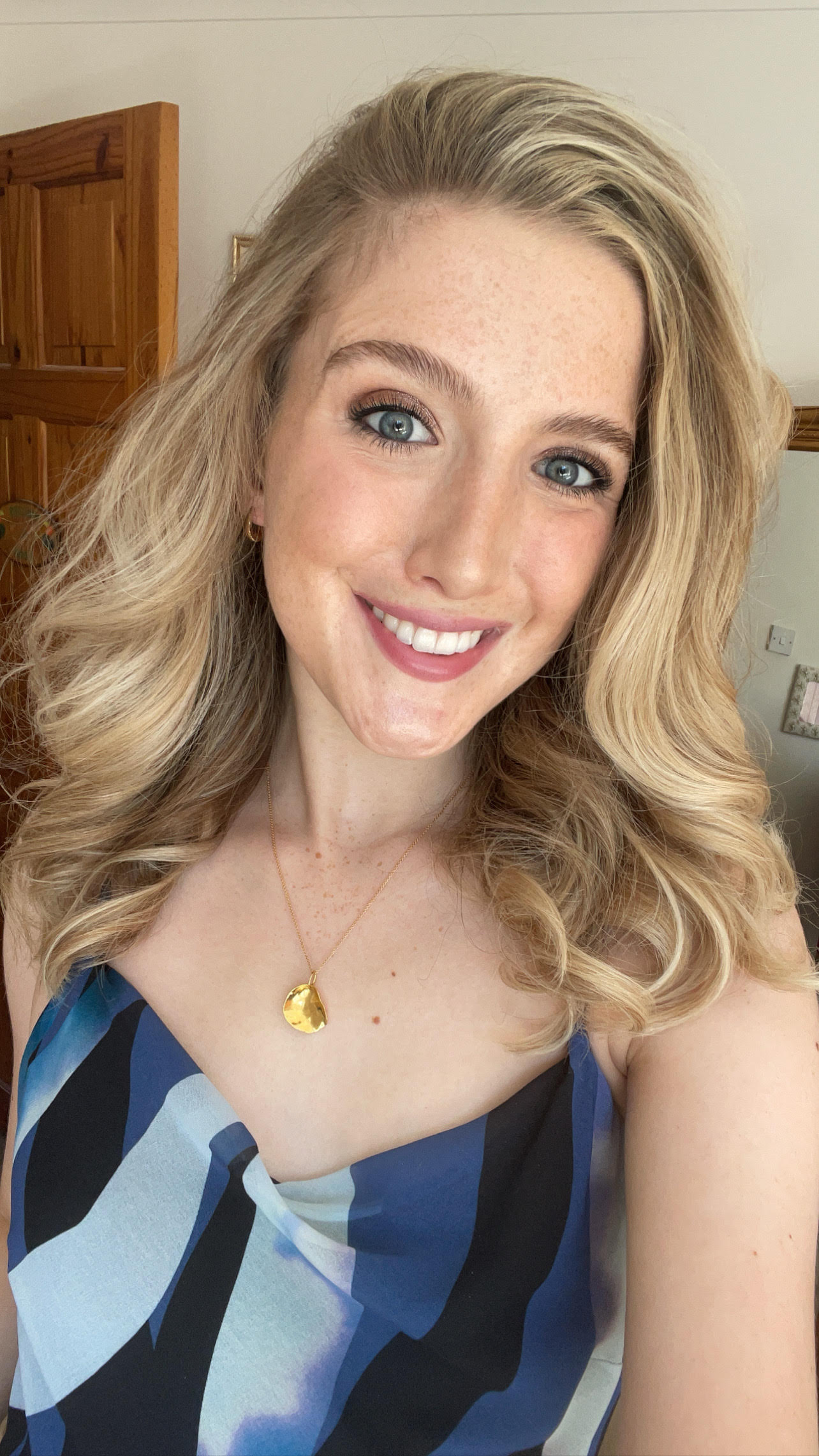 Mollie Davies is a lifestyle, fashion and beauty journalist. Her work can be found in international publications such as Good Housekeeping, Insider, Evening Standard, Cosmopolitan, amongst others. In her spare time, she's found at the pottery studio, baking, or enjoying musical theatre, and loves to be with her basset hound, Olive.