When does After We Collided come out on Netflix?
After We Collided is coming to streaming services sooner than you think...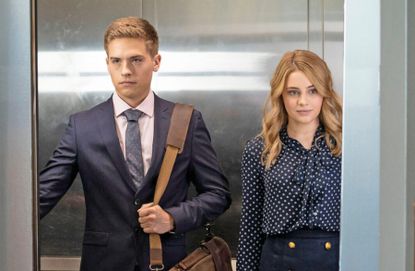 (Image credit: Alamy)
While there's plenty coming to Netflix this month, fans of hit 2019 flick After have been patiently waiting for the release of its sequel, After We Collided, on streaming services, and it seems the wait is almost over.
The film, which was in cinemas in both the US and the UK earlier this year, stars Josephine Langford (sister of Katherine Langford of 13 Reasons Why) and Hero Fiennes Tiffin. In the first film, we saw the two characters - Tessa, a naive college freshman, and Hardin, a mysterious older student - fall for one another in a storyline based on One Direction fan-fiction - yes, really.
Tessa and Hardin are back. We can officially confirm After We Collided is coming to Prime Video on December 22nd. @aftermovie pic.twitter.com/xBNikiu2ruNovember 25, 2020
See more
Written by Anna Todd in 2013, the fan-fiction series has been read more than one billion times on Wattpad and has been described as a "Fifty Shades-type story for a younger generation". Hardin's character is supposed to be a "bad body" version of Harry Styles in the original, though the film adaptation doesn't make any references to the singer or One Direction.
If you watched the first movie, you'll remember that Tessa and Hardin went their separate ways at the end. After We Collided picks up a month after this, when Tessa has landed an internship at a publishing company and has her eyes set on newcomer, Trevor Matthews, played by Dylan Sprouse. This makes things a tad bit complicated as things may not be quite over with Hardin yet, leading her to face a dilemma that could change everything.
Other cast members include Candice King, Shane Paul McGhie, Selma Blaur, Inanna Sarkis and Samuel Larsen.
When does After We Collided come out on Netflix?
If you're in the states then we've got good news. The in-demand film is set to drop on Netflix US later this month on 22 December. The perfect present in the lead up to Christmas if you ask us!
What time is After We Collided on Netflix?
If we're being really specific (and you just can't wait for After 2 to drop), After We Collided should ready to be played on streaming service at 12:00 a.m. Pacific Standard Time (3:00 a.m. Eastern Standard Time).
How to watch After We Collided in the UK
While the movie is set to be released on UK Netflix anytime soon, British fans will still be able to watch After We Collided this month too. The film is coming to Amazon Prime on 22 December, the same day as its released on Netflix US so don't worry, they'll be no FOMO of friends across the pond.
Sagal is a journalist, specialising in lifestyle, pop culture, fashion and beauty. She has written for a number of publications including Vogue, Glamour, Stylist, Evening Standard, Bustle, You Magazine, Dazed and Wonderland to name a few.