If 'And Just Like That' gets a second season, it needs to handle race better
Many called 'And Just Like That' "too woke," but there's still work to be done with how it treats its Black characters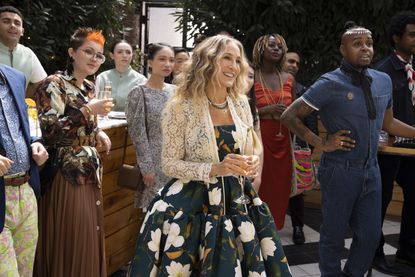 (Image credit: Craig Blankenhorn/HBO Max)
When HBO Max announced And Just Like That, a revival of Sex and the City, I—like most fans of the original series—was cautiously optimistic. SATC was like a timepiece—the show was this utterly '90s, perfect-for-what-it-was look into the fabulous lives of affluent, white, single women in New York City.
In my adolescence, I fell in love with Carrie, Samantha, Miranda, and Charlotte while watching reruns of the show on E!. It felt like falling into this wonderful time loop, where the outfits were designer, every romantic affair was one to remember, and the love of your girlfriends was the grounding purpose of life.
Of course, the original series had its cracks. The Sex and the City universe was extremely white—rarely did we even see Black extras, let alone characters with actual dialogue or nuanced story arcs.
The only real Black characters that lingered in the world of Sex and the City were short-lived boyfriends of two out of the core four. These men were fetishized (remember when Miranda kept referring to Robert's private area as his "big Black cock"?) and immediately deemed romantic anomalies for the main girls. Though inexcusable and downright stereotypical, it was as problematic as most portrayals of Blackness were in mass media during the early aughts.
Evolving from those portrayals of Blackness to what would be required of a show in the 2020s is part of what made me cautious about the show. I knew the team would feel the pressure to correct over 10 years of misrepresentation and neglect, and that would most likely lead to a forced "wokeness" ever-present in the reboot, which is, unfortunately, exactly what happened.
---
---
And Just Like That saw the addition of two Black characters to join our leading ladies: Karen Pittman as Dr. Nya Wallace, Miranda's Columbia Law School professor, and Nicole Ari Parker as Lisa Todd Wexley, a fellow mom at Charlotte's kids' school. Let's start with the former. Dr. Nya Wallace is first introduced to the audience as a device, pushing Miranda to examine her own privilege and possible Karen-ness. Upon their first meeting, Miranda sticks her foot in her mouth (to say the very least), starting with assuming Nya wasn't the class's teacher because of her braids.
This awkward exchange happens just 16 minutes into the pilot of And Just Like That…and I was rolling my eyes. I already knew what Nya's purpose will be in the series—to check Miranda while she pursues her newfound career in humanitarian law. As a character, she'll act as a Black Jiminy Cricket, guiding Miranda along her journey while holding her accountable for her actions and privilege.
That prediction was very much the case for the first half of the season. We saw Nya's resistance to Miranda's many ignorant attempts to be close to her, including a white-savior effort to stop a Columbia security guard from checking her ID. It gets annoying and makes Miranda, who many consider the most likely and relatable character of the O.G. series' main four women, unlikable.
To my surprise, Nya Wallace deepens as a character as the season presses on, and her own nuanced challenges start to take up space in the reboot. We learn Nya and her husband, Andre Rashad Wallace (LeRoy McClain), are struggling to have a baby. Nya shares the difficulties of multiple failed IVF cycles, planting the seed for tension between her and Andre. The couple has a beautiful relationship and watching them diverge in their desire to have a child, and how that brings them to a crossroads, is touching and compelling. The revelation of Nya's vulnerability and feelings about conception and the portrayal of Black love through her marriage is one of the show's notable triumphs.
While Dr. Nya Wallace becomes a multi-dimensional character in her own right, the memories of her introduction on the show linger. However, it's refreshing to see in the finale episode—which aired Wednesday, February 2—that Nya is now leaning on Miranda, rather than vice versa.
A character who is not afforded the same depth is Lisa Todd Wexley, who could basically be referred to as "Charlotte's Black mom friend." Similar to Dr. Wallace, we are introduced to Wexley as this fabulous Black mother Charlotte craves to befriend. That desire sees Charlotte plan a last-minute dinner party for the Wexleys, during which she panics after realizing the York-Goldenblatt family doesn't have Black friends. This part made me more upset than Miranda's rambling to Dr. Wallace. It felt extremely tone-deaf and reminiscent of the original series' treatment of Black characters.
Later, Charlotte and her husband Harry attend a dinner party at the Wexleys'. They're extremely nervous because they're the only white people in attendance, which, of course, leads to some awkward missteps on behalf of the York-Goldenblatts. This is another moment where the show too aggressively leans into its whitewashed past (we get it, "our characters are white and are only used to being around white people") to try and overcorrect its past ignorance.
If And Just Like That really wants to make up for its failure to depict the real New York—a city that is inhabited by over two million Black people—it needs to dive deeper into Wexley's character. She needs to be more than an affluent, accomplished Black mother. She needs to be real and not just make Charlotte feel better when she feels like she's failed as a mother and woman.
Should And Just Like That get a second season, there's a lot more the reboot could do to better solve its own diversity issue and those still lingering around from Sex and the City. The writers should continue on the momentum they built for Dr. Wallace in the first season—I'd love to see more of her and Andre's limbo, and her personal growth amid potentially deciding not to be a mother.
The show should also give Wexley more—more challenges, more triumphs, more weaknesses—outside of who she is and represents to Charlotte. The character has untapped potential that could propel the show forward. And, of course, we need more dynamic, fully realized, Black characters that organically fit into the plot. That conscious effort will make And Just Like That as iconic as, and much more realistic than, Sex and the City ever was.
Kui Mwai is a culture, health, and beauty writer. She works as the latter for Bustle, covering anything and everything happening in the beauty industry. Her work has appeared in a wide array of women-driven brands, including Cosmopolitan UK, ELLE UK, Well + Good, and more. In her career, Kui has committed to telling stories of those who are typically underrepresented by the media, especially within the Black community and African diaspora.
When she's not writing about beauty, she spends way too much time talking about astrology, Whitney Houston, and Toni Morrison (not at the same time, though the combination of those topics would be her dream). Keep up with Kui on all socials @kuiwrites_