Which 'Sex and the City' character are you based on your sign? And just like that, the cosmos have the scoop
Are you more of a Carrie or a Samantha? Here's which 'Sex and the City' character you're most like, based on your zodiac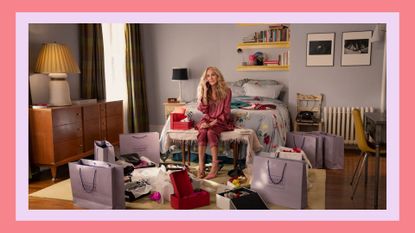 (Image credit: Craig Blankenhorn/HBO Max)
In honor of And Just Like That... season 2, find out which Sex and the City character you are based on your zodiac sign. Whether you're a Carrie or a Charlotte is all written in the stars, so now's the time to consult your astrological birth chart.
We're in for quite a ride, per usual, thanks to our favorite New Yorkers. After a surprising turn of events that found us asking, "Is Kim Cattrall returning to And Just Like That?" (after all that), we couldn't wait to dive into the next part of the series. (For the record yes, though it'll be brief.)
"It was, I think, a really nice idea to celebrate our 25th anniversary, to have this surprise appearance [of Samantha]. And at least the content of it is still thus far a secret," Sarah Jessica Parker, our beloved Carrie Bradshaw, told Good Morning America.
The sophomore installment picks up where we left off, and it is streaming on Max as of Thursday, June 22. (New episodes drop weekly on Thursdays.) We're in for a few surprises, two noteworthy returns, and of course, plenty of style. Before you grab a cheeseburger, large fries, and a Cosmopolitan to enjoy while streaming, check out what the stars say about your SATC character.
Which 'Sex and the City' character are you based on your zodiac sign?
Are you a hopeless romantic a la Charlotte, or are you one to get into frisky matters like none other than Miss Samantha Jones? The cosmos can point you in the right direction...
Aries: Steve Brady
Aries is a spunky, adventurous sign who is down for a good time! Much like Aries, Steve Brady tends to exude the same fire. Steve pairs up with Miranda throughout the series, bringing a fun-loving spark to her methodical life. He tends to be a little different from her as he has a friendlier approach and an excitable personality. This is perfect since Miranda's earthy energy can appreciate Steve's fiery personality.
Taurus: Aidan Shaw
Nobody else has the same Venusian, "Bull" energy like Aidan Shaw. Aidan has an easygoing character since he prefers a night in with a bucket of chicken while watching TV as opposed to hitting up New York's hottest nightclubs with Carrie and her crew. He tends to be an extremely loving, loyal boyfriend who shows up every time. His Venusian stability even extends to his job as he creates luxurious leather furniture and even fixes up Carrie's apartment!
We'll see him once again for And Just Like That... season 2.
"Two people spending time together after 10 years with the experiences of their recent lives and romantic entanglements and commitment, and marriages -- and he's got children," Parker told GMA. "They had such specific demands in the past, and Carrie was always struggling with trying to live up to those and always falling short."
Gemini: Jack Berger
Witty and charming, Jack Berger swoops Carrie off her feet with his intelligent charm as they bond over being published authors. In the beginning, they're fairly excited for one another's writing careers, until Carrie's career takes off while Berger gets cut from the publishing company. His communicative capabilities, love for writing, and even double-edge sneakiness scream "Gemini." Also, only a Gemini like Jack Berger would leave the infamous Post-it note as a way to break up!
Cancer: Harry Goldenblatt
Cancer is the compassionate, nurturing water sign that is willing to do anything for the person they love, which is very similar to Harry Goldenblatt! Harry is introduced to the show as Charlotte's divorce lawyer, showing up to back her and get her what she deserves in her divorce from Trey. They develop a deep emotional connection, which leads to Harry becoming an affectionate husband and father who is willing to do anything for his family.
Leo: Samantha Jones
Leos are sure to dazzle with their bold confidence, sensuality, and passionate nature. Naturally, Samantha Jones exudes lioness energy and is the perfect embodiment of a fire sign. Samantha is known for her glamorous outfits as she always looks her most fabulous best throughout the show. She tends to be extremely assertive in love and life, as nobody can mess with the Queen of the Jungle. Her passion extends not only to her undying loyalty for her friends but also to the bedroom.
Virgo: Miranda Hobbes
Miranda Hobbes is most definitely the Virgo of the show thanks to her critical nature, attention to detail, and earthy practicality. She is often the most sensible one in the group, as Miranda's Virgo-like outlook tends to be the most realistic. Like Virgo, Miranda can be a little harsh with her feedback but it's usually with the intention to help her friends or her partner, Steve. But the group knows they can always rely on their Virgo-like friend, Miranda!
Libra: Trey MacDougal
Handsome and romantic, who else exudes Libra-energy like Trey MacDougal? Trey is someone who does well in a partnership, be it with his mummy, Bunny, or with his wife, Charlotte. He is a social person, well-known in NYC for being a respected doctor and high society individual. Trey's harmonious, Libra-like personality even extends to his divorce from Charlotte, when he tells his mother to let Charlotte have whatever she wants and only speaks well of his former wife.
Scorpio: Mr. Big
Scorpio is such a sexual, mysterious sign that could only be personified by Mr. Big. Mr. Big's sensual energy never wavers in the show despite him and Carrie coupling up with other people. Like Scorpio, Mr. Big also goes through several transformations, beginning at his non-committal Scorpion phase and ending as the Phoenix rising in Paris. Even his nickname, "Mr. Big", is so Scorpio, since Carrie doesn't reveal his identity until the very end of the sixth season!
Sagittarius: Jerry "Smith" Jerrod
The only other fiery energy to match Samantha's Leo-inspired personality would be Smith Jerrod's Sagittarius-infused persona. Like Sagittarius, Smith tends to have the big-picture vision for his acting career and ability to become famous. As if led by Jupiter (and of course, Samantha), Smith takes off to reach new heights professionally. His adventurous nature is a passionate Sagittarius wildfire, which matches Samantha's insatiable Leo lust. On top of his good looks and sweet personality, Smith matches Sagittarius's honesty, too!
Capricorn: Aleksandr "The Russian" Petrovsky
Mature and well-known for his incredible art career, Aleksandr Petrovsky, a.k.a. "The Russian," best matches Capricorn's energy. Carrie initially finds herself attracted to the cold, yet widely-known Russian after meeting him at an art show with Charlotte. From there, she finds herself smitten thanks to his Capricorn-like achievements, stoicism, and cultured lifestyle. Who wouldn't be?!
Aquarius: Carrie Bradshaw
From her outfits to her take on love, Carrie comes across as an Aquarius. Her unique, iconic ensembles radiate Aquarius' individuality. When it comes to her relationships, especially her friendships, Carrie has that Aquarius loyalty. Although she writes about sexual experiences in her column, which is very radical Uranus vibes, she can still be a bit closed-off to certain sexual taboos, which exudes that Saturn energy. Whenever Carries approaches love, she views it with Aquarian intellection.
Pisces: Charlotte York
The hopeless romantic in Sex and the City is none other than Charlotte York! Charlotte embodies the Pisces desire for love and romance throughout the series. Much like Pisces, Charlotte tends to wear rose-colored glasses when she goes through a series of dates to find her husband. Although her first marriage ends in divorce, she never loses the Pisces hope to find her "one," and luckily finds him in Harry Goldenblatt.
And Just Like That... season 2 is now streaming on MAX. The first two episodes dropped on Thursday, June 22, and the remainder will be released on Thursdays through August 25.
Athena Antares is a traveling writer, astrologer, and mystic who believes in adding a touch of magic to everyday life. She has written horoscopes for numerous lifestyle publications and has dived deeply into astrological magic and manifestation spell work. In her spare time, Athena enjoys exploring new places, spending time in nature, and reading charts for her worldly clientele.