Are you using arousal serum yet? Here's how it can transform your sex life
Let's get intimate with how arousal serum can help get you the best orgasm of your life...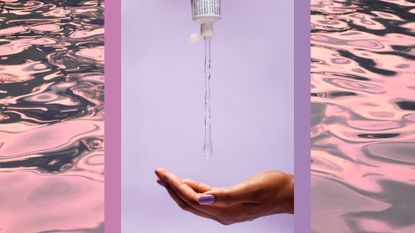 (Image credit: Getty)
Do you struggle to get in the mood so much so that an orgasm is a rare occurrence? Perhaps things have gotten a bit predictable with your partner and you want to spice things up? While treating yourself to a silky lingerie set or a new sex toy may do the trick—and come highly recommended in our books—there's a sure-fire way to upgrade that action between the sheets: arousal serum. These sensual serums work speedily to raise the intensity so you can fast-track your way to an incredible climax in no time.
Not crossed your radar before? Fear not, we'll explain all that you need to know about arousal serums and oils, from what they are and how their ingredients can boost your sex life, to when to use them and what to consider before you buy. Because, just like the best sex toys and app-controlled vibrators, there are many options out there and the key is to find what makes you feel good.
We'll also explain what exactly sets arousal serums apart from good old-fashioned lube—that other handy bedroom companion—and the different ways each should be used. The pleasure is all ours...
Arousal serum: what is it and how can it boost sex?
"Arousal serums, or oils, are sex stimulants that are used to increase the intensity of orgasms by increasing the blood flow to the erogenous zones," says Ruby Payne, a sex and relationships expert at UberKinky. "They are often made from botanical aphrodisiacs and CBD compounds, which help to stimulate natural lubrication, increasing your sensitivity to touch in the process—which certainly ramps up the heat during playtime."
So, how exactly do arousal serums or oils work? "They increase your natural arousal, which can mean that it's easier and quicker to 'get in the mood'," explains Kelly Gordon, creative head at Hot Octopuss. "Some people even say that they can have the same effect as foreplay when it comes to having penetrative sex. The heightened sensitivity means that climax may also come faster, too."
How do you use arousal serum, and which one is best to buy?
You can enlist arousal serums or oils for a variety of purposes. "Apply a drop or two on your finger and rub your clitoris for a few minutes," suggests psychologist Barbara Santini, who is also a sex and relationship adviser at Dimepiece LA, of how they can be used solo or on yourself while with another. "Ever considered performing an erotic massage on your partner?" adds Payne. Indeed, if you're wondering how to reset your sex life, this could be a great starting point.
There are a few things to consider when purchasing arousal serums or oils. Ingredients matter, notes Denise Kratzenberg, co-founder of CHEEX. "Many of them induce tingly, cold or hot sensations, often thanks to the addition of peppermint or ginger oil," she explains. "It is important to choose a high-quality, paraben-free, PH-neutral serum since products that do not meet this standard might disrupt the vaginal microflora or cause UTIs in both vulva and penis owners."
She continued: "It is also important to remember that these serums and oils alter how our bodies react, and using them might make it difficult to be fully in tune with our limits and boundaries." Something to bear in mind!
But is arousal serum better than lube?
"Arousal serums or oils work completely differently to lube," says Gordon. "Lube is to reduce friction and irritation and to make sex or using toys easier and more comfortable. There is a whole host of lubes that can be used for different things—but all of them are adding something, rather than aiding your natural arousal, sensation and lubrication. Essentially, both products have two different jobs and can be equally as pleasurable."
One of the main things that sets them apart is where they are applied. "Lube can be used internally, whereas oils and serums must be applied topically and externally, being avoided where penetration is concerned," notes Payne. "Also, oil isn't compatible with latex, often leading to the degradation in condoms—which is definitely no way to practice safe sex." Kratzenberg adds: "Simply put, a lube should ideally be nearby whenever you have sex, while arousal products are just a nice way to spice things up."
Not sure which way to go? "If you want something to make penetration or using toys more comfortable, then go for lube," recommends Gordon. "But if you want to work on your own arousal and orgasms, try an arousal serum."
Or be greedy! "Why not experiment with them both? Using arousal serums or oils to get your partner in the mood, starting by sensually massaging the inside of their leg and erogenous zone," suggests Payne. "After teasing your partner, it's time to pick up your lube for an easy glide in. Both have their own perks—it ultimately depends on your or your partner's personal preferences."
Lauren is a freelance writer and editor with more than six years of digital and magazine experience. Most recently, she has been the Acting Commissioning Editor of Women's Health—where she co-produced the Going For Goal podcast—and has previously also written news and features for titles including The Telegraph, Grazia, Stylist, Dazed, The Sun's Fabulous, Yahoo Style UK and Get The Gloss. She covers all aspects of lifestyle, specializing in health, beauty, and travel. Can't live without: oat milk lattes, new podcast episodes, long walks, and great skincare.