The best sex toys: pleasure playthings to help you hit that high
Find sexual satisfaction with our picks for the best sex toys on the market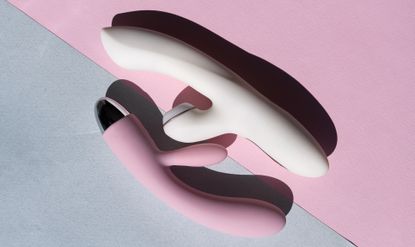 (Image credit: Getty)
All hail the sex toy industry, which saw exponential growth in the last year. UK-based sex-toy monolith The Lovehoney Group saw a 150% increase in sales, while pleasure brand Arcwave recently reported research that revealed 67% of women have used a sex toy.
Gone are the tired taboos that used to cast sleazy shadows over discussions around masturbation and sex toys. Sexual happiness is now understood to be a vital part of wellbeing. Does anyone fancy some of the mood-uplifting serotonin, dopamine and oxytocin that's released during an orgasm? Oh, go on then…
As the sex toy industry grows, it's been embracing new tech and inventing imaginative ways to help us achieve sexual satisfaction, as well as honing old favorites we definitely don't want to say goodbye to. It's a busy market and there is a wide range of toys and types of vibrators to suit a variety of desires, from app-controlled vibrators to handheld vibrators and everything in between.
But which sex toys are worth spending your hard-earned dosh on?
How to choose the best sex toys for you:
Anyone exploring the world of sex toys can expect to be pleasantly surprised by unveiling secrets about their pleasure zones. But do you go for a vibrator, dildo, butt plug or clitoral stimulator?
This is not a neat Venn diagram and some toys are multi-purpose, but the first question you should ask yourself is, "What kind of stimulation turns me on?" Penetration, gentle clitoral teasing, anal play, robust vibration? Let you be your guide.
We tried and tested a range of some of the best-selling, high-performing toys out there to help you make that choice.
The best sex toys to add to your collection:
1. Womanizer Premium 2
The best clitoral stimulator
Specifications
Body-safe silicone; run-time 240 minutes; charge time 120 minutes; weight 141g:
Reasons to buy
+
Autopilot function
+
Smart Silence technology
+
Long run time
+
Intense sensations
Let's start with the squiffy name: Womanizer. If you think Britney Spears at her sassiest best rather than a dodgy bloke who thinks he has a "way" with women, then you're on track. With that sorted, hold on to your seats, girls, as there's a reason that this sex toy is one of the best-selling in over 60 countries.
First launched in 2014, the original Womanizer transformed the sex-toy market with its Pleasure Air Technology. This is a clitoral stimulator, rather than a vibrator, so it uses pulses of air to gently arouse the clitoris to an intense climax. The Premium 2 is an upgrade from the flagship Premium with extra intensity levels (from 12 to 14), a more intuitive Autopilot function that guides you through the intensity settings, plus two new colors.
A good range of settings and its easy-to-hold design makes this a toy you can spend lots of time with, plus it's quiet. It can take a little getting used to when finding the right position but stick with it because, despite its gentle action, the results are intense. If you like to come quickly, this is the toy for you.
---
2. Doxy Die Cast
The best massager
Specifications
Aluminium and titanium alloy; silicone head; 13.5 inches in length; 7.5 inches circumference; mains powered:
Reasons to buy
+
Multi-purpose
+
Super-powerful vibrations
Before the Doxy, there was the Hitachi Wand with its bulbous microphone-shaped head, parading as a neck massager back in the day when women weren't meant to be giving themselves orgasms.
There have been many versions since but the Doxy has risen to the top, claiming to be "the world's most loved wand massager." There are four versions to choose from: the Original, Doxy Die Cast, the smaller Doxy Die Cast 3 and the wireless Doxy Die Cast 3R.
I'm a fan of the Doxy Die Cast. It can look a little intimidating at first, weighing in at 690g, however, it's exactly this heft that maximizes the deeply intense, rumbling vibrations that emanate from the sleek, aluminum-titanium beauty. It has nine modes and a simple three-button operation on the body. It's weighty enough to lie on a surface and use as a hands-free toy, or you can move the Doxy around the nipple and vulva for deep stimulation. And it works well as a muscle massager, too. Bingo!
---
3. LELO Soraya Wave
The best rabbit vibrator
Specifications
High-grade silicone; run time 120 minutes; rechargeable; insertable length 4.5 inches; circumference 3 inches:
Reasons to buy
+
Intense WaveMotion technology
+
Smart Silence technology
+
Aesthetically pleasing
+
Feels luxurious
Reasons to avoid
-
Cycling through the vibrations is a little fiddly
Swedish brand LELO is a tech leader in the sex-toy world with a reputation for high-quality, beautifully designed, innovative toys. You can expect a price tag to match but then, what price is there on sexual happiness?
The Soraya Wave is based on the stalwart rabbit vibrator design with a stimulator for internal use and rabbit-shaped "ears" to tease the clitoris. The Soraya Wave is an almighty step up from this basic design for three main reasons. Firstly, it looks like a piece of art and is made from premium silicone that is incredibly soft and comfortable on the skin, as well as inside the vagina. Secondly, it has WaveMotion technology, which means as well as the eight vibrating settings, both internal and external stimulators move back and forth in a 'come-hither' type motion, which proved to be deeply arousing. Navigation through the settings can be a little tricky in the heat of a moment so find your vibe and stick with it.
The Wave softly purrs so if discretion, as well as satisfaction, is high on your list, then meet your new best friend!
---
4. We-Vibe Tango X
The best bullet vibrator
Specifications
Hard plastic; circumference 1 inch; length 3.5 inches; rechargeable; run time 120 minutes:
Reasons to buy
+
Discreet
+
Powerful
+
Travel-friendly
Reasons to avoid
-
Hard plastic feels...hard!
A bullet vibrator that targets the clitoris with vibrations is a popular starter toy but have a rummage in any sex-toy aficionados play box and you'll find a bullet as they never lose their appeal.
Small but packing a punch way above its diminutive 3.5 inches in length, We-Vibe's Tango is one of the best bullets out there and this is largely due to the intensity of its vibrations. This is one seriously powerful pocket rocket. It has eight vibration modes so you don't need to go in all guns blazing, but if you want to build up to a dramatic climax this will take you there.
The tapered head means you can target your erogenous zones easily—it's for external use only—so tease it around your vulva, clitoris and nipples or along the shaft of a penis for stimulation.
Wow, this is quiet! For a toy with such intense vibrations, it emanates barely a whisper. Petite and discreet, this is a great travel companion.
---
5. Lovehoney Beaded Sensual Glass Dildo
The best dildo
Specifications
Glass; insertable length 7 inches; circumference 4.25 inches:
Reasons to buy
+
Easy to clean
+
Temperature play options
The good old dildo is the world's oldest sex toy and there are hundreds of varieties out there—some vibrate, some have suction pads, others have nobbles and bobbles to stimulate all those lovely nerve endings in the vagina or anus. You can also find a wide range of materials: silicone, metal and, like this Lovehoney Beaded Sensual Glass Dildo, borosilicate (super-strong, body-safe) glass. (Side note: never buy dildos made from jelly as it contains phthalates and other chemicals you definitely do not want inside you.)
Lovehoney has hit the jackpot with this budget-friendly dildo. The glass can be used as part of temperature play—warm it under a tap or cool it down in the fridge. It's beautifully smooth and it glides in with no snagging or discomfort. Always use lube with any dildo, although add too much with this one and it can get a little slippery.
I found the curvature of the design makes it good for both G-spot and prostate stimulation and, oh my, is there anything more titillating than the sensation of beads moving in and out of you?
---
6. Bondara 10 Function Vibrating Anal Toy Set
The best anal set
Specifications
Silicone; four varying sizes with maximum insertable length of 6 inches and maximum diameter of 1 inch; USB rechargeable bullet; four attachments:
Reasons to buy
+
Good selection for anal play newbies
+
Ribbed and smooth options
+
Vibrator with 10 settings
Reasons to avoid
-
The very experienced will want larger sizes
Anal play is no longer a taboo pursuit but rather an accepted and celebrated part of sexual exploration that is there for everyone to enjoy if they choose to do so. There are many wonderful things about anal play, one of which is just how sensitive the anus and rectum are. Did you know that there is a very high density of nerve endings in and around the anus and each one is a potential pleasure zone receptor?
There are certain rules around anal play that cannot be ignored. I can't emphasize enough how important it is to use lube—and plenty of it!. The anus does not self-lubricate so lashings of the good stuff will make this journey an enjoyable and safe one.
Another rule is to take it at the pace of the receiver and the Bondara 10 Function Vibrating Anal Toy Set is the perfect way to do this. With four different shapes and sizes, you can progress as and when you feel comfortable. Each one has a tapered silicone tip and (you'll be thankful for this) a wider end to prevent any unfortunate disappearances. Once you're used to the feel of having something inserted into your anus, then step up again using the vibrating bullet to really get those nerve endings abuzz with pleasure.
---
7. Lovehoney Bound to Please restraint
The best beginner's restraint
Specifications
Adjustable polyester straps; velcro cuffs; latex free; cuff straps each extend to 4 feet 2 inches, connecting strap extends to 4 feet (fits most king size).:
Reasons to buy
+
Strong
+
Secure
+
Comfortable
Reasons to avoid
-
Measure your bed frame carefully before purchasing
BDSM offers a huge choice of options for sexual play, from handcuffs and gags to electro stimulation, pet play and sex swings, with many more avenues to explore for every kink you could imagine.
Whether you're a newcomer to the vast and varied world of BDSM, or you're a well-seasoned master or mistress, if your domination of choice is restraint then a well-designed tether is an essential tool in your armory. This polyester and velcro restraint from Lovehoney offers a gentle introduction to restraint play with an under-the-bed design that stretches beneath the mattress, topped with four cuffs for hands and feet allowing the dom to render the sub at their mercy.
There is little more deflating (for both dom and sub) when you're tied in a restraint that feels weak and easy to escape from and, while this device is basic in its design, crucially it is strong with no inadvertent escape routes. It's comfortable, too, with soft cuffs meaning that it's suitable for many hours of teasing and play.
---
8. Lelo Gigi 2
The best G-spot stimulator
Specifications
Body-safe silicone; insertable length 3.5 inches, diameter 1.5 inches; 2 hours charging allows four hours' use; waterproof:
Reasons to buy
+
Targeted design
+
Easy to insert
+
Good range of settings
Reasons to avoid
-
Setting buttons are easy to press by mistake when in use
A woman's G-spot has grown in reputation as an elusive, somewhat mysterious holy grail that requires an x-marks-the-spot map to find it. Yes, the G-spot is the reward for some careful exploration but it just takes a little experimentation to find its usual location on the internal vaginal wall. The G-spot is actually part of a clitoral network and can be stimulated with a "come hither" motion using two fingers positioned towards the belly button.
G-spot stimulators, although inserted into the vagina, are not dildos but smaller, usually more slender vibrators that have been designed to arouse this pleasure zone. The Gigi 2 has a gently curved design with a slightly more bulbous tip for precise and targeted stimulation. There are eight settings to choose from so you have control over how fast you ride, which is always a plus.
Lelo is a leader in sex-toy innovation and the Gigi 2 is one of the best-selling G-spot stimulators for good reason as its ergonomic design, silk smooth texture and precise targeting certainly leaves this customer satisfied and the Gigi 2 rated as one of the world's most popular toys.
---
9. Sliquid
The best lube
Specifications
Water-based; pump; 225ml:
Reasons to buy
+
Long-lasting
+
Silky texture
+
Safe for use with sex toys and condoms
+
Glycerin and paraben-free
Anyone who uses sex toys—or has an active sex life with partners—should absolutely make friends with lubrication as it's an essential component of enjoyable, safe play. Sex toys and lube go hand in hand so if you're going to buy a sex toy, pop a bottle of lube in your basket too as, in my opinion, you can never have enough.
There are many variants of lube and a little education goes a long way when it comes to making choices. As a rule, I would advise steering well clear of any lube that's fragranced or flavored, cooling or "tingling," as the additives found in these products can upset the vagina's delicate pH balance. Silicone lubes stay "wet" for the longest of the varieties and for this reason, are often used in anal lubes; however, they're not suitable for silicone toys and can degrade condoms. Oil-based lubes are not suitable for many types of sex toys (including rubber and silicone) and will also degrade condoms and, as such, is best avoided.
Sliquid H2O, as the name suggests, is a water-based lube, which makes it suitable for use both vaginally and anally and with all sex toys and condoms. For a water-based lube, it lasts longer than many. It retains its "wetness" for a good amount of time and is easily absorbed into the body for a natural feel. It's also glycerin- and paraben-free, additives often found in lubes that can trigger UTIs and yeast infections in some users, and it's vegan-friendly too!
---
10. Lovehoney Juno Music-Activated Vibrating Egg
The best love egg
Specifications
Silicone; rechargeable bullet; circumference 1.5 inches; insertable length 3.5 inches; run time 40 minutes:
Reasons to buy
+
Discreet, quiet and fun!
Shhhh, love eggs are for girls who like to keep a secret. Tucked neatly inside the vagina, the egg vibrates and stimulates without anyone being the wiser. While the pleasure is undoubtedly personal, in recent years, love eggs have also taken on a couples focus with options for partners to remotely control the vibrations using smartphone apps.
Tech progression in sex toys is always an exciting prospect. Just when you think sex toy producers have surely done everything possible, someone pops up with a fresh invention. And so it is with Lovehoney's Juno, a music-activated range of toys using sync technology.
The Juno love egg includes a slimline bullet vibrator that sits within a silicone sleeve and is inserted into the vagina. The package includes a remote control that when situated near music will activate the bullet to buzz and vibrate. Wear the remote around your neck at gigs, in clubs or at festivals to add an extra high to your night out, or near a speaker if you're enjoying home-based fun.
Katie Nicholls is a freelance journalist and copywriter who started her career in music journalism and has moved into writing about sexual health and well-being, fashion, lifestyle and interiors. She has written for many publications including The Guardian, MOJO, T3 and several BBC titles.