The best Halloween movies that'll give you goosebumps this October and beyond
Settling in for spooky Halloween movies is as much a fall tradition as carving jack-o-lanterns and sipping apple cider—here are our faves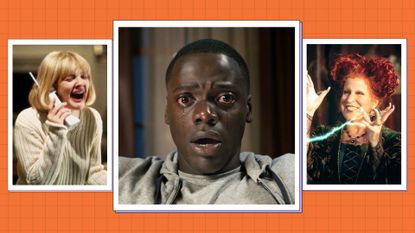 (Image credit: DIMENSION FILM; Universal Pictures; Disney / Alamy)
Masked killers, Salem witches, crazy clowns—our favorite Halloween movies have everything you need for a good scare. (Though we admit, we threw in a few light-hearted picks, too.)
Now is the time to light a number from the Yankee Candle Halloween collection and press play because your favorite villains are waiting. To make things a little easier for you, we compiled a list of everyone's favorite Halloween movies and thrillers according to streaming services. How's that for convenience?! (If you need us, we'll be venturing to Derry to take on Pennywise.)
The best Halloween movies for a spooky marathon
1. 'Scream' (1996)
Where to stream: Paramount Plus
What's your favorite scary movie? This modern-day horror classic directed by Wes Craven and starring Neve Campbell, Courteney Cox and David Arquette is definitely up there. Truthfully, is there anything scarier than trying to stop Ghostface before his (or her) next attack?
2. 'Practical Magic' (1998)
Not a huge fan of horror but still want to get into the spooky Halloween mood? We can help you out there. Sandra Bullock and Nicole Kidman as two witchy sisters with romance issues—the men they fall in love with are doomed to an untimely death—should more than do the trick.
3. 'The Rocky Horror Picture Show' (1975)
Let's do the Time Warp again! Don't worry if you don't know the moves by heart—it's just a jump to the left, and then a step to the right and, well, you'll figure out the rest. This cult-favorite 70s musical is a midnight movie classic, so gather your gang for a 12pm screening at your house and get ready to shiver with antici..............pation.
4. 'IT' (2017)
Where to stream: Prime Video
What Halloween movie list would be complete without a Stephen King story? In this remake, Bill Skarsgård steps into the role—and dons the eerie makeup—of Pennywise, the child-eating clown who reemerges every 27 years. A gaggle of kids led by Stranger Things star Finn Wolfhard attempt to face their fears and end Pennywise's reign for good. If you want to find out whether or not they succeed, follow up the fun with IT Chapter 2.
5. 'Hocus Pocus' (1993)
Where to stream: Disney Plus
It's not whether or not we'll watch this 1993 Disney classic during the Halloween season—it's more about how many times will we watch it. The hilarious hijinks of the evil Sanderson Sisters (the epic trio of Bette Midler, Sarah Jessica Parker and Kathy Najimy) truly never get old.
And at long last, Disney has blessed us with Hocus Pocus 2, a must if you love Salem's spookiest residents. If you want to live like Winifred, Sarah and Mary for a night, try booking the Hocus Pocus Airbnb!
6. 'A Nightmare on Elm Street' (1984)
Has an address ever sparked so much fear? A Wes Craven classic starring Robert Englund as the nightmare-inducing Freddy Krueger, this 1984 slasher flick will make you not want to go to sleep at night—especially since the movie sees Krueger invading folks' dreams to kill them. Eek!
7. 'Beetlejuice' (1988)
Where to stream: Prime Video
Beetlejuice! Beetlejuice! Well, you know the rest. Starring the undisputed Queen of Halloween, Winona Ryder, as well as Alec Baldwin, Geena Davis, Catherine O'Hara and Michael Keaton as the titular poltergeist, this fantastical comedy from Tim Burton will have you snickering in between the shrieks.
8. 'The Craft' (1996)
A goth-girl classic (those outfits though!), this 1996 teen horror movie sees Robin Tunney, Fairuza Balk, Neve Campbell and Rachel True as four California high schoolers who discover the power—and danger—of witchcraft. It'll make you want to pull out those Doc Martens and that '90s slip dress, but maybe leave the spellbooks alone, eh?
9. 'Carrie' (1976)
Where to stream: Paramount Plus
Another Stephen King adaption—he is horror royalty, after all—this 1976 Brian de Palma classic features an Academy Award-nominated turn by Sissy Spacek as Carrie White, a shy high schooler with telekinetic powers. That famously gory prom scene is proof that there's nothing scarier than high school.
10. 'The Addams Family' (1991)
Angelica Huston as Morticia. Christina Ricci as Wednesday. Raul Julia as Gomez. What more could you possibly need? Spend an entire night with that killer campy cast by making it an Addams double feature of 1991's The Addams Family and 1993's Addams Family Values.
11. 'Get Out' (2017)
A satirical spooker based on the real-life horrors of casual racism, this 2017 Jordan Peele thriller starring Daniel Kaluuya and Allison Williams is one of the scariest flicks in recent memory. You'll never stir a cup of tea the same way again.
12. 'Halloween' (1978)
Where to stream: Prime Video
One word: duh.
13. 'The Nightmare Before Christmas' (1993)
Where to stream: Disney Plus
Let's end on lucky number 13 with one of Tim Burton's finest: The Nightmare Before Christmas. When the pumpkin king Jack Skellington has his fill of shrieks and screams, he turns his attention towards Christmas. This newly discovered holiday is a bit puzzling to him, but the scary skeleton tries his hardest to get in the Yuletide spirit. For those wondering if this classic is more suited for October 31 or December 25, allow us to settle the debate: both!
Christina Izzo is the Deputy Editor of My Imperfect Life.
More generally, she is a writer-editor covering food and drink, travel, lifestyle and culture in New York City. She was previously the Features Editor at Rachael Ray In Season and Reveal, as well as the Food & Drink Editor and chief restaurant critic at Time Out New York.
When she's not doing all that, she can probably be found eating cheese somewhere.