'Stranger Things' season 4: trailer, release date, and everything else you need to know
'Stranger Things' season 4 is on its way! uʍop ǝpᴉsdn ǝɥʇ uᴉ llɐ,ʎ ǝǝs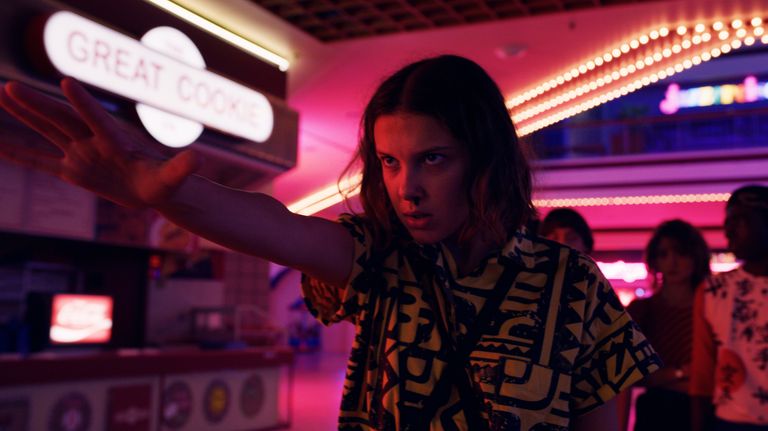 (Image credit: Netflix)
By Danielle Valente published
Are you ready for Stranger Things season 4? Trailer, release date, updates—everything you need to know about the Netflix sensation in all of its sci-fi, 80s glory is right here.
Season 3 took place a lifetime ago, all the way back in 2019, and we have so many questions about Eleven, the rest of the gang and of course, Mind Flayer. Where exactly will the story take us next?
Thankfully, the next chapter is on its way, and the wait is dwindling. As of fall 2021, the Netflix show finished filming...and we're in for a treat according to actor Noah Schnapp, who plays Will Byers.
"We've been filming forever! And we're finally done. They're putting together another teaser," he said in an interview, according to Digital Spy.
To prepare, feast your eyes on all of the supernatural, 1980s fun in the first season 4 teaser below and read up on what we can expect from the upcoming episodes. (Hint: it's some good stuff!)
---
---
Watch the 'Stranger Things' season 4 trailer
This certainly puts the "tease" in "teaser". We weren't treated to much—just a short montage of clips—but the drama-filled presentation has us completely ready to indulge, of course.
After the trailer dropped, viewers' comments began to swirl with their predictions: "I feel like Will and Mike will play a big role in the upcoming season, especially Will," one YouTube subscriber wrote.
"I can't wait to see more of Steve's and Dustin's friendship," another wrote.
Something that did not go unnoticed? The quality.
"Alright is it just me or is the cinematography of this show getting better and better?" one commenter asked.
We're certainly in agreement with you there! Even producer Shawn Levy has acknowledged that the series has upped the ante for season 4.
"Part of what's taking time is long before COVID and the pandemic existed, season four was built to be by far the most ambitious, cinematic, sprawling and epic season that we've ever done," he revealed to The Hollywood Reporter.
The *new* 'Stranger Things' trailer
In early November 2021, fans got what they were waiting for. A season 4 trailer finally dropped, and it shows Eleven in sunny California, adjusting to a new school, though not terribly well.
We hear her read aloud a note to Mike, promising him a great spring break when they reunite. At that point in the montage, all hell breaks loose...literally. Check it out below.
Netflix Tudum event and 'Stranger Things' season 4
The Netflix Tudum event, a global fan happening focused on the platform's offerings, gave viewers a few hints about what to expect in the coming months—new movies, new seasons, release dates, etc. Naturally, the streaming giant couldn't possibly leave out Stranger Things.
During this virtual livestream, a new trailer gave fans a glimpse into what they can expect from a new location for the Creel House show.
When is 'Stranger Things' season 4 coming out?
Although filming has wrapped up, and we've been given a sneak peek, we're still not entirely sure when season 4 will hit Netflix, but it will be some time in 2022 (preferably January 1, 2022 because we can only be so patient).
Who's returning to the cast of 'Stranger Things' season 4?
According to Gizmodo, plenty of the Upside Down's familiar faces will be back for season 4. Fans will also be thrilled to know that Priah Ferguson is stepping into a larger role as Erica, Lucas Sinclair's sister, so expect to see more of her in 2022!
The cast list for the new season is as follows:
Winona Ryder
David Harbour
Millie Bobby Brown
Gaten Matarazzo
Caleb McLaughlin
Noah Schnapp
Finn Wolfhard
Natalia Dyer
Charlie Heaton
Joe Keery
Sadie Sink
Maya Hawke
Priah Ferguson
Who will join the 'Stranger Things' season 4 cast?
Gizmodo also provided details about the newbies who will be joining the ranks of the sci-fi sensation. Here's who we can expect to make an appearance next year:
Robert Englund
Campbell Bower
Eduardo Franco
Joseph Quinn
Amybeth McNulty
Myles Truitt
Regina Ting Chen
Grace Van Dien
Now that we're relieved to know a new season is in fact coming, we have MANY questions about season 3. The cliffhangers need to be addressed, as we've been waiting very patiently. *Warning: spoilers ahead!*
We can confirm that Jim Hopper (David Harbour) is alive, but what will this mean for what's to come? Is Hawkins Laboratory fully running?
What's in store for Will? Actor Noah Schnapp gave The Hollywood Reporter a bit of a tease, suggesting that something new is possibly underway for his character.
"I might have a separate storyline and we might be filming somewhere else," Schnapp told the publication. "It would be exciting to see Will explore a big city and go through that. I think it would be cool to see."
Perhaps, most importantly, what the heck is Eleven (Millie Bobbie Brown) talking about in the trailer? We hear her whisper, "It's almost here," so we're slightly concerned that something is about to go awry.
'Stranger Things' season 4 clue
If you're not inclined to wait all the way until 2022 for a few hints about Stranger Things, you're in luck...but it'll cost you.
Dropping on November 19, 2021 is the Stranger Things Crosley Cassette Player Bundle, which is a must for all fans of the series. Not only does it feature a working tape deck and AM/FM radio, but it has an extra feature that'll be super enticing for ST stans.
You'll be treated to a "secret voicemail left by a mysterious figure." No one is quite sure who said mysterious figure might be, but this hint will be all about a new character we're going to encounter next year.
Of course, we're snagging one of the bundles for ourselves.
Walmart, Stranger Things Crosley Cassette Player Bundle ($64.88)
This Walmart-exclusive product is a must for fans of Stranger Things. The neon blue cassette player has a working tape deck, AM/FM radio, a secret voicemail that'll reveal season 4 clues and a Bluetooth 5.0 receiver. 
Make sure to accessorize your bundle with the eight Stranger Things-themed stickers. The bundle is currently available for pre-order and will be available for purchase on November 19, 2021. 
Is 'Stranger Things' season 4 the last season?
No need to panic, dear fans. If you thought this would be the last you see of Hawkins and its inhabitants, fear not. There is an ending in place for Stranger Things, but thankfully season 4 is just a continuation of the beloved story. The heavyweights revealed the good news to The Hollywood Reporter and Collider.
"There is a plan and that too will be shared not quite as soon as a sense of when season 4 is coming out but soon enough," Levy told Collider when asked about the fifth season potentially being the final hoorah. "I can say this. No one is making it up as we go along and there is an end game."
We definitely cannot wait to see what unfolds next! Until then, you can find us rocking out to our favorite 80s jams with our cassette player bundle.
Danielle is a writer for My Imperfect Life, where she particularly enjoys covering lifestyle and entertainment news. She was previously the editor of Time Out New York Kids and a news editor at Elite Daily. When she's not working, you can find her reading a good book and enjoying a cup of coffee. Follow her @dvwrites.