The best sweat sets to snuggle up in
Feel like hibernating but have things to do? We've got you covered with these comfy sweat sets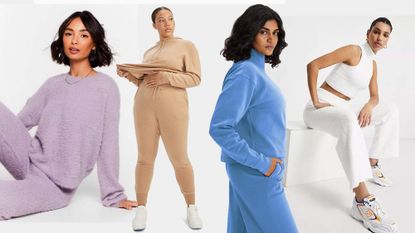 (Image credit: Nasty Gal / Naadam / Girlfriend Collective / ASOS Design)
BRB currently dealing with a major case of deja vu, HBU? With the world still in a crazy way, all we feel like doing at the moment is donning our comfiest PJs, curling up in a blanket, and binge-watching the latest Netflix releases until things get back to—erm—normal. But when you still have to go out and about for work, running errands, and seeing friends, the next best thing you can do is pull on a sweat set.
One of these bad boys can take you from lounging around on the couch to grabbing a coffee with your pals to stroll in the park and back to the couch. You'll manage to look effortlessly stylish while retaining the ultimate level of comfort. Plus, if you get sets in a similar color palette, this surely counts as an essential component of your—very snuggly—capsule wardrobe.
We've rounded up the most stylish and comfiest sweat sets available now that you won't really want to take off—real talk!
---
---
We've found the best sweat sets to shop now
1. Girlfriend Collective Sweat suit
Girlfriend Collective, easily one of the best sustainable activewear brands out there, makes some seriously great work out gear. And, it doesn't just stop there, they also make comfy loungewear too. Mix and match between several styles and fits to find your perfect combination. There are sweatshirts with half-zips or no zips at all, cropped versions and ones with hoods—all in several colorways.
2. ASOS DESIGN cardi, tank, and pant set in cream
Coming with both a wrap cardigan and a sleeveless high neck top, this bouclé three-piece set is great for transitional dressing—not only in terms of the seasons but also styles. With the cardigan on you give off sweet ballerina vibes; whip it off and you look like some sort of futuristic space babe (and who doesn't want that?).
$45.00 $31.50 | Asos
£32.00 £22.40 | Asos UK
3. PUMA Oversized Boxy Sweat Set in Off White
Exclusive to ASOS, this oversized matching Puma set, is equal parts comfy and stylish. Cut in a boxy shape—for extra comfort—it comes in an off-white color and features a Puma logo on the chest.
4. Nasty Gal One By One Shoulder Knitted Lounge Set
We would legit wear this sweat set to a dinner date. The crop top's one-shoulder, asymmetric neckline, and high-waisted, wide-legged pant shape elevate the outfit to the point that it could be passable as evening wear (if you ditch the slippers in favor of some heels). Its duck-egg blue hue and thin knit make it feel fancier as well.
$89.00 $26.70 | NastyGal
£49.00 £36.75 | NastyGal UK
5. Nasty Gal Luxe Good To Me Fluffy Knit Wide-Leg Lounge Set
It's pretty much impossible not to look stylish in this lilac knitted number, making it a failsafe choice for lazy days. Its scoop neckline, ribbed fabric, and on-trend color get it top marks for aesthetics, while its loose fit means it scores highly in the comfort category. Plus, the flap pockets on the pants are just super handy for carrying your phone or wallet while you're running errands, and stuffing with candy while you're at home relaxing in front of the TV.
$89.00 $26.75 | NastyGal
£49.00 £36.75 | NastyGal UK
6. Nasty Gal It Takes Two Baby Fluffy Knit Lounge Set
There's something so cozy about this blush pink fluffy knit set, but it's so pretty you'll be itching (not literally) to show it off. Add some chunky gold jewelry and a pair of white sneakers to take it for a spin.
$89.00 $26.70 | NastyGal
£49.00 £26.75 | NastyGal UK
7. Naadam The Essentials Cashmere Co-ords
If you're willing to spend a bit more, splash out on this cropped hoodie and joggers in caramel (it also comes in another 9 impressive colors.) The fabric blend is not only super soft against your skin but is also sustainable, made from a mix of recycled coffee grounds, cotton, and cashmere.
8. Monki 3-Piece Set in Blue
What could have been a basic sweat set is turned into comfy but cool-looking streetwear thanks to subtle details such as the waffle texture, the baby blue color, the cropped shape of the sweatshirt, and the straight-leg fit of the trousers. It's a great set to wear during the changing seasons as it comes with bottoms, a matching cotton crop top, and a zip-through hoodie to keep you warm too.
$35.00 $21.00 | Asos
£30.00 £12.75 | Asos UK
How to choose the perfect sweat set for you
When it comes to picking the right sweat set, there's certain criteria to be considered. Most important is how comfortable it is to wear, which can depend on the material, how loose- or tight-fitting it is and its level of elasticity. Then there's the overall look: the color, the pattern, the shape. And finally, the set's outside appropriateness; will it be accepted as everyday attire or will people think you've popped out in your PJs?
How to style a sweat set
Of course, while one is lazing about at home, sweatpants can be tucked into a requisite pair of fluffy socks à la Cameron Diaz in The Holiday and a cute bralette worn beneath the top (or go braless for next-level relaxation). But unfortunately, despite our best efforts to make it a thing, the slipper sock just isn't welcome in the outside world. So how do you style a sweat set so that it looks like cool everyday attire?
We suggest an on-trend pair of chunky sneakers (preferably white), a backpack and some gold hoops or huggies. If it's chilly, throw on an oversized coat or blazer and a beanie, and you're good to go. Take things further by opting for monochromatic layers for an instant dose of chic.
Victoria is a freelance journalist with eight years of experience, writing everything from reviews and news pieces to meaty features for various online and print titles — including easyJet Traveller and b.inspired. Her work covers travel, lifestyle, health, and fitness. In her spare time, Victoria performs improv comedy and she's currently training to be a PT.