Sustainable activewear: our favorite brands to shop right now
The best sustainable activewear brands if you care as much about the environment as you do about your workout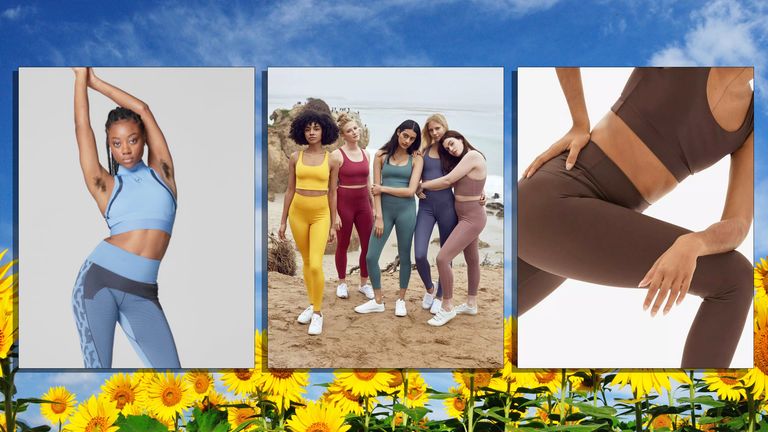 (Image credit: Getty Images / Moment / Stella McCartney / Girlfriend Collective / Everlane)
The fashion industry is in the process of slowing down, and sustainable activewear brands are helping us do exactly that—but which are the best brands if you're looking for sustainable activewear?
Following the popularity of throwaway fashion, landfills are full to the brim with millions of discarded clothing and the fashion industry has had a pretty negative impact on the environment overall. So, what's a shopper to do? Trying to find the best sustainable fashion brands can seem like a minefield, especially when it comes to shopping for the best sustainable activewear.
Granted, you may have some concerns: can leggings made with eco-materials really withstand the squat test, or are they actually worth the premium price. These are legitimate queries that we aim to answer.
After a thorough testing process, our current favorite sustainable activewear brand is the Girlfriend Collective. While it is a relatively new sportswear brand, its commitment to quality and the environment is admirable. The high-rise compression leggings are a great fit and come in a huge range of colors. A close second is Everlane; the brand is also very transparent about its ethics. Their price ranges are also significantly more affordable, while still providing premium quality.
What to look for in sustainable activewear?
The majority of mainstream sportswear is made from plastic-derived fabrics such as polyester, nylon, and lycra. These materials are chosen for their stretch and durability. The problem with synthetic fibers is that when they're washed tiny micro-plastics can break off and end up in our oceans affecting marine life. That's where sustainable activewear comes in.
Many eco-friendly brands have opted to use recycled plastic ensuring many single-use plastics don't end up on our already overflowing landfills. Then there's the use of natural, biodegradable materials such as cotton and bamboo which come from renewable sources and have a low environmental impact.
Admittedly, many can be skeptical about sustainable sportswear—can sustainable fitness brands endure, tough, high-impact workouts?
Below, we've outlined some of the best sustainable activewear brands that don't compromise ethics for style and performance.
Sustainable activewear: the My Imperfect Life edit
1. Girlfriend Collective Black Compressive High-Rise Legging
The best sustainable activewear brand for most people. While a relatively new brand, Girlfriend Collective have mastered ethical, fashionable and size-inclusive performance products
Specifications
Material: recycled plastic bottles
Reasons to buy
+Inclusive size range+Performance-focused leggings
Reasons to avoid
-On the pricey side
The sustainable brand makes activewear out of recycled materials including fishing nets and water bottles. So far they've recycled 4,482,875 bottles and saved 3,811,434 CO2 emissions—now those are some figures to be proud of.
So what does recycled activewear look like? Well, at first glance, it looks exactly like sportswear that wasn't made from old water bottles. Girlfriend Collective's ranges are very on-trend and, importantly, sizes go up to a 6XL. For those of you who like to feel tucked in when it comes to leggings, the high-rise compression leggings are a great fit. Squat proof and therefore perfect for leg-day lovers.
Read the full Girlfriend Collective Leggings review
2. TALA ZINNIA LEGGING
If you want to stay up on your fitness fashion trends then this brand is a great place to start. Easily one of the best sustainable activewear brands for everyday.
Specifications
Materials: Q-Nova (environmentally-sustainable nylon) and Recovertex (recycled plastic)
Reasons to buy
+Affordable+True to size
Reasons to avoid
-Style over substance-Limited style options
It's hard to scroll on Instagram without seeing a TALA outfit. The athleisure brand is the brainchild of young entrepreneurial founder Grace Beverley, and every collection usually sells out pretty quickly after it drops. Championed for its sustainability, TALA works with 'world-leading facilities' to provide sustainable materials that won't 'break the planet or the bank'.
The brand- which recently launched a new 'second skin' collection, named SkinLuxe™—uses environmentally friendly Nylon and also rescues plastic bottles from oceans and landfills. The USP is the affordability for the quality they're offering, with some of the most accessible prices on this list. But it's not all about the looks—the popular Zinia leggings stay put no matter how many burpees you do, and the sports bras give you the support you need for all those jumping jacks (not to mention the outfit gives you the perfect excuse for that post-workout selfie). They get extra points for the fact that plenty of their pieces slot in your everyday wardrobe perfectly—we practically live in our Aster top.
3. PACT Go-To Legging
Great for those on a budget, PACT proves that sustainable fitness wear can be both fashionable and affordable with its expansive collection of sportswear.
Specifications
Materials: 89% organic cotton, 11% Elastane
Reasons to buy
+Very soft and comfortable+Affordable
Reasons to avoid
-Sizes come up slightly small-Low rise
PACT makes a bold claim: they are the earth's favorite clothing company. The brand only uses organic cotton made in a fair trade factory. They also aim to challenge sustainable fashion stereotypes by making their clothes affordable and accessible. PACT's activewear is extremely comfortable and it's great to wear leggings that make comfort a priority as much as performance. Their 'go-to' leggings are a solid choice, available in a range of color variations. PACT's leggings are suited for relaxed WFH days as well as yoga days (and, you know, 'do nothing' days).
4. ADIDAS BY STELLA MCCARTNEY TRUEPACE PRINTED LEGGINGS
Undoubtedly luxurious, fashion's most ethical designer's fitness collaboration is certainly good to look at but the high prices aren't for everyone.
Specifications
Materials: 'Primegreen recycled materials'
Reasons to buy
+Stylish+Recycled synthetics+Long lasting
Reasons to avoid
-Top end price wise
When it comes to sustainability, Stella McCartney appears to be doing all of the right things. McCartney is credited for committing to sustainable luxury fashion before it was common to do so.
On an ethical front, the brand uses recycled synthetic materials for its activewear including polyester from discarded water bottles. With its fashion-forward designs, the range is clearly designed to be seen in and out of the gym.
When Stella McCartney collaborated with Adidas in 2005, she ventured into a more accessible market although admittedly, McCartney's fitness wear is still far pricier than most. The average legging costs around the $100 mark, meaning you'll be paying the odds for a full outfit.
5. Everlane The Perform Legging
Perfect for minimalists, Everlane's activewear range is a simple and stylish introduction into sustainable activewear, however there are only a few style variations to choose from.
Specifications
Materials : Recycled Nylon
Reasons to buy
+Affordable+Extra high waist+Pockets
Reasons to avoid
-Suits moderate activity-Limited style options
Everlane, a cult brand praised by minimalist-loving fashion editors and influencers alike. In recent years the brand has made consistent moves to a more sustainable future. In 2018, they made a significant step to get rid of all-new, virgin plastic from their packaging to the products, and to date, 75% of Everlane's products are made from recycled water bottles, fishing nets, and more. The brand also uses certified organic cotton, clean silk, as well as recycled polyester, and nylon.
It was a delight to find out that Everlane has activewear options. Admittedly, the fitness options are quite small but budding minimalists only need a few options, right?
With their transparency about cost, Everlane's prices are surprisingly low for the quality. The Perform leggings come in sizes XS TO XXL, so they are very inclusive but I'd suggest sizing up as they have a suction quality. What's more, they have pockets for cards and keys which is almost unheard of for women's sports leggings. Hooray!