Black History Month UK 2022: The best events to help you celebrate throughout October
It's Black History Month UK, here's how to honor the occasion throughout October...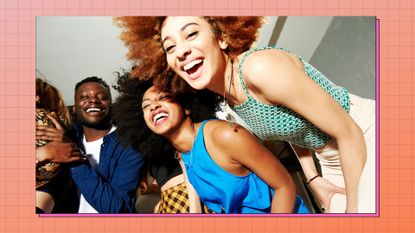 (Image credit: Getty)
Black History Month is celebrated in the UK every year in October. Much like the American celebrations of Black History Month, which take place in February, the occasion is a chance to celebrate Black British heritage and culture in all its glory.
As we all know, mainstream depictions of Black history often focus on the African American experience through the lens of the transatlantic slave trade and the Civil Rights movement. While those moments are a pivotal part of, not just Black history, but the history of the world, it is important to remember that there is so much more to Blackness than struggles and oppression. This year, the theme for Black History Month UK is 'Time for Change: Action Not Words.'
Black History Month UK: 'Time for Change: Action Not Words'
To honor the Black history that is being made everyday by all Black people, the theme encourages Black people to share their own stories, with Black History Month UK magazine leading the charge.
"Traditionally, Black History Month in October has quite rightly celebrated key figures and events in Black history," said Catherine Ross, editor at Black History Month UK. "This year, we want to go beyond that to recognise the achievements and contributions that Black people make to the UK every day—from the Black people working on the Covid-19 frontline in our hospitals, care homes, schools, supermarkets and warehouses, to the children and young people leading the fight for equality in the classroom, to the household names using their platforms to push for change. That's why we're encouraging people of all ages, from all walks of life, to share their stories. We're all making Black history, every day and we deserve to share and celebrate our stories."
To help you do exactly that, we've curated a list of some of the best Black History Month events happening across the UK this October.
The best events to celebrate Black History Month UK 2022
Black History Month at The British Library
Where: The British Library | When: Throughout October
The British Library is marking this year's Black History Month with a series of events hosted both online and in-person throughout October. You can tune into a discussion on inspiring Black entrepreneurs, a reading and Q+A on The Adventures of a Black Edwardian Intellectual and a speed mentoring session on 'Building your business as a Black entrepreneur'. Browse the British Library website for the full list.
CURLYTREATS Festival
Where: NOVOTEL West London, Hammersmith | When: 15 October
Celebrate Black hair and its history with a panel of experts who will explore the history and heritage of afro hair and cultural hairstyles over the years.
They will also be discussing 'hair discrimination' as well as celebrating the beauty of Black hair in all its forms. View Eventbrite for the details.
Temi-Falaye Fashion Show
Where: The Tabernacle, North Kensington | When: 20 October
Join Black-owned fashion brand Temi-Falaye for a show that will celebrate Africa's long-lasting and cultural connections to haute couture. The show will showcase the historical timeline of clothing from pre-colonisation to modern-day times, with a focus on the transition of fashion throughout the ages & across the African Diaspora. See Eventbrite for more details.
Grada Kilomba: O Barco/The Boat at Somerset House
Where: Somerset House | When: 29 September-20 October
Interdisciplinary artist Grada Kilomba is displaying her critically-acclaimed installation O Barco/The Boat to Somerset House for Black History Month. The installation's first time being displayed in the UK, it portrays a "European slave ship", "directly addressing the history of European maritime expansion and colonisation," says Somerset House.
"Alongside its sculptural elements, the artwork includes live performance, combining song, music, and dance, with music production by award-winning writer and musician Kalaf Epalanga," they add. "Designed and directed by the artist, the live ensemble brings new meaning to O Barco / The Boat, both acknowledging memories of the past and looking towards the future."
See more details at Somerset House.
Black Lives Matter festival
Where: Somerset House | When: 1–2 October and 22 October
Run by London-based organisation BLM Fest, this celebration at Somerset House will take place over a series of days, with music performances, exhibitions and face and body painting going on throughout. Visit Somerset House(opens in new tab) for more details.
Say It Loud/Black Sun
Where: Royal Opera House | When: 19-23 October
Black Ballet is making a return to the Royal Opera House to celebrate their 20th anniversary with a special performance choreographed and directed by Ballet Black's Founder and Artistic Director, Cassa Pancho. See the Royal Opera House for more information.
#BRINGING US BACK Open Mic Night
Where: The Hackney Social | When: 27 October
Get social with this open mic night and networking event that will celebrate Black History Month with live performances from new and upcoming artists, visits from special guests, music, drinks and dancing. Book tickets online at Eventbrite.
Sagal is a journalist, specialising in lifestyle, pop culture, fashion and beauty. She has written for a number of publications including Vogue, Glamour, Stylist, Evening Standard, Bustle, You Magazine, Dazed and Wonderland to name a few.