Black History Month 2023: 10 great ways to celebrate
Black History Month 2023 has officially kicked off —here's how to honor the event all month long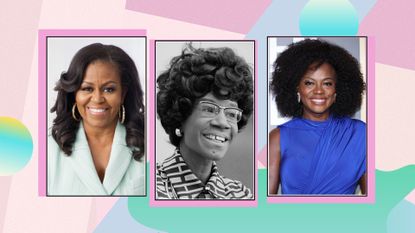 (Image credit: NAACP/Getty; Universal History Archive/Universal Images Group/Getty; Monica Schipper/The Hollywood Reporter/Getty)
It's February, which means Black History Month 2023 has arrived! And if there's ever been a time to celebrate Black Americans and all that they have contributed to this country, it's now.
The past couple of years has brought up much-needed conversations about the institutionalized racism and everyday oppression faced by the Black community, violence and injustices that have been woven into the fabric of America since its creation. The worldwide protests led by the Black Lives Matter movement in 2020—galvanized by the police murders of George Floyd, Breonna Taylor and Ahmaud Arbery—proved that the civil rights movement in this country is far from over. (The BLM movement was nominated for a Nobel Peace Prize in 2021.)
While it is imperative to get your feet on the ground and have your support for Black Americans heard at protests, boycotts and, importantly, the voting booth, there are plenty of ways to champion your fellow citizens—socially and economically—from the comforts of home. Whether educating yourself on the real history of America, shopping at Black-owned businesses or donating to anti-racism efforts, here are ways to honor Black History Month 2023.
What is Black History Month?
The origins of Black History Month, a federally recognized celebration of the contributions of Black Americans to the United States, stretch straight back to Carter G. Woodson.
A Harvard-educated author and historian known as the "Father of Black History," Woodson and his Association for the Study of African American Life and History proposed a "Negro History Week" back in 1926, in an effort to spotlight Black-American history in education curriculums across the country.
Fifty years later, during the height of the civil rights movement, then-President Gerald Ford expanded the weeklong celebration into Black History Month.
When is Black History Month?
Carter G. Woodson originally chose the second week of February for "Negro History Week" to coincide with the birthdays of two American icons: Frederick Douglass and Abraham Lincoln. Forty-five years ago, President Ford expanded the event to run throughout the entire month of February; it has been recognized during the second month of the year by every U.S. president ever since.
How to celebrate Black History Month 2023:
1. Fill your bookshelves with the lives of Black women
'Tis the season to cuddle up with a good book, so take the opportunity to pick up one centered on and penned by Black-American women. Recent memoirs including Finding Me by legendary actress Viola Davis, Constructing a Nervous System by Pulitzer Prize-winning writer Margo Jefferson, The Light We Carry by First Lady Michelle Obama and Token Black Girl, the debut of Danielle Prescod, are all great starting points.
2. Head to the movie theater
At more than 200 participating locations from Friday, February 3 through Thursday, March 2, AMC Theaters is celebrating Black History Month by offering $5 movie tickets to titles created and led by Black-American actors and filmmakers. The programming initiative will spotlight one film per week:
February 3–9: the historical drama Till, the true story of Mamie Till-Bradley
February 10–16: the war drama Devotion, starring Jonathan Majors
February 17–23: the Viola Davis action flick The Woman King
February 24–March 2: Marvel's Black Panther: Wakanda Forever
3. Spend a night at the museum—digitally!
The Smithsonian's National Museum of African American History and Culture is amplifying stories of Black American resistance throughout the month of February. Programs held in the museum's Oprah Winfrey Theater will stream live on the museum's Ustream channel, including a screening of the documentary Afrofuturism: The Origin Story, "Black Women and Beauty" poetry workshops and a discussion with Astronaut Victor Glover on the legacy of Black Americans at NASA.
4. Load up on beauty from Black-owned brands
With Black women in the C-suites and more expansive shades on the shelves, the beauty world has thankfully become more inclusive. Help it be even more so by buying beauty products and skincare items—from the best vitamin C serums around to the best brushes for curly hair—from Black-owned brands, such as B. Simone, Pat McGrath, Juvia's Place, Fenty Beauty and Mented Cosmetics.
5. Watch a documentary about a Black trailblazer
Equal parts enlightening movies and educational tools, documentaries are an invaluable way to dig into critical moments in Black history, and the brave figures behind them. John Lewis: Good Trouble, The Death and Life of Marsha P. Johnson, Maya Angelou: And Still I Rise and the James Baldwin-based I Am Not Your Negro are all well worth a watch.
6. Decorate your home with Black art
Scour affordable art sites like Etsy, Society 6 and Minted for prints, photography and inspirational wall art created by talented Black artists. They'll get some much-deserved support and your décor will get a jolt of color and life. Win-win!
7. Research an unsung hero of Black history
You no doubt already know about icons like Rosa Parks, John Lewis, Dr. Martin Luther King, Jr. and Kamala Harris. But there are countless Black Americans who also deserve time in the spotlight. Take time to delve into the lives of fellow Black History heroes like Shirley Chisholm, the first Black woman elected to Congress, Bessie Coleman, the world's first licensed Black pilot; and Ethel Waters, the first Black American to star in her own TV show.
8. Diversify your social feeds with Black creators
The intentions of #BlackoutTuesday in 2020 were noble, even if the execution left little to be desired. But elevating Black voices across your Instagram, Facebook, Twitter, YouTube and TikTok feeds is a super-easy way of adding some always-welcome diversity and inclusivity to your everyday scroll sessions.
9. Order meals from a Black-owned restaurant
Most restaurants have taken quite a financial hit during the coronavirus pandemic, but Black-owned restaurants are even more likely. According to data out of the University of California, 41% of Black-owned businesses shuttered since February 2020, compared to 17% of white-owned businesses. Give your local Black-owned kitchens and cafes a boost by ordering directly from them for your next take-out meal.
10. Donate to anti-racism and equality efforts
If the past few years have taught us anything, it's that anti-racism work is vital for our country's survival. And putting our money where our mouth is is one of the simplest ways to show support. So, choose a Black-led cause that you're passionate about—the Black Youth Project, say, or the Black Mamas Matter Alliance—and donate those dollars!
Sagal is a journalist, specialising in lifestyle, pop culture, fashion and beauty. She has written for a number of publications including Vogue, Glamour, Stylist, Evening Standard, Bustle, You Magazine, Dazed and Wonderland to name a few.