How should Black women feel about that Will Smith slap at this year's Oscars?
The Will Smith slap brought up questions about how society defends Black women. But how should we feel about it?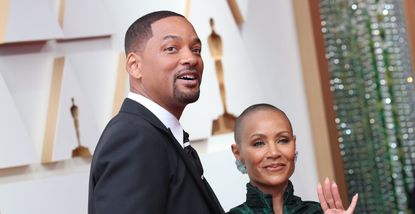 (Image credit: ABC/Getty)
Protect Black Women—it's an effort most of us can all get behind, right? Historically, Black women have always fallen to the bottom of the totem pole across different sectors of life—socially, romantically, economically, the list goes on. In a world that prioritizes white men, we often find Black women systemically cast aside by both the White and Black community. We're considered the martyrs, the sacrificers, the givers, the "ride or dies."
But we're starting to dismantle those stereotypes and societal roles. With the Protect Black Women movement, we're pushing the world to see us as full-fledged beings. We're talking about our vulnerability, power, pressure, health—things we rarely spoke about to the masses—more than ever before. We're demanding others within and outside of our Black community to call for our protection and representation.
So why are we polarized on Will Smith slapping Chris Rock at this year's Oscars to stand up for his wife, Jada Pinkett Smith?
In case you missed it (which I doubt you have because recaps and memes of the incident are everywhere), Will Smith—the eventual Best Actor winner for his role in the Best Picture nominee King Richard—stormed the stage at Sunday night's awards ceremony and slapped presenter Chris Rock across the face. He did so after the comedian made an off-color joke about Pinkett Smith's shaved head. The Set It Off actress' 'do was a result of her alopecia, a diagnosis she's opened up about on her socials and Facebook talk show Red Table Talk.
At first, Smith was seen laughing while Pinkett Smith rolled her eyes as Rock compared her to G.I. Jane. It was all fun and games until the camera followed Smith jumping up from his seat and charging towards Rock. It's clear the comedian was caught off-guard by what happened next.
"Wow, dude," Rock said post-slap. "It was a G.I. Jane joke." Smith then responded with the phrase heard round the world: "Keep my wife's name out your f****** mouth."
Twitter was ablaze after the incident, with many in shock over Smith's response. (Will Smith has since apologized to Rock.) Some are furious and disappointed with Smith, and others celebrate him for standing up for his wife. I've noticed more Black women fall into the latter camp. As a Black woman myself, I lie somewhere in the middle. And I think this on-going debate illuminates truths about how we feel about violence and Protecting Black Women.
A girlfriend of mine asked me my thoughts on Slapgate shortly after it happened. Upon watching a clip of the incident, I was shocked. I thought Rock's joke was harsh, but nothing dissimilar to the shots he took at Pinkett Smith during his Oscar monologue back in 2016. Nor did I think it was a far cry from host Regina Hall's jokes about the Smiths' open marriage at this year's awards.
So my original thoughts were, 'This is a surprising and outrageous reaction to a harmless, yet thorny, joke.' But my feelings were swayed after remembering Pinkett Smith's candor about her battle with alopecia and seeing Black women share their own battles with the condition and celebrate Smith for refusing to let his wife be ridiculed because of how she chooses to wear her hair.
Jokes at the expense of Black women can absolutely cause harm. They perpetuate the idea that we are lesser than others for being true to who we are and what we want. Rock's joke wasn't without its damage, not only did it hurt Pinkett Smith (we can only assume), but it hurt a community of Black women everywhere. We're so often told we can't wear our hair in particular styles, and Rock in a way was cosigning that limitation on Black women.
And the imagery of Will Smith, a Black man, drawing a line in the stand and requiring another Black man to treat a Black woman better is, in many ways, refreshing.
But is this how we want to be protected? Do we support violence in the context of pushing the Protect Black Women movement forward? Many, including Smith himself indirectly, are referring to this incident as a mistake. Does that statement suggest that protecting Black women is a mistake?
That's where I find myself unsure. Like Pinkett Smith, I'm a Black woman with an autoimmune disease. Though I think it's sexy when my boyfriend stands up for me, if someone were to make a mean joke about my type 1 diabetes, I wouldn't want him to get violent. In my opinion, that would reduce all parties involved to a lower level, and would ultimately distract from my own feelings.
Pinkett Smith may feel similarly. This incident has brought alopecia and Black women's experiences to the forefront, which is fantastic, but does that bring her solace or happiness? We'll never know.
Those in the Black community who are disappointed in Smith say it's because his actions have represented the community poorly, especially in a space where the Black community has been neglected and ignored for decades. I understand that, but I don't think it's fair. Often as Black people we get caught up in representing the larger Black community at all times. We do, to a certain extent, but we're just people. And we deserve to sometimes have our actions just be that, instead of behavior that affects the entirety of the Black community and the world's opinion of us.
So how should Black women feel about Slapgate? Everyone has ownership of their opinions, so if you feel angry or elated, either are totally fine. But if you're somewhere in the middle and confused, like I was, here's what brought me solace: separating the intention from the reaction. I stand behind Smith's intention—to stand up for his wife—but I don't stand behind the reaction, namely the slap.
I think the most powerful thing to come out of Slapgate is this discourse. As we continue to advocate for the protection and celebration of Black women, it's important that we iron out what that means and looks like to us. Knowing that will help us take a collective step forward.
Kui Mwai is a culture, health, and beauty writer. She works as the latter for Bustle, covering anything and everything happening in the beauty industry. Her work has appeared in a wide array of women-driven brands, including Cosmopolitan UK, ELLE UK, Well + Good, and more. In her career, Kui has committed to telling stories of those who are typically underrepresented by the media, especially within the Black community and African diaspora.
When she's not writing about beauty, she spends way too much time talking about astrology, Whitney Houston, and Toni Morrison (not at the same time, though the combination of those topics would be her dream). Keep up with Kui on all socials @kuiwrites_