Bondage for beginners: the ultimate guide for first-timers
Our guide to bondage for beginners details how to bring up the topic with your partner, and how to safely try it out in your bedroom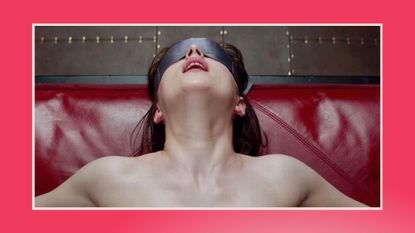 (Image credit: Pictorial Press Ltd / Alamy Stock Photo)
Thinking about trying your hand at bondage? You're in luck—our guide to bondage for beginners will discuss all the need-to-know basics about building trust with your partner, staying safe and having frisky fun.
Getting into bondage can help you to explore all your curious kinks, but it's important to do it in a safe environment, where everyone involved is comfortable. So, from learning about different types of binding to discovering how the best sex toys and app-controlled vibrators can be involved in your bondage play, this all-inclusive tip sheet will ensure you and your partner are ready to test the waters. If you're ready to make the bedroom a little more exciting, let's jump in.
Bondage for beginners: a 101 guide
First, what exactly is bondage?
If you've read the popular Fifty Shades books or watched the 2019 Netflix series Bonding, then you more than likely have a general idea of what bondage is. However, it's important to note that in popular culture, it's often a little exaggerated.
Categorized under the infamous BDSM abbreviation—which stands for "bondage and discipline, dominance and submission, sadism and masochism"—bondage is the consensual practice of tying, binding or restraining your partner for erotic stimulation and pleasure.
Bondage includes a surplus of specifically detailed and stylized restraint methods used for physically binding your partner. Popular methods of restraint include, but are not limited to:
Rope
Cuffs
Binders
Tape
Bars
Slings
When exploring the world of bondage for beginners, understanding the different types of restraints is important. Not only does this ensure the experience is pleasurable for all parties involved, but it's important to know that certain types of restraints can be harmful if you don't know how to properly use them. With some restraints, you also need to know the necessary aftercare. That's right—you may need a little TLC, even after the fun is over.
How to bring up the topic of bondage to your partner
Whether you're in a relationship or are simply having a little fun with a trusted partner, bringing up the topic of bondage can feel a little awkward.
You could first try watching something erotic together, to help set the mood before bringing the topic up. By slowly introducing the idea, you can get a general feel for what they think about bondage. But in general, it's best to be completely honest with your partner—be they casual or serious—and mention that you've always been curious about the idea. Plant the seed and start the conversation honestly and openly, letting them know that it's okay if they have different feelings than you.
If they seem a little uncertain, it can be beneficial to do a little research together before jumping in. Most people hear the word bondage and think of whips and chains (yes, the Rihanna song just came into our heads, too), but it's a slight misconception. Bondage is all about restraints, but it's also about learning to leisurely enjoy each other through binding. It doesn't have to be intense if you don't want it to be!
If your partner is willing to learn about bondage with you, then you can feel safe knowing that it's a mutual curiosity you can explore together.
How to get started with bondage
1. Build trust and be open with your partner
Experts recommend that you stay away from practicing bondage for beginners with strangers, as they're less likely to take the time and put in the effort to get to know you, your body and what you enjoy. Practicing bondage should always be done with a trusted partner, to ensure that you're safe and being taken care of.
In addition to restraining your partner, or being bound yourself, communication during and afterward is imperative. Be certain that you discuss any ideas or actions you'd like to try beforehand to ensure everything is entirely consensual. It can be beneficial to create a safe word too, in case, at any point, you or your partner aren't comfortable continuing. A safe word should be something super simple, but make sure it's unusual enough that they don't think it's regular dirty talk. Try something along the lines of "blue betta" or anything your heart desires.
Bondage can feel amazing, but it can often be overwhelming or anxiety-inducing for beginners. That's okay—just take it one step at a time, and communicate how you feel along the way. The best way to enjoy the intimacy that comes along with practicing bondage is by talking about it with your partner.
2. Remember—safety first
Aside from setting a safe word, prioritizing your and your partner's physical safety must always come first. As fun as ropes and cuffs can be, they can also irritate the skin, or feel claustrophobic if they're too tight or left on for too long. When you first try your hands at rope tying or any type of restraints, gauge your partner's reaction, and leave them a little loose, to begin with. Not only will this help ease any anxiety, but it can also ensure you don't hurt your partner.
For aftercare, you can utilize specific types of lotion and warm washcloths to soothe any slightly irritated wrists and skin—and it can also be helpful to practice massaging areas that may be a little tender. This can help with any potential bruising and can, of course, build trust for the next time you want to have some fun.
And, it goes without saying, but never leave your partner unattended if they are restrained. If they are unable to free themselves, it can be seriously dangerous, especially if an emergency arises within your home.
3. Try using toys
While bondage is fun in itself, you still more than likely have the goal of getting each other off in some way. So, why not try using a sex toy or two as well?
Pleasuring someone (or yourself) in this way whilst restrained can be extremely gratifying, and can take bondage to the next level. You could also try some careful candle play, or use one of the best hands-free vibrators for a little extra stimulation. Or, alternate between hot and cold with some ice cubes and take your time exploring.
If you still feel uncertain about bondage or feel like you need a little more information, that's okay. Try sitting down with your partner and research as much as you want before getting started. In your intimate endeavors, be safe and communicate what you're feeling, and remember that everyone who routinely practices bondage was a beginner at some point!
Christina Izzo is the Deputy Editor of My Imperfect Life.
More generally, she is a writer-editor covering food and drink, travel, lifestyle and culture in New York City. She was previously the Features Editor at Rachael Ray In Season and Reveal, as well as the Food & Drink Editor and chief restaurant critic at Time Out New York.
When she's not doing all that, she can probably be found eating cheese somewhere.