Is break-up sex ever a good idea? We asked a relationship expert
It's been glamorized but break-up sex is something we should be avoiding...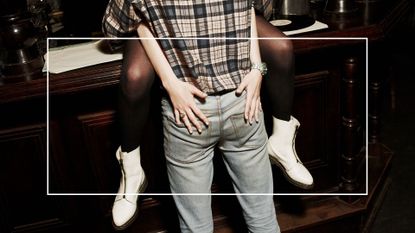 (Image credit: Getty Images)
Ah, break-up sex. That one last night of intimacy with an ex before you call it quits is something many of us can relate to. But is it a 'good' or 'bad' thing for us in the aftermath?
While some see it as a parting gift, sealing the end of a relationship, we won't be the first to admit that sex with an ex can get complicated—and fast. Especially if there are unresolved feelings or mixed emotions at play.
---
---
Despite this, it's a pretty common thing. Very Well Mind recently reported that 27% of young people had had sex with an ex after breaking up, whilst almost one in four couples who are legally married but separated continues to have regular sexual contact. However, research has revealed that break up sex could be doing us more harm than good, though some people feel it brings them the closure they need to move on. So what exactly is the deal?
Why do people have break-up sex?
According to a July 2020 research study, there are three primary reasons why people tend to engage in breakup sex: relationship maintenance, ambivalence, and hedonism.
To conclude this, the research looked at two different studies. The first one examined how post-break-up sex experiences made individuals feel compared to how they predicted they would feel in the future, while the other focused on why heterosexual men and women have break-up sex in the first place.
Ultimately, the results showed that heterosexual men and women engage in break-up sex for different reasons. The first study, which consisted of 212 participants, showed that men are more likely than women to have felt better about themselves after breakup sex, whereas women were more likely to feel better about the relationship after having break up sex.
The second study was tested on a larger group of 585 participants and concluded that it is due to the three aforementioned key reasons which in other words essentially means: because it feels good, because we are conflicted over how we feel about the person, and/or because we think there is maybe a way to salvage things, reports Big Think. The study also highlighted that men had more of a tendency to have hedonistic and ambivalent reasons for having breakup sex than women.
Is break-up sex healthy?
Similar to the results of the study, Megwyn White, Certified Clinical Sexologist and Director of Education at Satisfyer, explains that the emotional cost of break-up sex is never worth actually doing the deed.
"I wouldn't necessarily recommend break-up sex due to the fact that sex can naturally stir up emotions and also be motivated for reasons that are not necessarily relationship closure. That can be a bi-product for some choosing to engage in break-up sex," she tells My Imperfect Life.
"It is, however, important to remember that sex is also a source of neurochemicals that boost feel-good sensations within the body. Being separated from your ex can send you into a spiral of longing that can make it difficult to focus on much of anything. In fact, the drop in neurochemicals associated with partnership can even send some into a depression. It can be especially tempting to deal with this through engaging in break-up sex but could also stifle the natural healing process."
If you're struggling to come to terms with the end of your relationship, then White has a few tips too. "To help the process along try to not look at pics of your partner or gifts that they've given you which can potentially trigger desire," she explains. "A fun way to help shift your thinking when your ex pops up is to say to your mind "cancel-cancel-delete" to consciously help in disconnecting from attention on them, and then afterward focus on a physical activity that focuses your mind in a more productive way like washing the dishes or organizing your closet.
"Be honest with yourself if you are having difficulty and write down everything that was not good about the relationship. This can help you in cognitively processing the relationship and getting clearer on why this is not a relationship you want."
So ultimately, although break-up sex can bring short-term comfort, in the long run, it may simply hinder your healing process.
Mariana is Editor of My Imperfect Life. She has previously worked for titles including woman&home and Goodto, covering all aspects of women's lifestyle — from beauty and fashion to wellness and travel. She was nominated for AOP Digital Journalist of the Year in 2020, and for New Digital Talent of the Year at the 2016 PPA Digital Awards. She's mildly obsessed with reality TV (Love Island memes included) and spends far too much time checking her horoscope and figuring out the perfect curly hair routine.