Is getting back with an ex ever a good idea? This is what experts have to say
Getting back with an ex is quite common but does it ever work? We asked a relationship expert...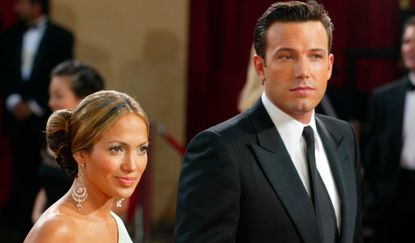 (Image credit: Photo by Kevin Winter/Getty Images)
Most of us have considered getting back with an ex or have actually done it— sometimes more than once— but is it ever a good idea? While some of the best relationship advice might say otherwise, we've investigated...
Earlier this month, exes Jennifer Lopez and Ben Affleck sparked rumors of a rekindled romance when they were spotted together after it was announced that JLo and ex-fiancé Alex Rodriguez officially split, following a two-year engagement. The nostalgic reunion has prompted many conversations about whether it is wise to get back with an ex-lover, whether you've spent decades apart like this A-List couple or find your way back to one another much sooner. Does it ever really work?
JLo and Affleck first met back in 2002 on the set of their movie, Gigli. At the time, JLo was still married to her ex-husband Cris Judd but the two eventually got a divorce and the singer/actress went public with Affleck shortly after. The couple quickly became one of the hottest celebrity pairings of the 2000s and as you may remember, Affleck famously starred in JLo's music video for Jenny from the Block where they reenacted paparazzi following their every move. By November 2002, the couple were engaged but their romance came to an end before they got a chance to get married in 2004.
Now, 17 years later, they seem to be trying again. So, we asked relationship expert, Michelle Begy, Managing Director and Founder at Ignite Dating, what her professional advice is when dating an ex once again and whether we should do it at all.
Should you ever get back with an ex?
"When considering whether or not to get back with an ex, it's important to think back on the relationship and the reasons that it ended in the first place," says Begy. "An ex is usually an ex for a reason and while there is a romantic notion in people finding each other again after some time apart and realizing just how well-matched they are, it rarely works out that way."
Begy explains that it is important not to let history repeat itself if you choose to get back with an ex, explaining: "The underlying issues that were there previously may be a forgotten memory now, but it is likely that they will resurface when you take that step to get back together. Sometimes it is better to have loved and lost rather than put yourself through the heartbreak all over again."
Weighing up the pros and cons of getting back with an ex
"We've all heard the saying 'better the devil you know' and when it comes to dating, it is a trap that many people fall back into," says Begy. "After all, when faced with a lack of dating options or the uncertainty of navigating the dating landscape in front of them, it is far easier to reach out to an ex and pick up where you left off than start something new from scratch."
This is something many of us have experienced—especially during lockdown, when going out and dating was put on hold due to the pandemic (especially if the best app-controlled vibrators weren't quite cutting it anymore). "If you are under the impression that an ex-partner has reached out under some romantic notion to rekindle a relationship with the one that got away, you may be setting yourself up for a fall once lockdown is over," warns Begy. "While there may be a few cases where time and space apart has led them to realise what they had, the majority of people reach out to an ex due to a lack of dating options, loneliness and boredom—none of which are strong foundations for a long-lasting relationship."
Do relationships tend to work better the second time around?
If you're adamant about getting back with an ex and all the right intentions are there on both sides, then you could potentially make it work. However, as Begy points out, all relationships are different—there is no one rule for all.
"While rekindling with an ex may work for some it's not going to work for everyone," she says. "In order for the relationship to work the second time around, the issues and reasons that you split in the first place need to be worked out. If you have spent the time apart working on yourselves and resolving the problems that were there before, then you may have a stronger chance of it working again—otherwise, you are just setting yourself up for failure once that honeymoon period ends and the sharp reality of life before sets in."
Sagal is a journalist, specialising in lifestyle, pop culture, fashion and beauty. She has written for a number of publications including Vogue, Glamour, Stylist, Evening Standard, Bustle, You Magazine, Dazed and Wonderland to name a few.